Neil Cavuto Pushes Vaccine on Fox News, Gets Mixed Reviews: 'Life's Too Short to Be an Ass'
TV anchor Neil Cavuto pleaded with his Fox News viewers to get vaccinated for COVID-19 live on-air Sunday, which drew mixed reviews from the audience of a network whose personalities have undermined the efficacy of vaccines and compared mandates to apartheid.
Cavuto, who has been open about his health struggles over the years, announced his breakthrough COVID case in a statement Tuesday, adding: "Had I not been vaccinated, and with all my medical issues, this would be a far more dire situation."
In his first television appearance since testing positive for coronavirus, the anchor implored viewers to side aside their political differences and take the vaccine.
"I can't stress this enough. It's not about left or right, not who's conservative or liberal. Last time I checked, everyone, regardless of political persuasion, is coming down with this," Cavuto said on Fox News' MediaBuzz. "Take the political speaking points and toss them! For now, I'm begging you, toss them! And think of what's good not only for yourself but those around you."
He added: "I don't look at things through a political spectrum, down to all of my shows, I don't have time for that. Life's too short to be an ass. Life is way too short to be ignorant of the promise of something that is helping people worldwide. Stop the deaths. Stop the suffering. Please get vaccinated. Please."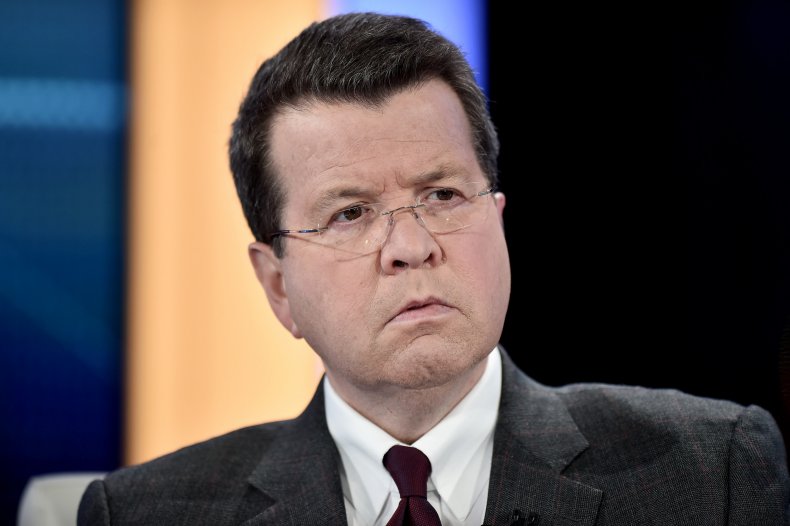 Before the proliferation of the Delta variant, Republican skepticism of the vaccine and the Biden administration's rollout grew so loud that some polls found almost 50 percent of GOP voters were unlikely to get vaccinated.
Conservative personalities, including Fox News' own hosts, have widened the red/blue political divide in vaccination rates by extending a platform to vaccine skeptics and criticizing mandates ordered by businesses as an infringement on personal freedoms.
Fox News contributor Lisa Boothe on Saturday night announced that she won't get vaccinated to send a message to Biden.
"I'm doubling down as a giant middle finger to Joe Biden's tyranny in America and that's what this is all about," she said on Unfiltered With Dan Bongino. "We are literally fighting right now for the future of this country."
Cavuto received mixed reviews online for his vaccine remarks.
"This is excellent. Just a shame it is an exception rather than the rule on Fox News, which has caused vaccine hesitancy," tweeted professor Don Moynihan of the McCourt School of Public Policy at Georgetown University.
Former Republican Representative Joe Walsh wrote on Twitter: "Listen to Cavuto. Ignore Tucker. It's really that simple."
"Fox News Neil Cavuto is fully vaccinated, yet tested positive for Covid-19. Pandemic of the vaccinated," said user @youngbiafra, a self-identified "pro-life conservative."
"Cavuto on Fox right now using the fact that he got Covid while vaxed as a platform to plead for more people to get vaxed. And to let us know that he doesn't view anything thru a political lens," tweeted @pvtjokerus, a self-identified "MAGA patriot."