Neil Gaiman and Daniel Handler Duke It Out in a Literary Duel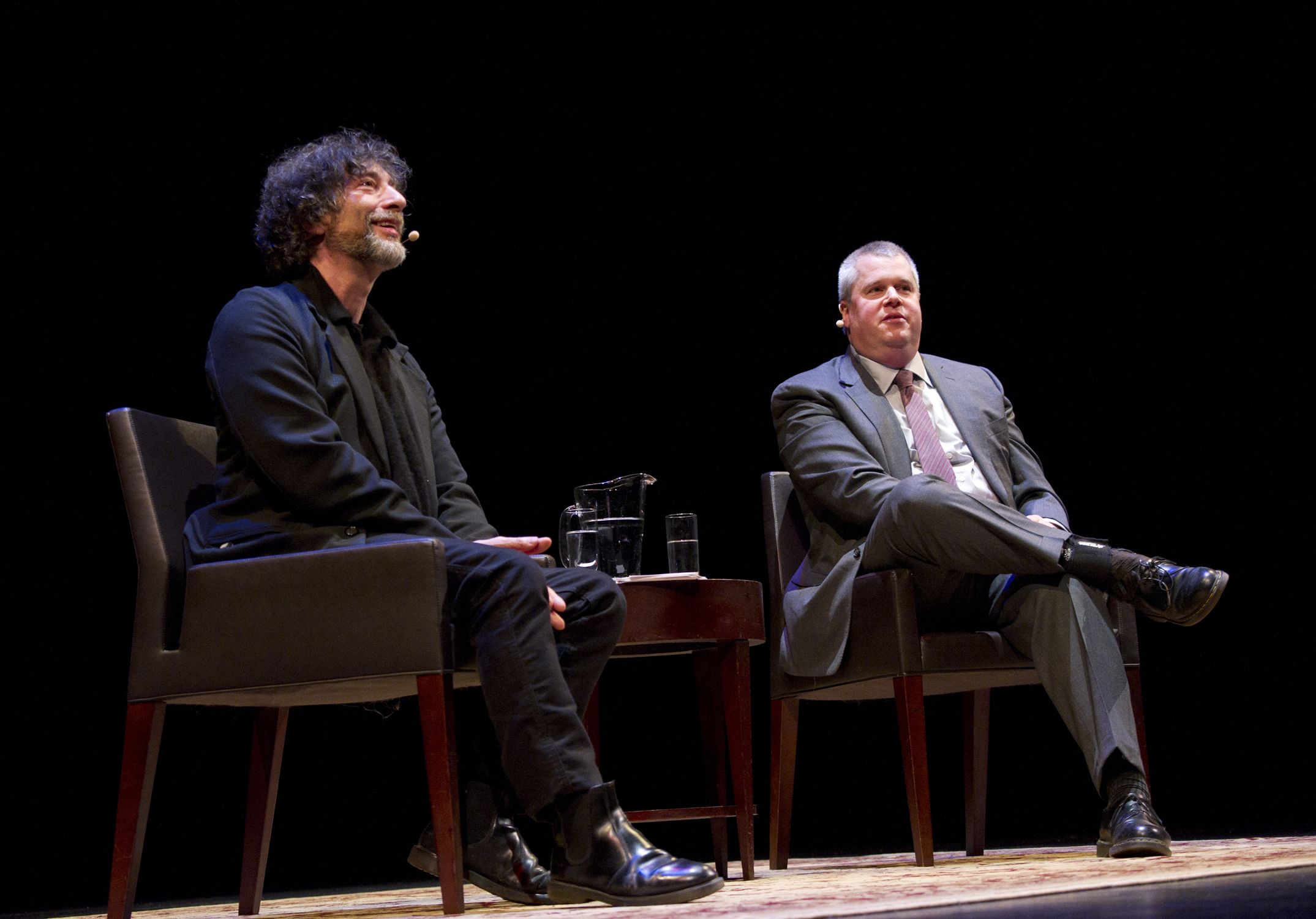 "The swords have not arrived so we'll have to talk about literature," Neil Gaiman said on a recent weeknight to a packed theater at the Brooklyn Academy of Music.
Gaiman and fellow author—and swordsman—Daniel Handler had just taken their places downstage center, their chairs arranged on a small rug as though someone's living room had been plucked up and dropped under the spotlights.
"Oh hi, I didn't see you come in," Handler quipped at his companion as they sat down.
The two authors were in Brooklyn to trade friendly barbs in an unorthodox literature event titled "En Garde!" The event was part book promotion, part performance and part charity, as both Gaiman and Handler donated their speaking fees to the Authors League Fund, which helps professional writers in financial need.
Gaiman and Handler are old friends and writers of best-selling books for both adults and children. When Handler pens stories for the latter, like his Series of Unfortunate Events and All the Wrong Questions books, he does so under the famous pseudonym Lemony Snicket. Handler's new novel We Are Pirates and Gaiman's Trigger Warning, a collection of short stories, poems and odds and ends, both hit shelves on February 3.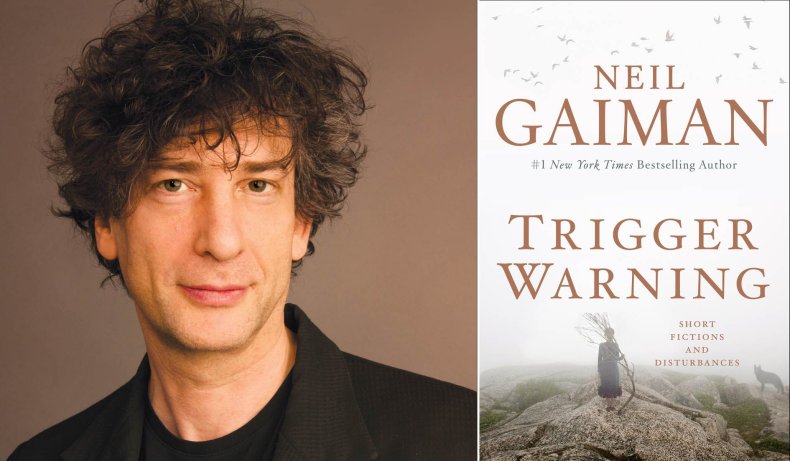 Half an hour before the event the lobby at BAM was teeming with fans shedding coats, scarves and other winter accoutrements. The crowd that filtered into BAM's Howard Gilman Opera House included the balding and bearded, the magenta and turquoise pixie-cutted, the salt-and-pepper ponytailed, and the yarmulke'ed twentysomething.
"This place is beauuutiful. How do they carve them?" one of the youngest, a shaggy-haired boy who looked to be about 9, said to the woman accompanying him. His head was tilted back to drink in the high ceiling adorned with gold carvings and stippled with lights, their reflections dancing on his glasses. A few rows away, a grown woman snapped a photo of the ceiling.
As the audience eagerly awaited Gaiman and Handler, ushers circulated index-type cards to be filled with questions for the duo and passed into the soon-to-be illuminated living room onstage. Once situated, the authors explained they would start on their own and turn to the cards when there was a lull.
"Do you remember the first time someone you didn't know read your work?" Handler asked as they started chatting. For him, it was at his wife's high school reunion a few weeks after his first novel, The Basic Eight, was published. He met someone there who had just read it and was flabbergasted, he recalled: "But we've never met. I didn't give you a copy..."
Gaiman recounted the time he went to see a theater performance with a friend and some of her friends. One of those new friends whom Gaiman had just met suddenly cracked a joke from the 1990 book he co-wrote with Terry Pratchett, Good Omens, to which a surprised Gaiman said, "Thank you."
To which the friend responded: "Why did you just say 'Thank you'?"
"What you said, it's a quotation."
"Yeah, it's a quotation from Good Omens, my favorite book."
"'Cause I wrote it."
"No you didn't!" The incredulous woman walked over to their mutual friend to confirm Gaiman's identity. The author's retelling was punctuated with laughter from the enthusiastic audience.
The whole evening was a strange yet fluid mix of witty comments and funny anecdotes with thoughtful reflection about literature and poignant personal disclosures. Handler explained to the audience that his new book is indeed about pirates. But it's also a little bit about his sister, who inspired the main character named Gwen. And one member of Gwen's ragtag crew wreaking havoc on the San Francisco Bay has Alzheimer's, so the book is also a little bit about Handler's father, who suffered from the disease.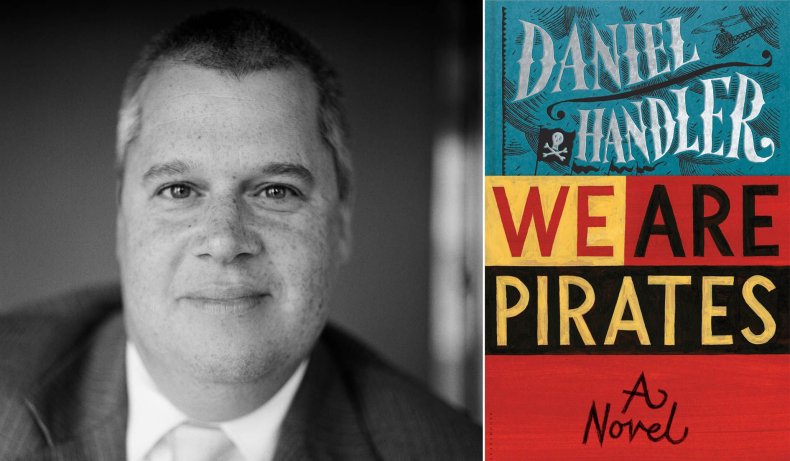 Later, Gaiman talked about readers coming up to him at signings with tattered copies of his young-adult novel Coraline and telling him how the book had helped them. For a long time, he says, he didn't know how to take those stories, and thought that whatever help his fiction had provided was a coincidence or side effect rather than something for which he could take credit.
Then he read a short story by a friend not long after his father's death, and started "weeping in floods," Gaiman recalled. He had yet to cry, he said, but "this one death in this story unlocked everything inside that hadn't been able to come out."
"That's one of the things that literature is there for," Gaiman said.
The conversation quickly turned from serious to the silly, and "sword fighting" ensued.
"What are your sword fighting qualifications?" Gaiman read from an index card.
"Flounciness," Handler replied without missing a beat. "I was so flouncy as an adolescent that people told me over and over again, 'It's because you are a homosexual.' And so many people said it for so long I thought it must be true. It's not."
"Was that disappointing to you?"
"It was disappointing to the other guy."
The laughter that erupted took several seconds to dispel. There was no topic too taboo, it seemed. The authors even touched on a faux pas Handler made when he hosted the National Book Awards in November. He was criticized for joking that African-American author Jacqueline Woodson was allergic to watermelon as he presented her with the Young People's Literature award for Brown Girl Dreaming.
"What was going through your head?" Gaiman asked.
"I was trying to honor my friend. It was a disaster," Handler responded. He admitted that he'd flubbed what was meant to be a tribute to Woodson and her ability to address nuances of race and other complex topics in her books for young adults.
Handler apologized the day after the National Book Awards on Twitter, and pledged $10,000 to an organization called We Need Diverse Books. He said he would match any donation within 24 hours up to $100,000.
"I'm grateful for the community that was upset," Handler said at BAM, "but that could also move on."
Throughout the event, Gaiman and Handler would turn back to the stacks of index cards for questions on their writing styles, lives and opinions.
What's the biggest difference and similarity between you? (Gaiman: "We write for kids with respect, then go off and do some weird stuff for adults that worries people." Handler: "We both like stories in which things happen.")
What's the name of your battle sword? (Cue conversation about euphemisms.)
How do you write? And please don't say "one word at a time" or "I write." (Handler: "A bossy question! Sit straight while you answer!")
I'm saving for a trip, where should I go? (Both agreed: "Reykjavik.")
"I'm really sorry to anyone who came expecting to see us fight to the death with sharp objects," Gaiman said to signal the end of the night.
With that, Handler read the last two questions—"We need to discuss both," he said—that perfectly encapsulated the weird mix of topic and tone that had been the ethos that evening: "'What's your number one tip for an aspiring writer?' and 'Does either of you care to share any thoughts about the recent embargo of Cadbury chocolates?'"
"Finish things," Gaiman said in response to the first question.
"There's room," Handler added. "The world of literature is wide. [We're] forever grateful that people came to a dark room [to hear us] talk about it."
As they stood unceremoniously and headed offstage, they quietly playacted the promised skirmish. Gaiman doubled over after an imaginary hit by Handler, and then the roles reversed, Handler's arms splayed out wide as he reacted to a bogus jab. Finally, Handler ambushed his friend with a big hug that propelled them into the wings as the stage went black.