Neil Gaiman Blasts 'Maus' Ban, Says 'Only One Kind of People' Would Do This
Neil Gaiman has spoken out after Maus, the Pulitzer Prize-winning graphic novel about the Holocaust, was banned from history lessons by a Tennessee school board.
Maus, originally published as comics between 1980 and 1991, was created by cartoonist Art Spiegelman, and was used as "anchor text" for eighth graders studying the Holocaust. In 1992, the work became the first and only graphic novel to scoop a Pulitzer.
However, Eastern Tennessee's McMinn County Board of Education voted on January 10 to ban the novel from the district's curriculum, amid objections over eight instances of profanity and an image of a nude woman.
When a link to local news outlet The Tennessee Holler—which first reported the news—was shared on Twitter, Gaiman expressed his objection to the move.
"There's only one kind of people who would vote to ban Maus, whatever they are calling themselves these days," the British-born, U.S.-based author wrote on Wednesday.
His statement was met with an outpouring of support online, with the tweet receiving 80,000 likes and more than 21,000 retweets.
While the board had considered censoring the book to remove the "foul language," Maus was banned from the district's classrooms after a unanimous 10-0 vote.
According to the minutes, some at the board meeting defended the graphic novel before the vote, with instructional supervisor Steven Brady arguing it helped students learn "the difference between right and wrong" and how to "be ethical people with compassion and morals and respect for others."
Maus follows the experiences Spiegelman's Jewish parents endured while detained in Nazi concentration camps during the Holocaust. Groups are portrayed as animals, with Nazis shown as cats and Jewish people drawn as mice.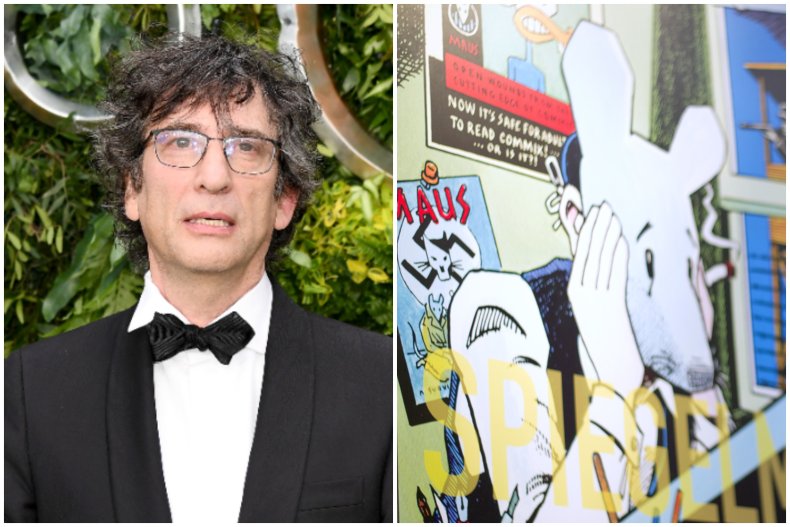 Spiegelman himself spoke out on the ban on Wednesday, branding the school board "Orwellian" for its headline-making move.
"I'm kind of baffled by this," Spiegelman said in an interview with CNBC after learning about the ban on Twitter. "It's leaving me with my jaw open, like, 'What?' ... I've met so many young people who ... have learned things from my book ... I also understand that Tennessee is obviously demented."
Attorney Jeff Trexler, the interim director of the Comic Book Legal Defense Fund, said in a statement to Newsweek that the ban "illustrates why it's so important for students to be able to learn analytical thinking through the interpretation of graphic novels."
"Being able to understand the fusion of word and image is essential to 21st century literacy," Trexler went on. "Yet if we fail to recognize how this interplay of word and image works, we set ourselves up to make decisions that run counter to our core civic values, just as this school has done."
McMinn County Board of Education has insisted that the Holocaust theme was not the reason the book had been banned.
The ban comes amid ongoing debate over teaching about race and the history of racism. The teaching of "critical race theory" was banned by Tennessee's Republican-controlled state legislature last year. CRT is rarely taught below college level.