Neil Kinnock Would Happily Write New Speeches for Joe Biden, With or Without Attribution
Anyone under the age of 33 was not alive when now President-elect Joe Biden ran for the highest office for the first time in the 1988 election which was eventually won by George H.W. Bush.
Biden didn't even make it to 1988, withdrawing in 1987 because of accusations of plagiarism of the then-U.K. opposition party leader Neil Kinnock. But now Kinnock could not be happier for the new president-elect and is even willing to reprise his role as Biden's "greatest ever speechwriter."
The original row happened after Kinnock, now Lord Kinnock and a serving member of the U.K. House of Lords, gave a speech at the Welsh Labour Party conference in May 1987, going off-script to ask why he was the "first Kinnock in a thousand generations to be able to get to university?"
This speech later appeared in a Labour Party election broadcast and Biden, then a Democratic hopeful for the Democratic presidential candidate nomination, was "particularly taken with it," Maureen Dowd of The New York Times wrote at the time.
While Biden used passages regularly and was always careful to credit Kinnock when pieces had been taken, in a debate at the Iowa State Fair, he references it in his closing statement without crediting Kinnock.
Michael Dukakis, the eventual Democratic nominee, jumped on this and eventually a "dossier of plagiarism" was created. It even went as far as Biden having to admit plagiarism in school but that it "was not malevolent."
In September 1987, Biden dropped out of the race. Even at the time, analysts were quick to point out how different the 1988 election might have been for Biden and the U.S. electoral cycle as a whole if he'd remembered to cite Kinnock.
But Kinnock himself has always said it was an innocent mistake and now, he tells Newsweek, he is happy that Biden has finally reached the presidency, thinks he will make a good president and would be more than happy to write more of his speeches for him.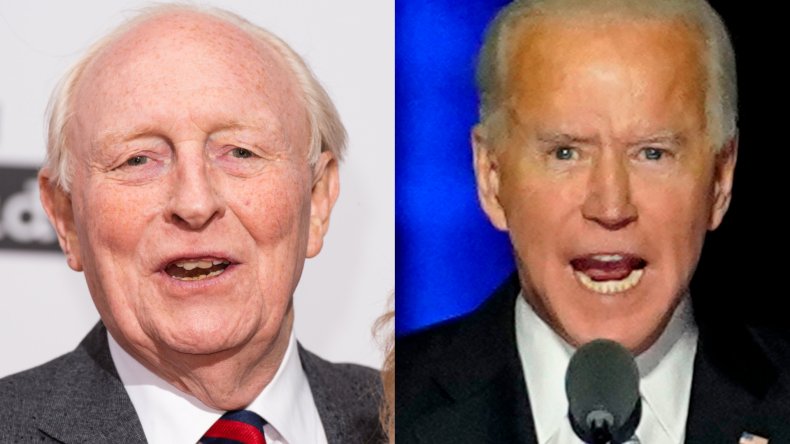 "I'm certain that Joe will be the coolest person in the room because that's how he's always been," Kinnock told Newsweek by email.
"This gift of calm may be inbuilt or perhaps it's a result of the personal agonies that he's endured and had to overcome. Either way, it's reassuring to the USA and the world that he's had a tension/hysteria by-pass.
"It's just one of the great contrasts with Trump whose absurd 'I won' blurt again proved how infantile he is and—for me at least—was such a whine that it told me that he knew that he'd be in trouble when the mail-ins were counted. I started to lose the blues at that point. Then, when Joe made his calm, statesmanlike 'be patient' speech I thought again that he's got what it takes."
Lord Kinnock last met with Biden in 2007 at the Democrat's Senate office, where Biden introduced him to his team as his "greatest ever speechwriter." Biden and Kinnock talked about this new "up-and-coming" senator by the name of Barack Obama. The new president-elect invited Kinnock to the 2009 inauguration.
And now Lord Kinnock would still be more than willing to help write more scripts for speeches, though he did suggest ideas that perhaps would be tricky to get through Congress straight away:
"I'd be happy to write a script on Health Care, gaining back taxes from (alleged) billionaires on pain of incarceration ('lock him up') and various Constitutional reforms relating to the Supreme Court, gun ownership and the Electoral College," Kinnock wrote.
"Joe would be welcome to use it with or without attribution. If you can't dream, you can't think."