Neil Peart of Rush Dead at 67, Famous Musicians Mourn the Drumming Virtuoso: 'The Greatest of All Time'
Musicians worldwide took to Twitter to mourn the death of legendary Rush drummer and lyricist Neil Peart, 67, who died on January 7 after a years-long battle with brain cancer.
"It is with broken hearts and the deepest sadness that we must share the terrible news that on Tuesday our friend, soul brother and band mate of over 45 years, Neil, has lost his incredibly brave three and a half year battle with brain cancer (Glioblastoma). We ask that friends, fans, and media alike understandably respect the family's need for privacy and peace at this extremely painful and difficult time," read a post on the official Rush Facebook page. The band also urged fans to donate to cancer research groups in Peart's name.
Peart and Rush were always known for their complex rhythms and melodies, as well as their literary lyrics. Many musicians came out to share their remembrances of Peart, who had an immense influence on rock 'n' roll.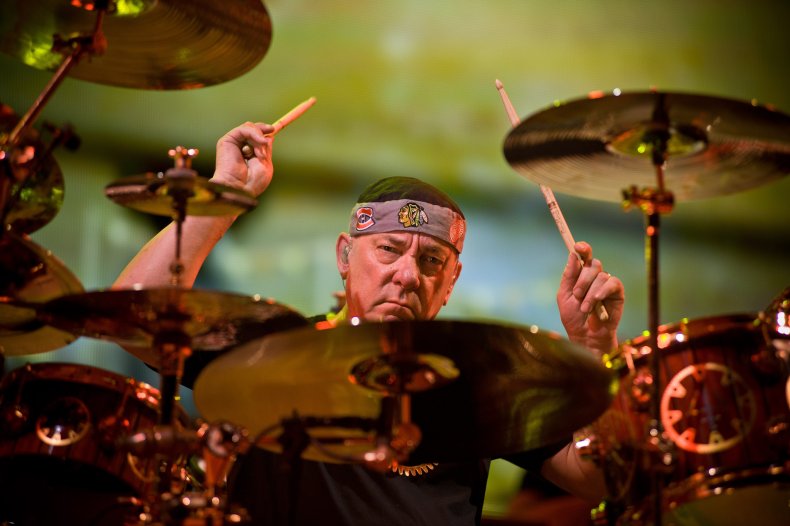 "Every drummer has 'their guy' - the first drummer that inspired them to pick up the sticks, or the drummer that they've taken the most inspiration from (re: ripped off) over their career. I can't begin to imagine how many drummers say that Neil Peart was 'their guy,' said Steve Gorman, drummer for The Black Crowes.
"The greatest of all time. RIP Neil Peart. I'm going to go raise a glass and then air-drum the shit out of Tom Sawyer," read an Instagram post from Anthrax lead singer Scott Ian.
"Sadly Neil Peart passed away earlier this week. One the greatest drummers of all time. One of the founding members of one of the greatest Rock n Roll bands of all time," tweeted drummer Kenny Aronoff, who worked with acts like John Mellencamp and the BoDeans.
"Today, the world lost a true giant in the history of rock and roll," said Dave Grohl, Nirvana drummer and Foo Fighters leader, in a statement to Rolling Stone Magazine. "An inspiration to millions with an unmistakable sound who spawned generations of musicians (like myself) to pick up two sticks and chase a dream. A kind, thoughtful, brilliant man who ruled our radios and turntables not only with his drumming, but also his beautiful words."
"I still vividly remember my first listen of 2112 when I was young. It was the first time I really listened to a drummer. And since that day, music has never been the same. His power, precision, and composition was incomparable. He was called 'The Professor' for a reason: we all learned from him," Grohl continued. Grohl also helped induct Rush into the Rock and Roll Hall of Fame in 2013
"Absolutely Horrible News. Neal Peart has died after fighting brain cancer for years. His later life was filled with so much family tragedy. So, so sad. I'm just shocked," wrote rhythm guitarist and co-lead vocalist of KISS, Paul Stanley.
Stanley speaks of the August 10, 1997 death of Peart's daughter, 19-year-old Selena Taylor, in a single-car accident. Shortly after her death, Peart's common-law wife, Jackie Taylor, was diagnosed with terminal cancer and passed soon after.
While Peart told his bandmates to "consider me retired" on the day of his daughter's funeral, after a period of healing, including a 14-city motorcycle trip through North America—which he later chronicled in the book Ghost Rider: Travels on the Healing Road—he eventually returned to the band.
Peart was diagnosed with brain cancer three and a half years ago. He is survived by his daughter, Olivia Louise Peart, and his wife, photographer Carrie Nuttall.