Neil Young's Plan to Vote Against Trump Suffers Setback as Passport Application Delayed Over Marijuana Use
Neil Young is keen to get American citizenship so he can vote in the 2020 election but he says his honest answer about drug use on his application might be holding things up.
The Canadian rock legend is no fan of President Donald Trump, criticizing his response to the California fires in 2018 in which his home was destroyed. He also forbade him from using his song "Rockin' in the Free World" at Trump campaign events.
Now Young has urged people to get out to the ballot box in 2020, telling the Associated Press that his lyric "even Richard Nixon has got soul" on the 1976 song "Campaigner" could not be written for the current U.S. president.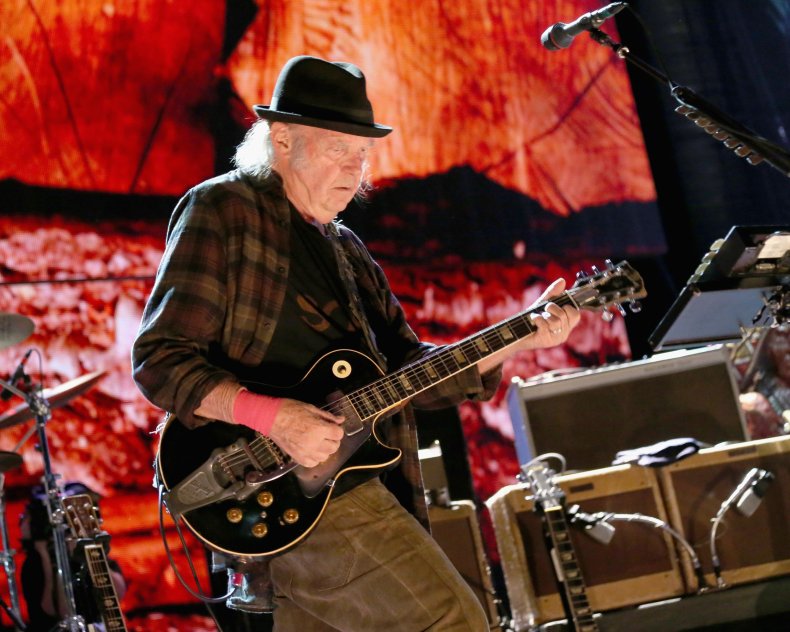 "I hope that people vote him out and I hope there's somebody reasonable to put back in there when they get rid of him," he told the AP.
Putting his money where his mouth, he applied for dual citizenship, and writing on his website, he said: "I want to be a dual citizen and vote. When I recently applied for American citizenship, I passed the test. I answered then truthfully and passed."
"However I have been told I must do another test, due to my use of marijuana and how some people who have smoked it have exhibited a problem.
"I sincerely hope I have exhibited good moral character and will be able to vote my conscience on Donald J. Trump and his fellow American candidates, [as yet unnamed]."
This is reference to a policy which was added by the U.S. Citizenship and Immigration Services when Jeff Sessions was attorney general.
The policy states that an applicant "involved in certain marijuana-related activities may lack GMC [Good Moral Character] if found to have violated federal law, even if such activity is not unlawful under applicable state of foreign laws."
Sessions backed the repeal of the Rohrabacher-Farr amendment so that suppliers of medical marijuana could be prosecuted.
Born in Toronto, Young has spent two-thirds of his life in the U.S. after he arrived in Los Angeles in the mid 1960s.
Sometimes facing criticism over the years about his stance on American political issues without being an American, he told the LA Times last month that he had hoped to be taking the oath of citizenship on November 12.
"I'm still a Canadian; there's nothing that can take that away from me. But I live down here; I pay taxes down here; my beautiful family is all down here—they're all Americans, so I want to register my opinion."