What Nelson Mandela Did to Change South Africa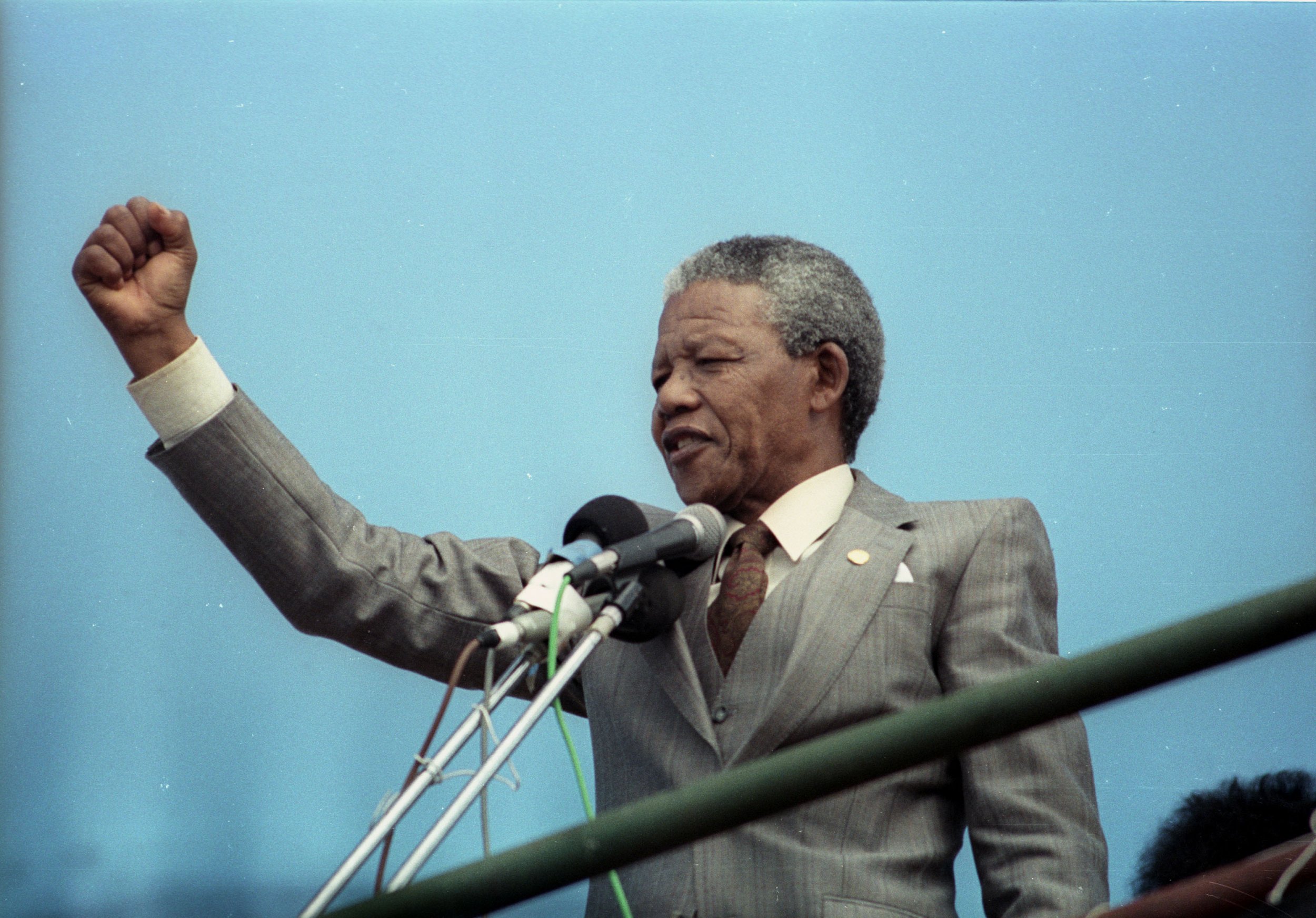 Newsweek published this story under the headline "A Prisoner, a President" on February 12, 1990. In light of the 55th anniversary of Nelson Mandela's arrest, Newsweek is republishing the story.
From the lofty battlements of South Africa last week, F. W. de Klerk took down the gargoyle of apartheid and tried to give it a human face. With the president's seal of office draped around his neck, he went before Parliament to say that the future was something the country's white minority and black majority could finally negotiate. He lifted the 30-year ban on the outlawed African National Congress and eased emergency regulations hamstringing political groups and the media. He stopped hangings. He promised to release about 120 political prisoners, none of them convicted of violent crimes. He set a six-month limit on new detentions. And with just a slight hesitation, he announced that Nelson Mandela -- martyr, icon, rival -- would "soon" go free. "The season of violence is over," he said. "The time for reconstruction and reconciliation has arrived." De Klerk's new deal startled whites as well as blacks. A Japanese television crew broke the news to Eugene Terre'Blanche, leader of the far-right Afrikaner Resistance Movement. "Just don't tell me that," he said. "God, don't tell me that. No. Oh no. It can't be true." In Cape Town, Desmond Tutu, the Anglican archbishop who won the Nobel Peace Prize for his own, better-tempered resistance to apartheid, said, "This has taken my breath away." Near Parliament, a black "young lion" waving a plastic rifle climbed a statue of Gen. Jan Smuts, ran up the yellow, green and black flag of the ANC, and tugged a watch cap in the same colors over the old prime minister's head. Police with riot dogs watched and did nothing. "It's much more than we expected," said the Rev. Allan Boesak, president of the World Alliance of Reformed Churches. "If de Klerk had given us any more, we wouldn't have known what to do with it."
Exploit the differences: Once the euphoria subsided, the President and the Prisoner moved more deeply into an oddly matched game. If Mandela promised to be a leader of great emotional presence, de Klerk was also showing more skill than any of his recent predecessors. Before last week the conventional wisdom was that he would promise to abolish the Separate Amenities Act, one of the pillars of apartheid, and desegregate housing in places like Johannesburg, while keeping the ban on the ANC. Instead he did just the opposite. In unbanning the ANC, he opened the way to negotiations; but he did nothing to dismantle apartheid, leaving that for talks later. He clearly meant to throw the ANC off balance, to bring maximum pressure on the group to give up armed struggle and to exploit any differences in age, personality and ideas within the black leadership.
In the meantime South Africa's main preoccupation was waiting for Mandela. Just before dawn on the day before de Klerk went to Parliament, two cars and a van rolled through the gates of Victor Verster prison farm in Paarl outside Cape Town, where for more than a year Mandela has been living alone in a heavily guarded house, once the home of a senior prison warder. The motorcade left about an hour later. The morning newspapers hit the streets with front-page stories, leaked by one of de Klerk's closest advisers, that the two men would meet later that day. Until noon government officials confirmed that the meeting was on. That night they admitted that the President and the Prisoner had not met.
The impasse raised once more the intriguing question of which man was the real captive. Before Parliament the next day, de Klerk said rather lamely that while the government had taken "a firm decision" to put no conditions on Mandela's release, "factors" like "his personal circumstances and safety" were holding things up. One line of speculation was that Mandela had sent his early-morning visitors back with a message that he would go nowhere until the government rehabilitated the ANC. In that case the hitch could be temporary. In Washington, a few well-wired hands around the National Security Council predicted that with international pressure stronger than ever on de Klerk to spring Mandela, the old man who at 71 has spent the last 27 years in prison, might be out as early as this week.
A second view was that the government did not want to make it appear that Jesse Jackson, who barnstorms into South Africa this week, had pried Mandela out of jail. A third possibility was that both the ANC and Mandela had told de Klerk that the group's armed wing, Umkhonto we Sizwe (Spear of the Nation), would not give up armed struggle until the government agreed to even greater concessions. In that event Mandela could stay in prison beyond mid- to late February, the time that still seems most likely for his release.
The details were restricted to a four-man cabinet committee and a group of high-ranking civil servants in charge of planning the departure. The cabinet has agreed to leave the final go-ahead up to de Klerk. One possible reason for the delay was out of his hands. According to insiders, a family feud has broken out over who will take custody. It pits Winnie Mandela, the Prisoner's strong-willed wife, against the "National Reception Committee" headed by Cyril Ramaphosa of the miners' union, who is endorsed by the ANC. From an ANC viewpoint, Winnie Mandela is something of a liability: many South Africans vividly recall the scandal of a year ago when young township toughs from Mrs. Mandela's "Mandela United Football Club" allegedly murdered a young activist they accused of being a police informer. Two trials stemming from the attacks are to open in Johannesburg later this month. "Nelson's aware of the problem," concedes a source close to the family. "Once again he's torn between his organization and his wife."
'Equal rights': De Klerk needed to be nimble to keep his own house in order. His problem was to move fast enough to thwart international pressure for tougher economic sanctions against South Africa; far enough to entice the ANC (without giving away the store) and carefully enough to keep the ruling whites from turning on him. When he took office last September he began to press the ANC to "walk through the open door, take your place at the negotiating table," His manifest intent was to regain the political initiative the government lost when P. W. Botha, his predecessor, crudely suppressed the 1984-1986 uprisings in the black townships. Botha was stiff-necked, dour; de Klerk, a lawyer, is more easygoing. He has a flair for manipulating the media where Botha could only muzzle it. Before his speech last week, he and his operatives played down expectations, a ploy that made what he said appear more effervescent than it really was. Afterward, Stoffel van der Merwe, his minister for black education, said. "People did not realize that the sun had set on the old South Africa yesterday and would rise on an entirely new South Africa today."
That particular claim fell more into the realm of wish fulfillment than reality; but the specific concessions and reforms de Klerk offered in his speech were more significant than anything offered before to blacks, who make up 68 percent of South Africa's 36 million population. The president promised "a new dispensation" with "equal rights, treatment and opportunity in every sphere of endeavor." His package:
* Repeals the emergency restrictions on 33 opposition groups, including the South African Communist Party, the Pan-Africanist Congress, the United Democratic Front, the South African National Students Congress and the Congress of South African Trade Unions. (For balance, de Klerk also ungagged the White Freedom Movement, a beyond-the-fringe group of racial supremacists.)
* Lifts the news blackout, while keeping a leash on photographers and television cameramen.
* Ends restrictions on the movements and political activities of 374 opposition supporters.
* Provides better legal and medical help to political detainees, and grants reprieves and legal reviews to political prisoners on death row.
* Allows political exiles to return home.
Only two years ago many white South Africans thought even talking to the ANC was treason. Now de Klerk has some new developments working for him. The secret Broederbond (Brotherhood) of elite white Afrikaners is pushing forcefully for reform, in the name of the survival of white society. A Botha-style iron hand, effective in crushing the last uprising, is no longer sufficiently sensitive to handle an era of international sanctions, especially the cutoff of important foreign loans.
At the same time, the ANC also has come under pressure to deal. Its backers in the Soviet Union have gone cold on the romance of revolution. The U.S.-brokered peace settlement in Angola scattered 8,000 ANC guerrillas as far afield as Uganda and Ethiopia. Zambia's President Kenneth Kaunda, host to the exiled ANC in Lusaka, has made de Klerk a welcome visitor. By inviting the opposition to the table, de Klerk is offering something for everyone. Those who supported sanctions can say they forced his hand. The ANC and its allies can claim a victory for "the people's struggle." Others can say their commitment to dialogue with Pretoria has been vindicated. "They're all right," says one Western diplomat in Johannesburg. "But the fact is that de Klerk has won the day -- provided, of course, it doesn't all backfire in his face."
De Klerk shrewdly calculated his gamble. He had 302 prisoners on death row; but over the past two years South Africa has been less extravagant with its hangman. Since last November there has been a de facto moratorium on executions. More than 370 political activists qualified for de Klerk's assorted dispensations; but many of them had already unbanned themselves, appearing in public and talking to newspapers. Of the estimated 120 political prisoners who are now eligible for release, none is as celebrated as Walter Sisulu or the other important lieutenants already set free last year. The government has pressed a few censorship cases against the media recently; but daring editors of "alternative" newspapers regularly print "Release Mandela" posters and quote from ANC broadsides. Surveying the landscape, one candid official in Pretoria said, "The restrictions simply weren't working -- or more precisely, they weren't worth the price we were having to pay in outcry from every direction."
De Klerk was not offering one man, one vote; still, his program granted the ANC some significant gains. Foreign Minister Pik Botha said the ANC would have the same standing as any other political party. It could open offices, recruit members, raise money and hold rallies. Botha blandly skipped over the fact that, until the system is changed, black ANC members will be able to vote only for minor municipal councils and for leaders within the black "homelands." Even so, the opening gave the ANC the chance to transform itself from an underground group into a high-profile opposition (page 29).
The rest of the ANC's scattered leaders, along with 15,000 other exiles, now must decide whether to accept de Klerk's gesture and return. "It's not so simple as saying, 'Just come home'," said Thabo Mbeki, 47, the ANC's chief diplomat, who held a reunion in Stockholm with Sisulu, 77, and Joe Slovo, 63, leader of the South African Communist Party. Together they went to a sunny clinic to brief Oliver Tambo, 72, the ANC's president, who is recovering from a stroke. No one in the group rushed to renounce violence or say farewell to arms. "The regime doesn't trust us," Mbeki told NEWSWEEK. "And we don't trust them."
Given the past, it couldn't be any other way. Puffing a pipe, Mbeki, Tambo's most likely heir, looked more like a don than a revolutionary. He pointed out that de Klerk had kept the power to arrest and detain anyone without trial for six months. De Klerk also kept the advantage of his efficient security police, thousands of paid spies, telephone taps and all the other apparatus of the past. There were no guarantees that he would not backslide. Mbeki denied rumors that Mandela had a secret 10-point plan to get the bargaining underway. No real position would be forthcoming until the National Executive Committee of the ANC meets in a week to 10 days. In the meantime, he said, de Klerk was deluding himself if he saw Mandela as a mediator, not a loyal member of the ANC.
Danger zone: Once Mandela is free, there will be no credible excuses for either side to avoid exploratory meetings. The gossip of Johannesburg has it that secret talks are already underway with members of the Broederbond, including de Klerk's older brother Willem as one of the intermediaries. The closer the main parties come to each other the more desperate hard and hot head, white and black, may become. "The danger zone is no longer the government and its immediate opponents, but radicalism and militancy on the extreme left and right," says Frederik van Zyl Slabbert, former leader of the liberal Progressive Federal Party. Compromises are sure to antagonize rival factions within the ANC and the even more stiff-necked Pan-Africanist Congress. And there have been reports that to embarrass de Klerk right-wing police are already provoking demonstrators.
What will the United States do to nudge all sides toward the table? President George Bush commended de Klerk last week. He hinted that he would review U.S. sanctions if South Africa releases Mandela and takes stronger action against apartheid. How effective sanctions have really been remains a matter of dispute, though de Klerk clearly would like to restore South Africa's good standing as a borrower with the International Monetary Fund. In Congress, where sanctions passed in spite of a veto by Ronald Reagan, the sense was that de Klerk's gestures were positive but that he still had a long way to go. Elsewhere, everyone but fanatics could only hope for the best. From Johannesburg, COSATU, the black federation of labor, said, "We are now seeing the death throes of apartheid and the birth pangs of a new South Africa." To be in on the creation was to change history itself.