Nelson Mandela Released From Prison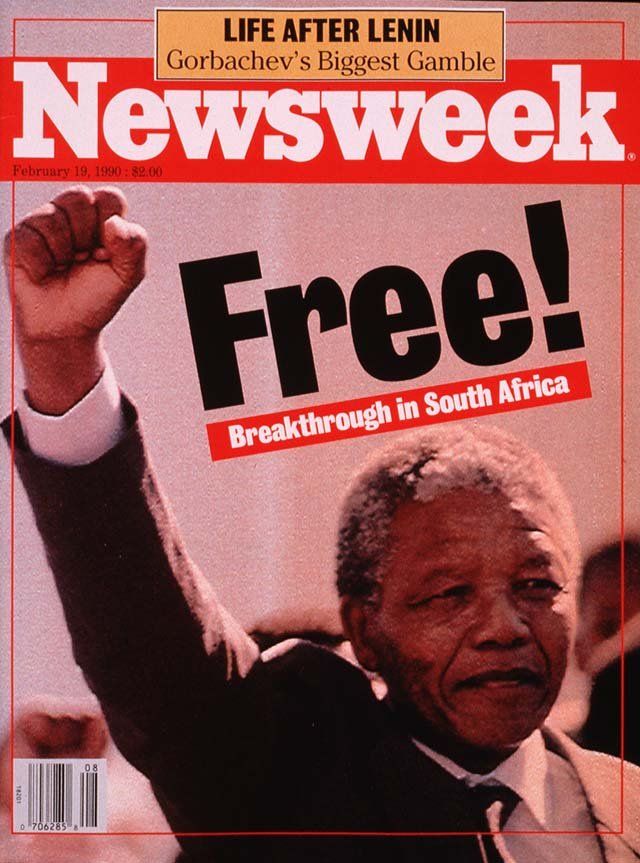 By Mark Whitaker with Spencer Reiss in Cape Town and Jeffrey Bartholet in Johannesburg
It was the moment South Africa's blacks had spent 27 years praying for -- and many whites had spent just as long dreading. Under sun-filled skies at the Victor Verster Prison farm on Sunday afternoon, hundreds of blacks and scores of police officers waited expectantly for a glimpse of Nelson Mandela, the 71-year-old black leader who has become a worldwide symbol of the struggle against apartheid. Finally at about 4:15 p.m. -- more than an hour behind schedule -- motorcade crawled up to the prison gate. The doors of a silver Toyota sedan swung open, and Mandela and his wife, Winnie, stepped out. Gray-haired and thin after almost three decades in prison, Mandela at first looked tentative, even confused, as he made his way toward supporters. But as soon as he was outside, his face lit up and his fist shot up in a black-power salute -- first one arm, then two.
Minutes, later, Mandela was back in the car for the 40-mile drive to Cape Town. A portent of possible trouble ahead came while the motorcade was en route, as police fired into the crowd of unruly black protesters. But when Mandela finally appeared on the city-hall balcony, the clashes subsided as tens of thousands of people crowded around to hear him give his first public address in decades. Speaking firmly and showing the instincts of a born politician, he thanked every faction of the black-power movement individually, praised the man who freed him, South African President F. W. de Klerk, as "man of integrity," and hinted he wouldn't accept any official leadership role unless "democratically elected at a national congress."
But Mandela also made it clear that age and imprisonment haven't diminished his presence -- or his militancy. He said armed struggle had to continue until a "climate conducive to a negotiated settlement" could be created. He called on foreign countries to continue sanctions against Prestoria. "Our match to freedom is irreversible," he said. "We must not allow fear to stand in our way." Then, looking and sounding very much like a proud but demanding father, he urged his millions of black followers to "not do anything which will make a single person say that we cannot control our own people."
For de Klerk, the decision finally to release Mandela was the biggest throw of the dice yet in a historic wager on ending South Africa's racial strife. Since taking power last year, the affable former lawyer has shed his image as a right-leaning political operator and pressed boldly for talks with black leaders. Two weeks ago he lifted a 30-year ban on the militant African National Congress, stopped hangings and promised to release some 120 political prisoners. Then, after a week of cagily playing down expectations, he called a news conference on Saturday to say Mandela could go free.
Sitting behind a wooden table in the H. F. Verwoerd Building in Cape Town -- named after the white leader who laid down the building blocks of apartheid in the 1950s -- de Klerk calmly read a brief statement. Mandela's release, he said, "will bring us to the end of a long chapter," and he movingly appealed to all sides "to provide that we are capable of a peaceful process in creating a new South Africa." Hearing the news that Mandela would go free, Desmond Tutu, the Nobel Prize-winning Anglican archbishop, leaped with delight and said he needed a large dictionary to find words for his joy.
If the move was a tribute to de Klerk's political courage, it was also a testimony to the stature and persistence of Nelson Mandela. Convicted in 1964 on charges of plotting to overthrow white rule, the ANC leader repeatedly refused government offers of freedom on condition that he renounce armed struggle, go to another country of limit his political activities. Eighteen years, much of it at hard labor, on windswept Robben Island and another decade first at Pollsmoor Prison and over the past 14 months at Victor Verster, only strengthended his grip on black hearts and minds (page 44) -- until the government finally agreed to free him "unconditionally." Even as he and de Klerk hammered out the final terms of his release, Mandela was huddling round-the-clock with fellow black leaders and government envoys to lay the groundwork for the talks ahead. In an interview with a South Africa journalist on the eve of his release, Mandela defined the key issues in the standoff: black demands for "majority rule" and whites' insistence on protecting their political position.
Bridging that gap won't be easy. For all the jubilation surrounding Mandela's release, the road to a peaceful solution in South Africa is still cratered with obstacles. Mandela and other black leaders may refuse even to sit down at the table until de Klerk lifts a 43-month state of emergency and frees all political prisoners -- concessions he's held back until now. The ANC -- scheduled to hold a summit in Lusaka, Zambia, this week -- is still struggling to hold together its far-flung diplomatic network and ragtag guerrilla force.
Chief Gatsha Buthelezi, head of the rival black-nationalist group Inkatha, warned of "euphoria politics," hinting that expectations of what Mandela could accomplish were too high. And while moderate National Party supporters and white liberals may be willing to take a wait-and-see attitude toward de Klerk's initiatives, hard-line Afrikaners will do whatever they can to derail them (page 41). Less than an hour before de Klerk's announcement, a crowd of some 800 supporters of the ultraright Afrikaner Resistance Movement marched through Pretoria. "Hang Mandela!" they chanted, waving placards with slogans like F. W. DECLARED WAR ON THE WHITE MAN.
'Very pleased': Watching the TV images of Mandela's freedom walk, millions of Americans, black and white, couldn't held feeling moved -- and relieved. But just how much the United States can do to help South Africa through the difficult passage ahead is unclear. Assistant Secretary of State for African Affairs Herman Cohen said the Bush administration was "very pleased and encouraged" by the decision to free Mandela and was "in the process of reviewing [its] policy." But Cohen made it clear the White House wants to see further steps -- including an end to the state of emergency and repeal of laws enforcing racial segregation -- before it's ready to press Congress to life economic sanctions passed in 1986. Yet sanctions, if they've worked at all, have helped to push de Klerk to the negotiating table. Now that he's ready to sit down, as former U.S. ambassador Herman Nickel puts it, Americans shouldn't try to "dictate the outcome."
The decision to release Mandela came only after a protracted on-again, off-again negotiating process that began under de Klerk's predecessor, P. W. Botha. For three years Mandela met regularly with senior government officials, led by Justice Minister Kobie Coetsee. Talks intensified once the pragmatic, energetic de Klerk replaced the ailing, cautious Botha last August. Over the past year, Mandela presented officials with at least two handwritten documents making specific proposals for "talks about talks" between the government and the ANC and offering to serve as a "facilitator." But every time a deal for Mandela's freedom seemed within reach, it snagged on another "precondition." Mandela was demanding that Pretoria lift the ban on the ANC; the government wanted the nationalist group publicly to disavow its policy of "armed struggle" first.
Only after de Klerk finally decided to "unban" the ANC did preparations for freeing Mandela move into high gear. Initially, it looked as if de Klerk wanted to strike a deal before he gave an address to South Africa's Parliament on Feb 2. The day of the speech, newspapers reported that de Klerk would meet with Mandela face to face; government officials confirmed the stories but later said the meeting had been called off. When de Klerk stood up before the legislators, he was ready only to announce that Mandela would be free "soon."
Tete-a-tete: The waiting game continued -- with anchormen on hand to give daily updates. ABC's "Nightline" with Ted Koppel broadcast live from South Africa all week, and NBC's Tom Brokaw arrived on Thursday. At the invitation of a leading South African church group, Jesse Jackson also showed up, and some ANC supporters began speculating the Pretoria was holding up the release just so Jackson couldn't take any credit for it. Others said Mandela was holding out for yet more conditions -- the lifting of the state of emergency and the freeing of all political prisoners. After Mandela met with members of the United Democratic Front, the country's largest antiapartheid group, a spokesman reported: "Mr. Mandela has not set any conditions for his release." In a tete-a-tete with Mandela on Friday, de Klerk said, he did discuss how he could lift the state of emergency "without jeopardizing the maintenance of law and order."
The biggest glitch may have been disagreement over how to free Mandela. There were reports that Mandela's controversial wife, Winnie, was trying to take over the show. The UDF, black trade-union leaders and other nationalist groups had formed a National Reception Committee to escort Mandela after he left prison. But Winnie Mandela insisted on making her own arrangements, lining up ultramilitant "young lions" from the South African Youth Congress to provide security and scheduling television interviews for her husband. As Sunday approached, a member of the NRC said the group was "consulting [Winnie] on everything" and had chartered a plane to fly her to Cape Town for the release.
De Klerk was also clearly worried about the threat to Mandela's safety -- from delirious throngs of supporters, but more important from angry militants of both races. The greatest fear was of a left-wing black attentat -- or possibly a hit by white provocateurs designed to look like the work of blacks. Half an hour after de Klerk's announcement, an ominous sign of the kind of unrest that could lie ahead came when gunshots were fired neared Jesse Jackson's motorcade near Cape Town. Jackson blamed the police; the police said that local black gangs had been shooting at each other and that officers fired in self-defense.
If violence like that is to keep from spreading, Mandela and de Klerk will have to put their lawyerly skills to work to produce results -- quickly. The first step will be to end the state of emergency. De Klerk will press Mandela to make an appeal for calm -- and will probably wait to see what effect it has. If protests are kept peaceful, Pretoria could abolish the "security laws" in a matter of months, or even weeks. Political prisoners will be a tougher nut to crack. The government has said it will release only those convicted of crimes that don't involve violence -- 120, by its count. The UDF and other ANC allies want an amnesty that includes the black "homelands" and covers all prisoners claiming political motives -- a number that could be as high as 3,000. the two sides may haggle for a while but aren't likely to let progress break down over what is essentially a side issue.
The first real crunch will come -- literally -- over the size and shape of the negotiating table. The government wants to include as many political groups as possible: the right-wing, white Conservative Party as well as mainstream Nationalists; homeland leaders denounced as "collaborators" by black radicals as well as the ANC. Mandela is also believed to favor "inclusivity," but probably with more clearly drawn lines: perhaps a rectangular table with white representatives on one side and a united black opposition on the other. Participants in the "talks about talks" will also have to determine how players will be invited to the game: by invitation, on the basis of existing political designations such as "Indians" and "Coloreds" or through some sort of election.
In the past the ANC has called for a "constituent assembly" that, like the Founding Fathers, would govern the country as they changed its political system. But members of the group's moderate wing concede they will probably have to settle for an old-fashioned negotiating forum, whose decisions will have to pass muster with the white government. As a sweetener, de Klerk could offer some sort of "transitional government" that might even include places for ANC members in the cabinet. Along the way, he may also make concessions on remaining apartheid laws such as the Group Areas Act (which segregates residential areas) and the Population Registration Act (which classifies all citizens according to race). De Klerk and his ministers have said both statutes should be on the table -- meaning they're waiting to swap them or black concessions.
Wiggle room: All of this horse-trading may mean little, however, if the two sides can't compromise on the most contentious issue of all: black demand for "one man, one vote." In the interview released on Saturday, Mandela is quoted as scoffing at white proposals for a system that would assign separate political rights to each racial group. Yet intriguingly, Pretoria officials have lately talked only about "protection of minority rights" -- a formulation that could leave some negotiating wiggle room. In the newly independent territory of Namibia, which South Africa ruled for years, a system of "proportional representation" allows the black majority the vote but gives a strong role to minority parties. Many South African whites have taken heart from Namibia's first general election last November, in which a coalition of white and moderate black groups kept the major nationalist party, the South West African People's Organization (SWAPO), well short of a controlling two-thirds majority in the country's new national assembly.
Before South Africa's 5 million whites even consider giving 26 million blacks an equal vote, they will also demand assurances about the future of South Africa's economy. The ANC has vowed to nationalize mines, banks and "commanding heights in the economy" if it comes to power. Citing that kind of talk, right-wing leaders warn that the ANC would turn South Africa into a communist state. But these days even government leaders play down those fears, noting that after the upheaval in the Soviet bloc, blacks are unlikely to embrace the discredited communist model. When a Conservative Party official called Mandela "a communist" in a recent parliamentary debate, Justice Minister Coetsee denied it. Helen Suzman, the veteran antiapartheid campaigner, agrees that worries about the economy are overblown. "That bogey [the communist threat] has been put to rest," she says. "The [the ANC] are talking socialism, but that's not quite the same thing."
'Ordinary human': Like millions of her countrymen, Suzman now sees South Africa's future hanging on a far more personal question: can Nelson Mandela live up to the myth that has grown up around him? After visiting him in prison and taking his measure ("calm, moderate, totally without deference to prison authorities"), Suzman thinks he has the force to keep young black militants in line and win the confidence of the white minority. Others aren't so sure. "As a man outside of jail," says Willie Breytenbach, a political scientist at Stellenbosch University, "[Mandela] will be an ordinary human being, subject to human errors and mistakes." No matter how great his skills, it's hard to see how Mandela can fulfill all the dreams of blacks like Cynthia Futane, a 30-year-old who waited to welcome him outside his family's small house in Soweto. "Nelson is going to negotiate with the government," she said. "We're going to get freedom." After more than a quarter of a century, Nelson Mandela had his freedom. But like Moses, he had to wonder whether he would live long enough to bring it to his people.