Nemtsov: Protest Leads to Lockup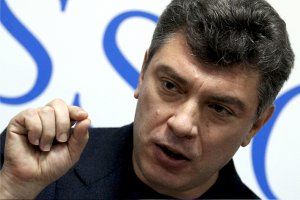 Boris Nemtsov, once a deputy prime minister under then-president Boris Yeltsin, has been one of the Russian opposition's most high-profile leaders. A relentless critic of Prime Minister Vladimir Putin, Nemtsov hasn't been shy about documenting corruption in the Kremlin elite and showing how their actions are strangling Russian democracy. Hopes that President Dmitry Medvedev might be loosening up the system were dashed, though, when Nemtsov and other opposition leaders were arrested Dec. 31 at an officially sanctioned protest to celebrate Article 31 of the Russian Constitution, which guarantees freedom of assembly. Nemtsov spoke to NEWSWEEK's Anna Nemtsova (no relation) in Moscow after finishing his 15-day sentence.
You have been leading protests in Moscow squares for at least the last three years—why did the authorities jail you now?
[Parliamentary] elections are coming in a few months; we are seen as a threat to the current regime. Besides, Prime Minister Putin has some serious reasons to be scared of us. Over a million copies of our report last year on corruption in the Putin circle have been distributed in print and online. It presents evidence of how Vladimir Putin's closest friend became a multibillionaire and gained control over two thirds of all Russia's oil exports. Also [he fears] our newly founded party, People's Freedom.
Who made the decision to arrest you?
The only people detained during the opposition protest were four opposition leaders. That means it was a political order made directly by Putin. Such irrational actions by the authorities have only helped the opposition's popularity, though. They have also helped unite the liberals with the Communist opposition, and even with nationalists. The authorities physically made us closer by locking all four of us up in the same jail.
What kind of conditions were you kept in?
That was the first time I had ever been arrested in my life. I came to the peaceful, authorized protest with my wonderful daughter; we planned to have a family New Year's party afterwards. When police detained me, I could not imagine that they would keep me in a single cell without windows on New Year's night. I spent the first 40 hours in a dark cage made of concrete, with no windows, 5 feet by 10 feet. There was no bed, no water, no toilet; I lay on my jacket, using my shoes for a pillow. My lawyers say that the way I was treated qualifies as torture. I filed a complaint at the European Court of Human Rights.
Why did they treat you like that?
Easy—the authorities' goal is to scare me, to break me. They failed. I will lead the protest again on Jan. 31.
At your protests you call people to rise and "sweep out" current leaders. Why?
Putin is the architect of a mafia state. De-Putinization is a necessary condition for creating a fair court system, for returning to fair elections. Under Putin's rule, Russia has grown deeply corrupt. His closest friends are all multibillionaires. They consider Russia their feudal lands. Putin's actions are wrecking Russia. We need to mobilize before his actions cause wars and Russia falls apart.
Putin still is the most popular politician in Russia. Why should he be afraid of you?
His actions are irrational. Rational politicians would allow peaceful street protests. Every week Moscow's center is flooded with armies of police—Putin relies only on police. Thousands of people were detained in Moscow during the last month. By these irrational actions Putin is losing the respect of people who once trusted him. When I got out of jail, one of the first people who called me was Mikhail Gorbachev; he had never called me before. "Boris, you are right," he said to me. Gorbachev has never been my biggest supporter—now he is.
What do you think the Kremlin is planning to do with you next?
The Kremlin's plan is further repressions against the opposition. Their goal is to keep power at any cost. We expect more blackmail, more illegal arrests, fabrication of criminal cases against us.
What is your new party's agenda?
To continue documenting corruption, in detail. When we wrote our report on Moscow Mayor [Yury] Luzhkov [in 2008] no one believed that he would one day be fired and the court would use the evidence of our report. But he was. I have no doubt that Putin will one day run like the president of Tunisia and ask Berlusconi for asylum. To make Putin resign is the No. 1 demand. We also plan to cancel censorship, reconstruct the court system, investigate corruption not just in Putin's elite but in Gazprom, Transneft, and other [state] companies.
What if all of you go to jail?
Even if the Kremlin puts all its critics in jail, our new book is coming out in a few months. It will cast even more light on Putin's and his best friends' corruption.