NeNe Leakes Criticized for Comments in Resurfaced Clips Amid Racism Lawsuit
NeNe Leakes has been criticized for a number of her own questionable comments on the show, after filing a lawsuit against the companies behind Real Housewives of Atlanta amid accusations of racism.
In her lawsuit—which was filed against NBCUniversal, Bravo, production companies True Entertainment and Truly Original, and Housewives executive producer Andy Cohen, among others—alleged that those at the helm tolerated and fostered a hostile and racist work environment, per the Associated Press.
Leakes, who is Black, said in her lawsuit filed in an Atlanta federal court that she had been subjected to a number or racist remarks from former co-star Kim Zolciak-Biermann, who is white. Leakes claims that she, not Zolciak-Biermann, suffered consequences after these interactions.
"NBC, Bravo and True foster a corporate and workplace culture in which racially-insensitive and inappropriate behavior is tolerated—if not, encouraged," said the suit, which does not name Zolciak-Biermann as a defendant.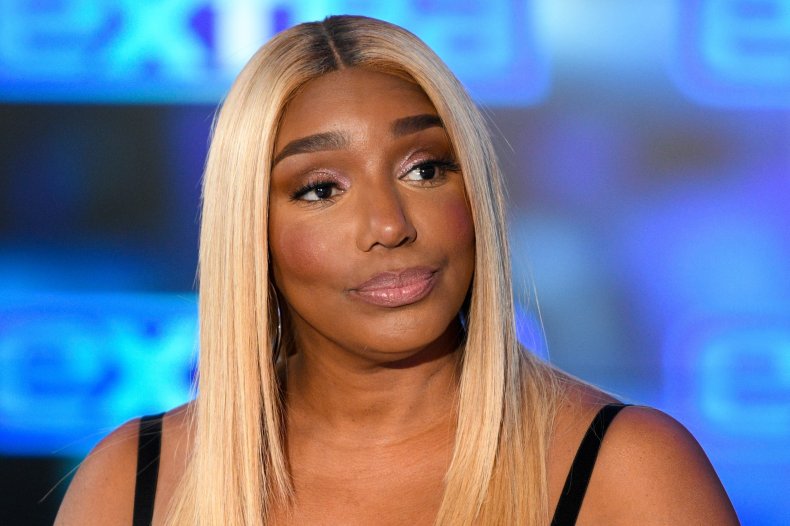 Per the suit, during the first season, which aired in 2008, Zolciak-Biermann commented "words to the effect of: 'I don't want to sit around with NeNe and eat chicken'" when the cast members discussed attending a barbecue. Her comment "perpetuated an offensive stereotype about African-Americans," said the suit.
During a Housewives reunion, a clip of which this week resurfaced on Twitter, Leakes, real name Linnethia Monique Leakes, spoke of the comment with Cohen.
When asked about her grievances, Leakes said she found Zolciak-Biermann's comment to be "very suspect... We didn't have chicken, We had lamb and shrimp."
"Well, chicken, hot dogs, hamburgers, I mean I just said chicken. What do you mean by that?" Zolciak-Biermann said in response.
"You think it was racist?" Cohen asked, to which Leakes answered in the affirmative.
"Absolutely not," said Zolciak-Biermann, who was part of a majority Black cast on the show. "I'm on a show with you guys. Half my friends are Black. I'm definitely not racist at all.
"She said it was a sunset barbecue, I thought barbecue chicken in my mind. I just didn't say barbecue chicken. NeNe, you know I'm not racist at all. I don't even see color, I never have."
During the show's fifth season in 2012, according to the lawsuit, Zolciak-Biermann allegedly made "racially offensive and stereotypical" comments about castmate Kandi Burruss' new home, calling her neighborhood a "ghetto" and making a racially offensive comment about whether her co-star needed a swimming pool.
It is also alleged that Zolciak-Biermann used the N-word to refer to Leakes and other cast members off-camera following a dispute.
The lawsuit states that when Leakes complained to executives at the helm of the show, they "did not terminate their relationship with Zolciak-Biermann, nor take any other meaningful action to put an end to her racially-offensive behavior." Zolciak-Biermann went on to land her own spin-off show, Don't Be Tardy.
However, Leakes, who appeared on The Real Housewives of Atlanta for several seasons between 2008 and 2020, has now found herself facing scrutiny from a number of social media users, who have pointed out some of things she has said.
Podcaster China Noëlle noted in a Twitter post on Thursday that Lakes had once referred to former castmate Claudia Jordan, who was born to a white mother and Black father, as a "half breed."
"I don't support NBCUniversal, but like, I also don't understand how Nene Leakes who repeatedly called Claudia Jordan "a HALF-BREED wh*re" on national television is suing Andy Cohen or Bravo for racism," wrote Noëlle.
A clip of the moment Leakes using the term was shared on Twitter back in 2020.
Bringing up another moment on the show, one Twitter user wrote: "LOL at NeNe trying to sue Bravo for racism at the hands of Kim. Girl weren't you the one trying to force Kim into blackface on season 2... seems like you were the one trying to eat someone up."
Months before the lawsuit was filed, author Bolu Babalola also discussed the incident, describing it as one of Leakes' "out of control" moments.
"Early season Nene was just out of control," tweeted Babalola, "now why did she try and force Kim to do blackface as part of the 'alter-ego' photoshoot... she tried to set her up."
Zolciak-Biermann rejected Leakes' suggestion during the episode, winning praise from fans when the topic was raised last year on Reddit.
Leakes' lawyer, David deRubertis, said in a statement regarding her time on Housewives: "From the day the series began filming, NeNe was the target of systemic racism from co-star Kim Zolciak-Biermann, which was tolerated by Bravo executive producer Andy Cohen and other executives."
According to the lawsuit, Leakes' complaints led to her being pushed out of the show's cast in 2020, ahead of its 13th season, per the Associated Press. It is alleged that Leakes' ousting came amid widespread support for the Black Lives Matter movement, of which she was a public supporter.
"As the Black Lives Matter movement swept our nation, Mrs. Leakes—Bravo's historically most successful Black female talent—should have been embraced by NBC, Bravo, and True," said the suit. "Instead, NBC, Bravo, and True forced her out of the 'house she built,' denying her a regular role."
Newsweek has contacted representatives of Leakes, Zolciak-Biermann, Cohen, NBCUniversal, and Bravo for comment.