Neo-Nazi Allegedly Kidnapped, Raped Black Woman At Gunpoint in Florida
A 37-year-old Florida man with known ties to a neo-Nazi organization allegedly kidnapped a black woman and raped her.
Joshua Edwards, a member of the Aryan Nation, was arrested on Tuesday, in Escambia County, Florida, on charges of armed carjacking, kidnapping and sexual battery, according to the police arrest report. The lead up to his incarceration began on Monday night at 11 p.m. EST when he allegedly kidnapped a black woman, who was not named, from a Circle K gas station.
After the ordeal was over, an officer spoke to the victim and noted in the police report that she appeared frightened and upset. She told the officer that on Monday, while she was pumping gas, Edwards approached her and asked for a ride. When she refused his request, he allegedly pulled out a pistol and instructed her to get into her car and stay quiet.
While holding the gun to her, Edwards allegedly forced her to drive, until he switched seats with her and drove from Escambia County to Lillian Alabama. During the hours she was held captive, she told the officer that Edwards used Ecstasy and forced her at gunpoint to also consume drugs.
As the sun came up, Edwards allegedly attempted to drive her car through the woods of Bill Dixon Park, but the car became inoperable and he ordered her out of the car, saying if she didn't come with him, he would kill her.
Inside the park, the victim told an officer, Edwards repeatedly raped her at gunpoint.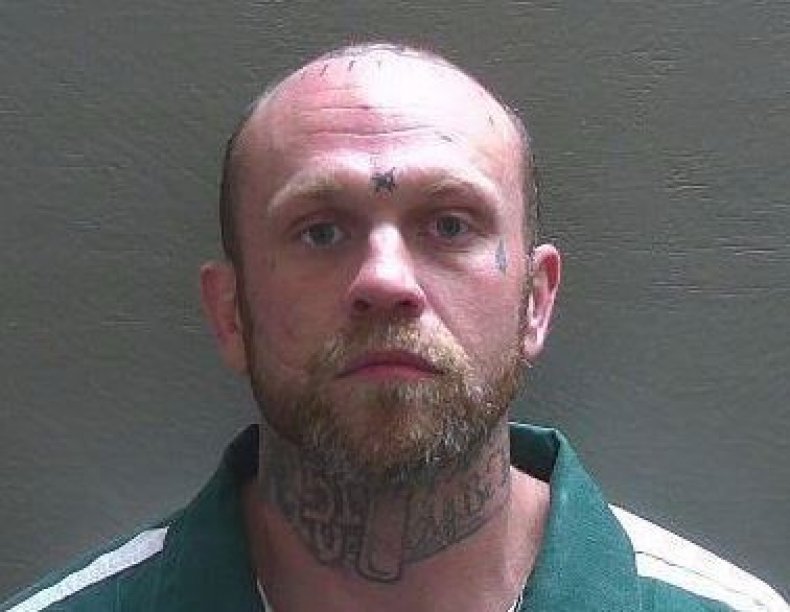 Edwards then reportedly forced the victim to go with him to find another vehicle, which led him to his second victim, identified in the police report as Amanda Staples. At the time, Staples was sitting in the driver's seat of her vehicle and with the victim in tow, Edwards asked for a ride to the store, saying that their car broke down.
When Staples told him she had to go inside first, he brandished his firearm and demanded the keys to her car. He got into the car and sped away, leaving his first female victim behind with Staples, at which point, Staples called 911.
Both women were able to give a detailed description of Edwards and he was arrested on Tuesday, in a wooded area near a local Walmart. The first victim positively identified him as the man who abducted and raped her.
Escambia County Sheriff David Morgan said Edwards had an extensive criminal history, although, he wouldn't elaborate on what those offenses were. In addition to the life sentences his charges carry, since, he was already convicted of a crime, Assistant State Attorney John Molchan said he could face additional life sentences for being a repeat offender.
"If we put together the kind of case that I think we have, that is the appropriate place for him to be, which is, behind bars forever," he said.
The Southern Poverty Law Center (SPLC) designated the Aryan Nation as a hate group, which was founded in 1977. Among the violent crimes committed by the group, as outlined by the SPLC, was a shooting at Jewish Community Center in Los Angeles.
Neo-Nazi Allegedly Kidnapped, Raped Black Woman At Gunpoint in Florida | U.S.