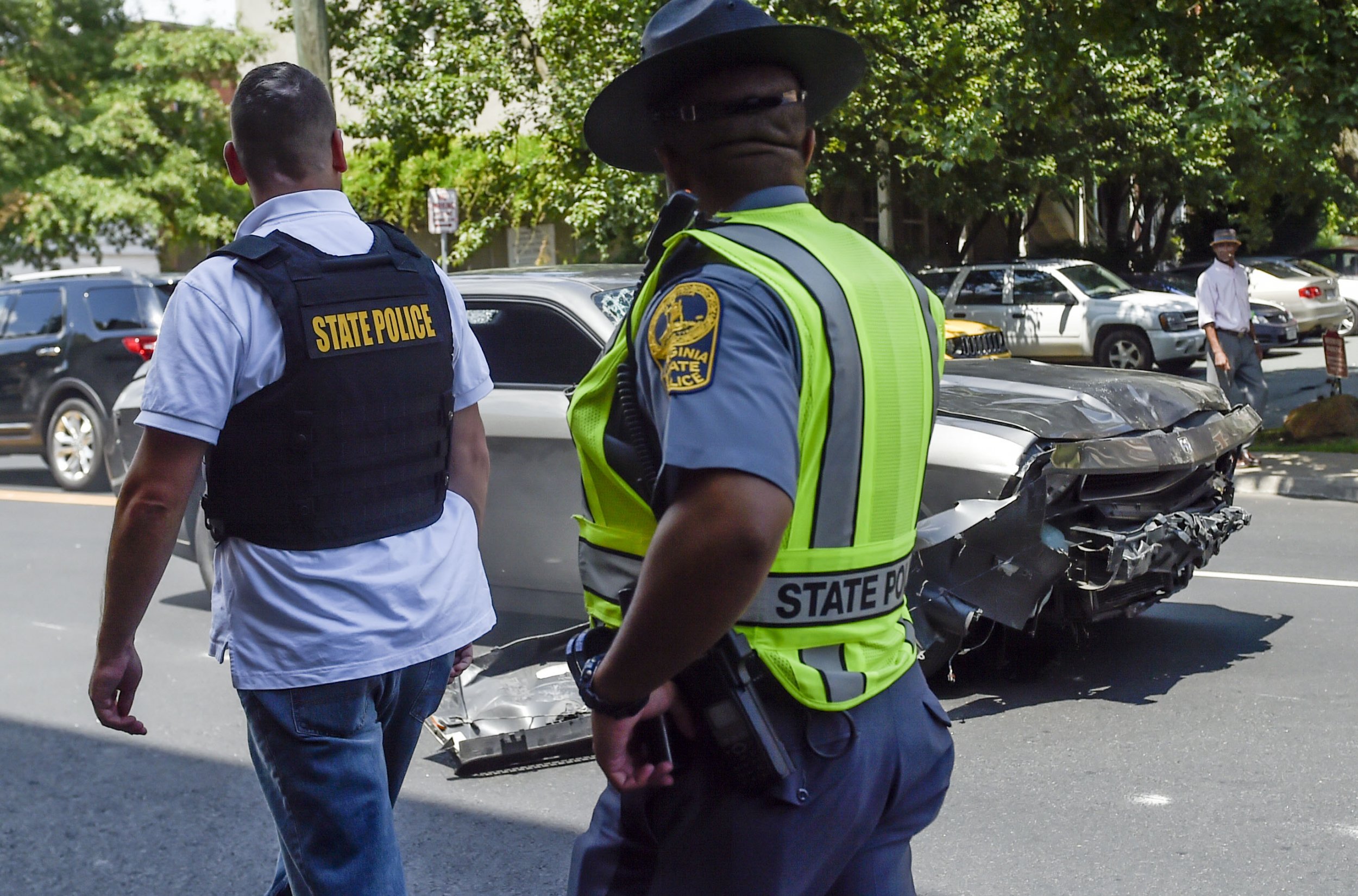 The man accused of murdering antiracist activist Heather Heyer in Charlottesville, Virginia following the collapse of a white nationalist rally in August is being touted as a "prisoner of war" by neo-Nazis. It is part of an ongoing, false conspiracy that the suspect, 20-year-old white supremacist James Fields, has somehow been framed by the state to make a public example out of their movement.
"The Jews will use their guns to try to stop us, but also their pigs and courts to try to break our spirits," Matthew Heimbach, the leader of Traditionalist Worker Party (TWP), a neo-Nazi group, claimed this week in a blog post that depicts Fields and other white men as political prisoners of what he believes is a Jewish-controlled state. "It is our God given duty and responsibility to not only memorialize the dead, but to stand arm-in-arm with our Prisoners of War throughout their entire sentence."
Conspiracy theories about Fields and the activist Heyer erupted quickly after the melee at the doomed Unite the Right rally on August 12. White supremacists first posited a false explanation about how the 32-year-old Heyer died, arguing that she had a heart attack that was somehow unrelated to Fields's Dodge Charger allegedly plowing into her and a crowd of peaceful demonstrators. When the Central District Office of the Chief Medical Examiner in Richmond, Virginia declared to Newsweek in October that Heyer died of "blunt force trauma to the torso," conspiracy peddlers willfully ignored the disclosure, insisting that the news was deliberately faked by what they imagined to be a Jewish-controlled state apparatus. When prosecutors in December elevated the charge against Fields to first-degree murder from second-degree, the fabulists ramped up their conspiracy theory that the state was coming down on their ally to make a point.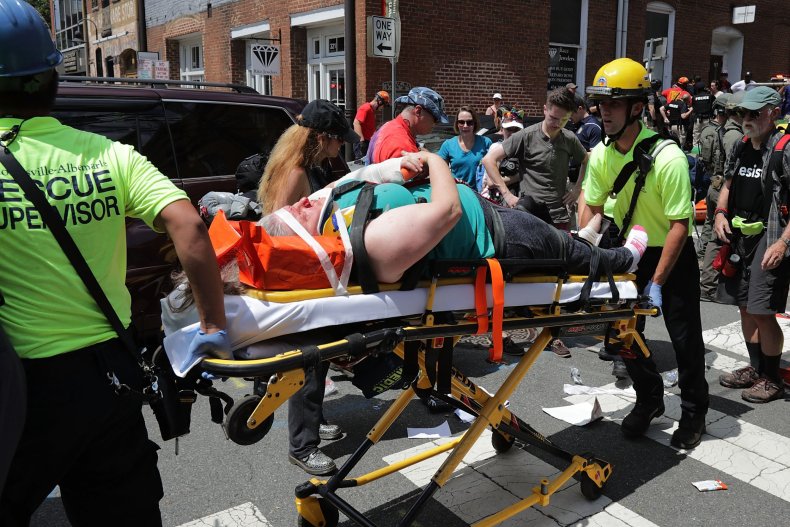 "They are attempting to crucify him based solely on his political beliefs," Andrew Anglin, the anti-Semitic propagandist editor of Daily Stormer, who openly advocates physically abusing women and girls, wrote about the escalation against Fields. "Here's the deal: James Fields did nothing wrong."
Josh Bowers, a professor of law at the University of Virginia who is a former defense attorney, told Newsweek that Fields's political affiliations were unlikely to have played a role in the prosecutors' case, because Fields is not being charged with terrorism or a hate crime, only murder. He argued that the conspiracies posited by Heimbach, Anglin and others have no basis in fact.
For example, Bowers said the most likely explanation for the Fields charge being elevated to murder one was that Joseph Platania, the lawyer tasked with prosecuting Fields, had been exercising restraint. Prosecutors sometimes limit charges to only what they believe they can prove beyond a reasonable doubt and then expand them as evidence is analyzed in greater detail. He argued that what prosecutors have done thus far "doesn't seem too ambitious based upon the facts of this case."
"There is nothing atypical about a prosecutor adding charges here," Bowers told Newsweek.
In Virginia, he said, the difference between the two murder charges depends upon the prosecutors' ability to prove that Fields's actions were "willful, deliberate, and premeditated." A decision to murder a protester would not have to be shown to have been in Fields's mind "for any particular amount of time," he noted. He said to prove that Fields killed on purpose, it would only need to be demonstrated that the idea was present for "a moment before he carried out the act."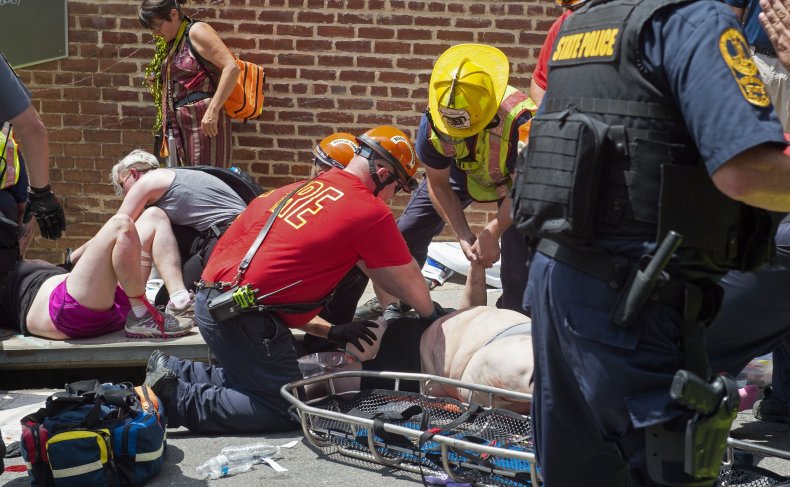 Bowers also told Newsweek that if prosecutors fail to prove Fields acted in a "willful, deliberate, and premeditated" manner, the accused killer could still be found guilty of the original charge of second-degree murder, or of different variations of manslaughter. It isn't important for prosecutors to prove that Fields wanted to kill Heyer specifically—they merely have to prove that he had a desire to kill someone and then acted upon it. "If Fields had an intent to kill a person—any person—any jury can convict him beyond a reasonable doubt," Bowers said.
Platania, the prosecutor, told Newsweek in a statement that what has happened so far with Fields's case relates to the review and analysis of the evidence.
"After a thorough review and analysis of the evidence gathered throughout the course of the criminal investigation, a decision was made that a first degree murder indictment was the appropriate charge to present to the Grand Jury," Platania said in a statement in response to conspiracy theories. "On December 18, 2017, the Grand Jury returned a True Bill finding that probable cause existed for the charge of first degree murder. The fact that Mr. Fields has been indicted by a Grand Jury is not evidence of guilt and he is presumed to be innocent."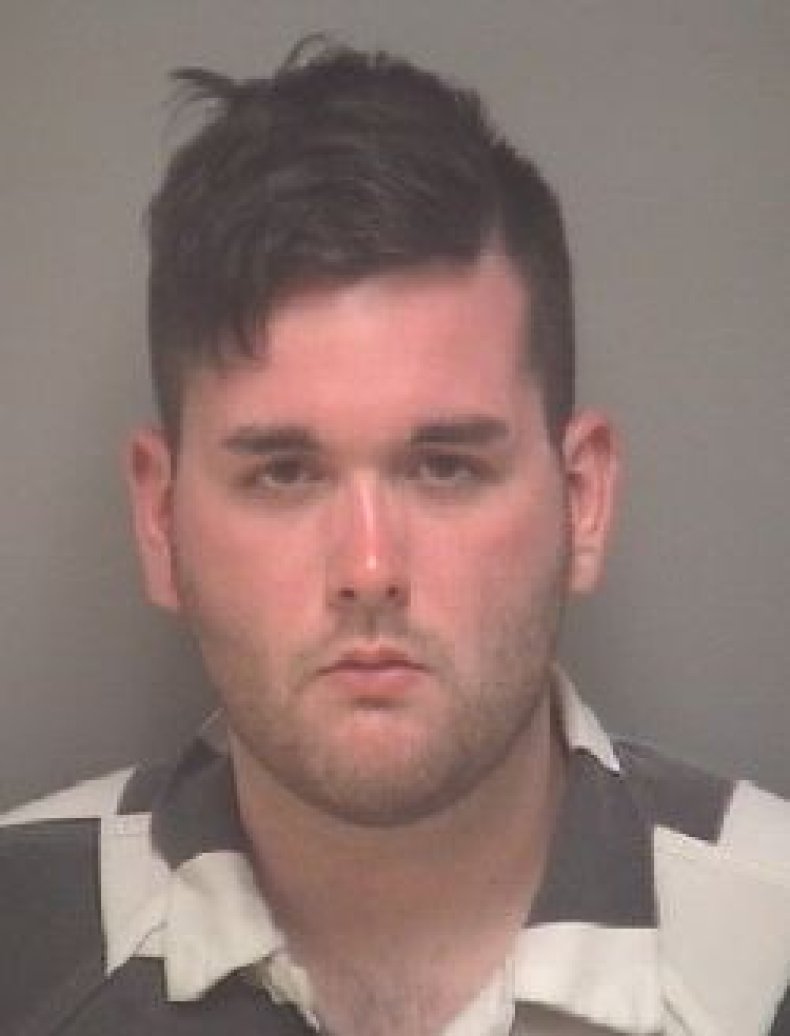 Fields's attorney, Denise Lunsford, declined to speak to Newsweek about the charges that her client faces.
Fields goes to trial in November. When he does, members of the so-called alt-right—including people who want to form an all-white nation built of non-Jews—are not expected to accept the results, even if he is found not guilty. Fields, who according to his high school history teacher was an open admirer of Adolf Hitler and Nazi Germany, is frequently celebrated in alt-right memes as an awkward kind of hero, despite his name being associated with ignominy.
Carla Hill of the ADL, a rights group, told Newsweek that white supremacists typically cycle through different explanations for violence when it crops up in their movement, ranging from a deflection of facts to disavowals of members to blaming the so-called system. On cue, Heimbach, who very much views Fields as a prisoner of a larger cultural war, told Newsweek that he viewed the trial as inherently felonious.
"There is no legitimate decision possible from these courts because they are illegitimate institutions of our occupation in the first place," he said, referring to white men and women.