'Neo-Nazi Cowards' Return to Charlottesville with Torches to Stage White Nationalist Protest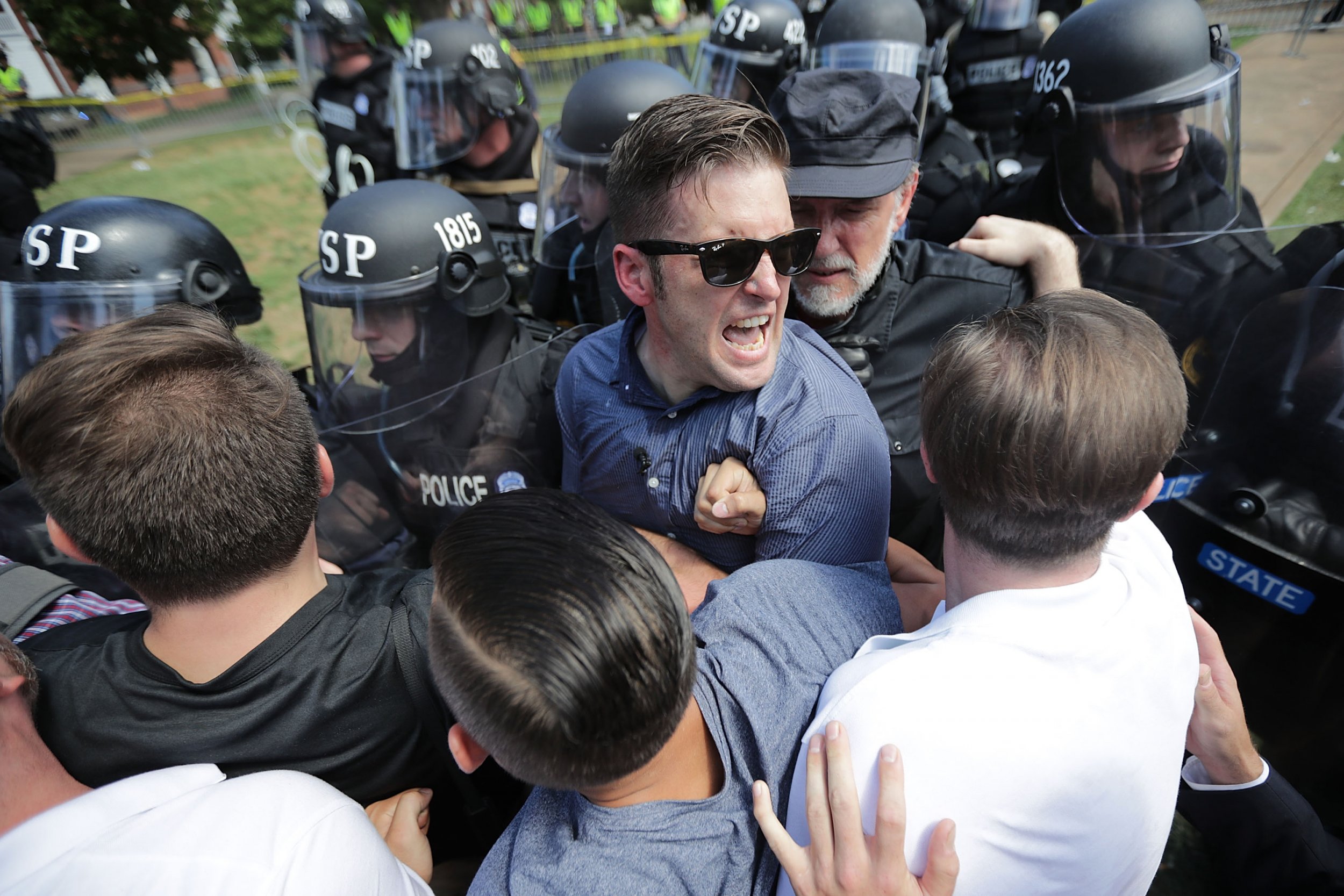 Less than two months have passed since a white nationalist gathering in Charlottesville, Virginia, collapsed into violence, leading to the death of activist Heather Heyer. But Richard Spencer—one of the key promoters of the doomed event, wasn't prepared to live it down.
According to local news reports, and social media posts, Spencer assembled a group of white nationalist protesters at Emancipation Park, the home of the city's statue of Confederate Gen. Robert E. Lee Saturday night. Once again, the men held tiki torches up in the college town, protesting the city's planned removal of the Lee statue—scheduled for the better part of a year now. Once again, the men chanted, "You—will not—replace us." (It was clear from footage of the August rally that many of the protesters were also chanting "Jews—will not—replace us" but it is unclear from these reports whether or not those words were used again.)
The crowd of white nationalists, numbering at roughly 30 men, according to a local CBS affiliate, also added a new chant, "We will be back," according to news reports, four words that will undoubtedly bring a sickening feeling to anyone hoping to see Spencer's brand of white identity politics—which frequently attracts overt Neo-Nazis and Klansmen—fade away on its own.
According to "alt-right" accounts on Gab, a social network with a significant share of Neo-Nazi and white supremacist users, Spencer was joined at the rally by Mike Enoch, a prominent Neo-Nazi speaker, and Eli Mosley, the Leader of Identity Evropa, a white nationalist political organization that is actively recruiting new members on college campuses in the aftermath of August's Charlottesville rally. In one video posted on Gab, a speaker announced into a bullhorn that people would have to "get used" to the alt-right movement, and then the group broke into an impromptu, off-key sing-a-long of "Dixie," a 19th century song that emerged from the tradition of blackface minstrelsy.
Charlottesville Mayor Mike Signer, a Democrat and a vocal opponent of Spencer's protest movement, spoke out against the gathering on Twitter, and suggested that the city is examining potential legal options to limit gatherings like the one staged by Spencer tonight.
"Another despicable visit by neo-Nazi cowards," he wrote. "You're not welcome here! Go home! Meantime we're looking at all our legal options. Stay tuned." It is unclear what legal measures might be available to Signer and his staff.
Spencer retorted by calling Signer a "doofus" on Twitter.
"How are we 'cowards'?" he wrote about tonight's gathering. "We came back."
The rally assembled without warning in the eyes of many observers, leaving the throngs of counterprotesters who opposed the August rally little time to prepare against it. After news of Spencer's gathering leaked onto social media, images of counterprotesters gathering on the street followed, but the torch rally appeared to have already ended.
Antifascist (or "antifa") counterprotesters, carrying a banner bearing the words "Community Defense Against Fascism," assembled on campus after Spencer's crew had already left, chanting "Black Lives Matter," according to footage captured by Solidarity Cville, a self-described "multiracial network acting in solidarity with communities of color."
Alt-right social media users mostly praised the gathering, and Spencer's success in evading counterprotests.
"Looks like Spencer finally learned a little from his mistakes," a Gab user named "Antidem" writes. "Holding a surprise rally organized through secure back channels instead of being publicly announced weeks in advance gives Antifa no chance to organize a response."