Terror Group in Germany Targets Refugees as Neo-Nazis Imprisoned for Plotting to Use Fire and Nail Bombs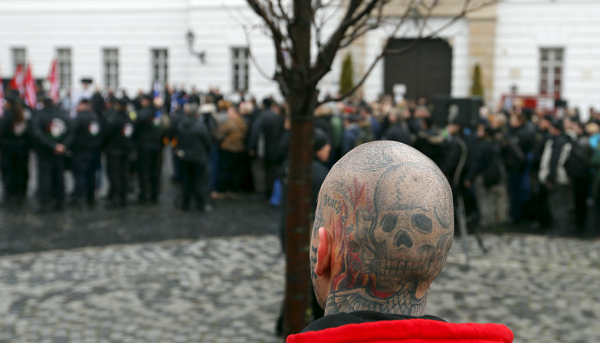 Four people affiliated with the neo-Nazi group "Old School Society" in Germany were sentenced to prison for their roles in attempting to orchestrate an attack against a migrant shelter in Saxony. Three men and one woman were arrested and charged with forming a terror organization in May 2015, just two days before their planned attack was scheduled, according to reports.
Although prosecutors asked for the group to be sentenced to a maximum of seven years in prison, during court Wednesday a judge ordered a five-year sentence for a man identified as Marcus W., 41, while the group's alleged ringleader, 58-year-old Andreas H., was sentenced to four and a half years. The spokesman of the group, identified as Olaf G., 31, was sentenced to three years and 24-year-old Denise Vanessa G., also known as Terror Lady, was given three years and 10 months.
Chief prosecutor Jörn Hauschild said the group plotted to use "pyrotechnic explosives, particularly in the form of fire and nail bombs" in an attack against a refugee home. Officials discovered a large number of fireworks covered with a layer of nails, which Marcus W. and Denise G. reportedly purchased in the Czech Republic.
The group met back in 2014 on the internet. The group's website made reference to neo-Nazi organizations and symbols and YouTube videos show them using racist and xenophobic slurs in efforts to recruit new members.
The group's sentencing comes just days after eight Germans, who were also charged with forming a neo-Nazi terrorist group, started trial in Dresden. The group, known as the "Freital Group," carried out several bombing attacks between July and November 2015, including attacks on two refugee homes, the Associated Press reported. They were also connected to the car bombing of a Left party politician and a Left party office bombing.