Neo-Nazi Ordered To Pay A Jewish Woman $14 Million in Damages For a 'Troll Storm'
On Thursday, a federal judge ruled Andrew Anglin, founder and editor of the neo-Nazi website The Daily Stormer, must pay a Jewish woman $14 million in damages for a coordinated campaign of harassment he organized.
Tanya Gersh, a real estate agent in Whitefish, Montana, sued Anglin in 2017 about a year after Anglin posted her personal information on his website, urging people to harass her.
According to the lawsuit filed by the Southern Poverty Law Center (SPLC), Gersh and Sherry Spencer live in the same town, where Spencer owns property. Spencer is the mother of white supremacist Richard Spencer.
Spencer received local criticism after a video of her son giving Nazi salutes at a white nationalist gathering went viral. In the video, Richard Spencer said, "Hail Trump! Hail our people! Hail victory!"
The lawsuit says the Spencer family was unpopular in Whitefish, but after the "Hail Trump" video, the distaste for the family "reached a fever pitch." Some Whitefish residents considered protesting a commercial building Sherry Spencer owned over beliefs that she had not disavowed her son's racism and was supporting him financially.
Gersh says she called some friends who worked in the building to warn them about the potential protest. One of the tenants suggested Gersh call Spencer—and when Gersh declined, asked her to take a call from Spencer. Gersh agreed, not expecting Spencer to actually call—though she did.
When they spoke, Spencer asked Gersh "What should I do? What would you do?" and Gersh said that if she were in Spencer's position, she'd sell the building, make a statement disavowing her son's racist views, and make a donation to a charity.
According to the lawsuit, Spencer agreed, and asked Gersh to be her real estate agent, and Gersh agreed. Spencer later changed her mind, and said she wanted to sell the building without Gersh. She agreed, and sent Spencer the names of other agents who could help sell the building.
Two weeks afterward, Spencer made a blog post on Medium, alleging that Gersh tried to threaten Spencer into selling the building. Richard Spencer also made this claim in a video diary.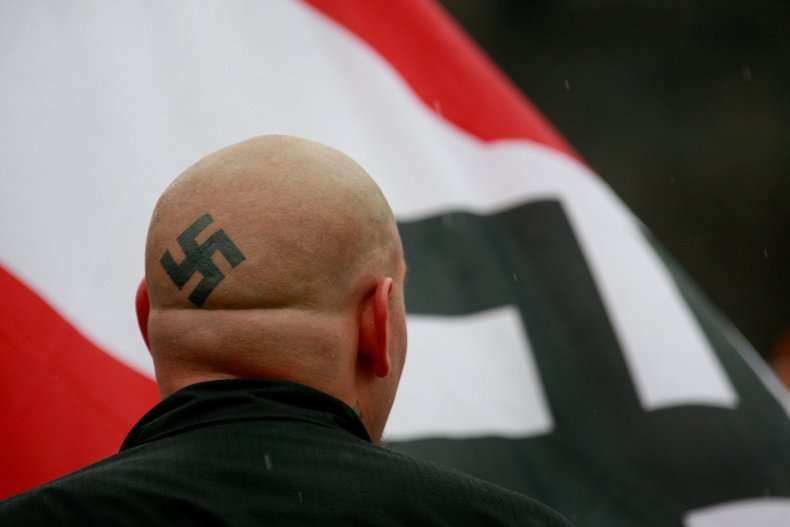 One day after the Medium post, in December 2016, Anglin started calling for his followers to harass Gersh, posting pictures of her alongside her personal information.
"Are y'all ready for an old fashioned Troll Storm? Because AYO—it's that time, fam," Anglin wrote.
Anglin's followers called, emailed and texted Gersh threatening messages, often with anti-Semitic slurs. The messages included death threats to Gersh, her family, friends and colleagues. The "troll storm" harassed her on social media, as well as her husband and 12-year-old son.
"[A]sk your mommy why she hates white people so much and runs an extortion racket," one person sent Gersh's son on Twitter.
Gersh said in court the messages are still coming; the latest was a few weeks before she testified.
Anglin and his lawyers originally tried to get the case dismissed on First Amendment grounds, though the motion was denied. Anglin refused to appear at any of the court hearings; his current whereabouts are unknown, and Anglin has renounced his American citizenship. Anglin's lawyers withdrew from the case after Anglin decided not to contest the lawsuit.
Since the suit was uncontested, Gersh was handed a summary judgement in July. A federal judge recommended Anglin be ordered to pay Gersh over $14 million in damages, though the chief judge for the U.S. District Court in Montana had to approve the ruling.
The approval came through on Thursday, though it is unclear whether or not Anglin will actually pay the money, as he is no longer in the United States. However, Gersh's lawyers, including David Dinielli, deputy legal director of the SPLC, told CNN they intend to collect.
"We will go to the ends of the earth to collect the judgment on behalf of our client, Tanya Gersh, whether it's cash, assets or intellectual property," Dinielli said.
Dinielli also said they would go after the Daily Stormer site, saying "We will employ various procedures to obtain any assets that can be seized, if Anglin does not pay the full $14 million judgment. And if his monetary and other hard assets are insufficient, we will go after his intangible property."