Neo-Nazi Conspiracy Theory: 'Jews' Are Trying To Get America Stoned On Legal Marijuana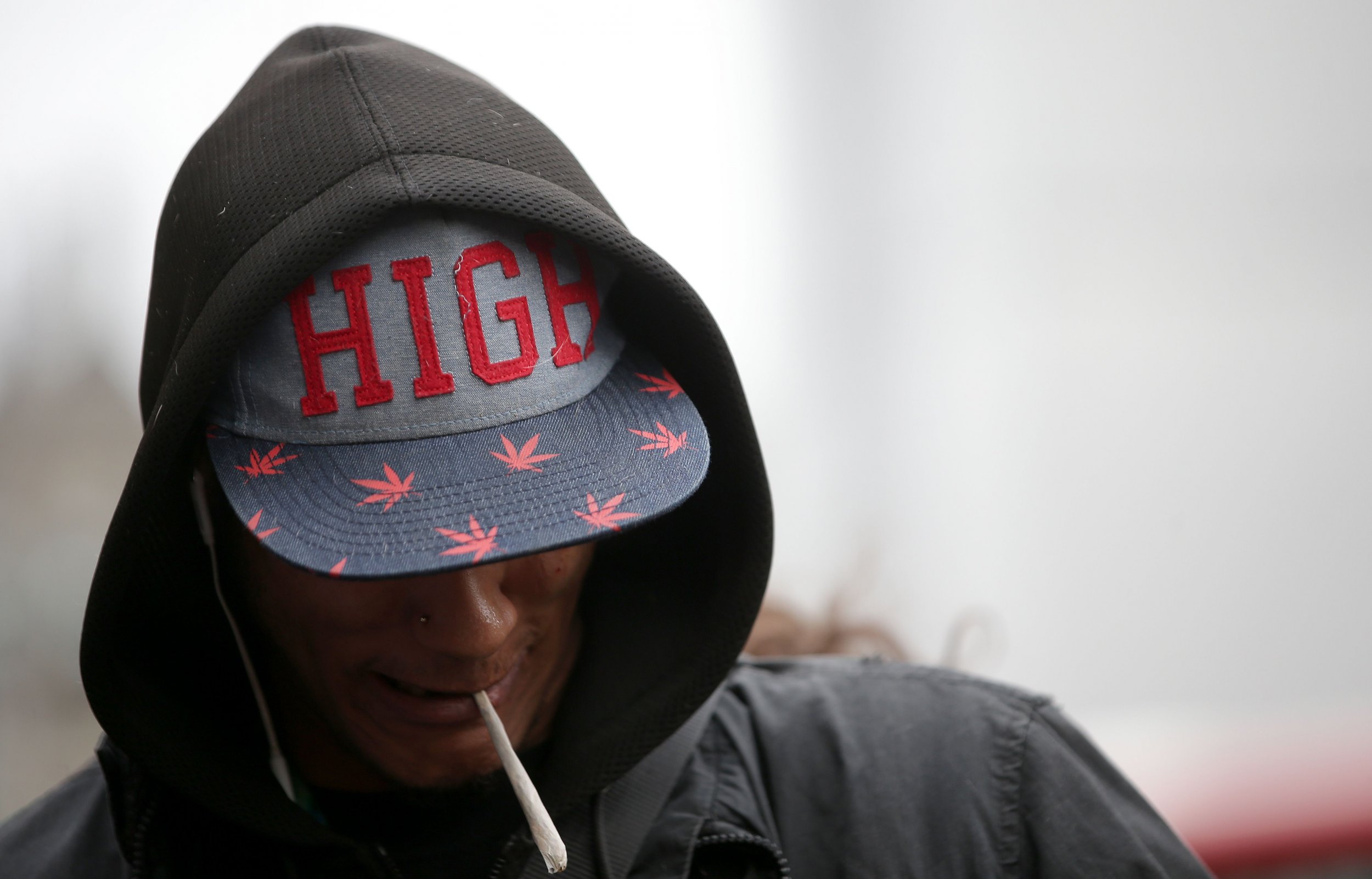 If you like to get stoned, the flailing "alt-right" scene might not be the political movement for you.
Neo-Nazi website Daily Stormer, which has celebrated criminal activity such as pedophilia and domestic violence in recent months, doesn't want its white, young, male followers toking up—because Jews are behind the burgeoning legal marijuana industry, according to a post on the website on Thursday.
"It is personally disgusting to me that we are condemning a generation of children to grow up baked in this noxious substance. But there is now huge public support for it," website editor Andrew Anglin complained in a post about the Trump administration potentially pushing back against marijuana consumption and distribution. "Most of the marijuana industry, I can assure you, is run by Jews."
Anglin, it should be noted, offers up no evidence to support his claim that the legal marijuana industry is being promoted by Jewish people. Anti-Semitic conspiracies form the basis for much of the website's content and follow a basic formula: Jewish people are repeatedly blamed for every problem white Christian men face. The issue is in part a hot topic because legal recreational weed started being sold on January 1 in California, the latest state to join the more than dozen that allow consumption of the drug.
Despite that growing public acceptance of marijuana use, Attorney General Jeff Sessions and others may attempt to crack down.
Former Klu Klux Klan leader David Duke, a member of the old guard of white supremacists, has similarly paranoid views and has been speaking out against legal marijuana. "Come on Jeff Sessions get serious and do your job!" Duke tweeted, referring to California's pot law. "How can you pass 'laws' in contrast to existing federal laws? Why isn't the DOJ prosecuting these lawless politicians...These people belong in prison!"
Duke has long railed against drug use in the context of it being a Jewish plot to break white men into submission, but Anglin is newer to this subject. The Atlantic reported in December that the 33-year-old Anglin "got deeply into drugs" during his youth, and "did LSD … took ketamine, ate psychedelic mushrooms, and snorted cocaine."
Anglin also "chugged Robitussin" to get high, and drank so much of the cough syrup that he "damaged his stomach and would vomit into trash cans at school," the magazine reported. Anglin has suggested that white male fans of his anti-Semitic propaganda website have had similar problems with abusing drugs and alcohol throughout their lives. He wrote on August 9 of his readership: "Many of us have struggled with substance abuse. Many of us are out of shape. We feel emasculated." Newsweek has repeatedly reached out to Anglin for comment, but has not received a formal response.
Andrew "Weev" Auernheimer, who handles the technical side of Stormer alongside Anglin, also has a history with using hard drugs. Matter magazine published a profile on him in 2014 that begins with the recluse offering the author cocaine.
"I've done a few drugs," Auernheimer said in a YouTube video during a segment in which he attempted to discredit his mother, who told Newsweek he was Jewish. "I've generally tried all the drugs."
The scapegoating of Jewish people for the problems of white men—be it substance abuse, women trouble, or financial trouble—has become a considerably more dangerous business. There were 172 reported bomb threats against Jews and Jewish establishments in 2017, according to the ADL, a rights group—at no point during the previous three years had that number ever reached double-digits before. Other incidents of harassment both online and in real life are also rising, the rights group notes.
Although anti-Semitism is not tethered to one particular political ideology, the "alt-right," a movement that calls for limited immigration, mass deportations and a new state for white, non-Jews only, has played a role in promoting conspiracies like the one about the marijuana industry. The movement has also become increasingly violent, and been attached to a number of high profile murders and terror attacks in recent months.
Stormer's anti-drug stance was met with a mostly positive response from the site's community of fans, which tend to flatter the egos of its hosts.
"That's exactly what (((they))) want us to do which is why drugs are endlessly glamorized by the media," one anonymous commenter said, using the triple parenthesis to connote Jewish people.
Other users, however, found the post to be something of a bummer.
"Andrew, stop it. Weed is great," a commenter named Pork Chop wrote about changing opinions about legalization. "Sorry boss, but that's just how it is."
On Gab, a social media website with many far-right users, one neo-Nazi took exception to Anglin's public dislike of marijuana in late December.
"I enjoy cannabis and I'm not some filthy f-----g hippie … or some f----t libertarian or [civic nationalism] cuck," a Gab user by going by the name Go_Full_Breivik, a reference to Norwegian far-right terrorist Anders Breivik, wrote in defense of being a full-time racist and anti-Semite who also likes to get high.