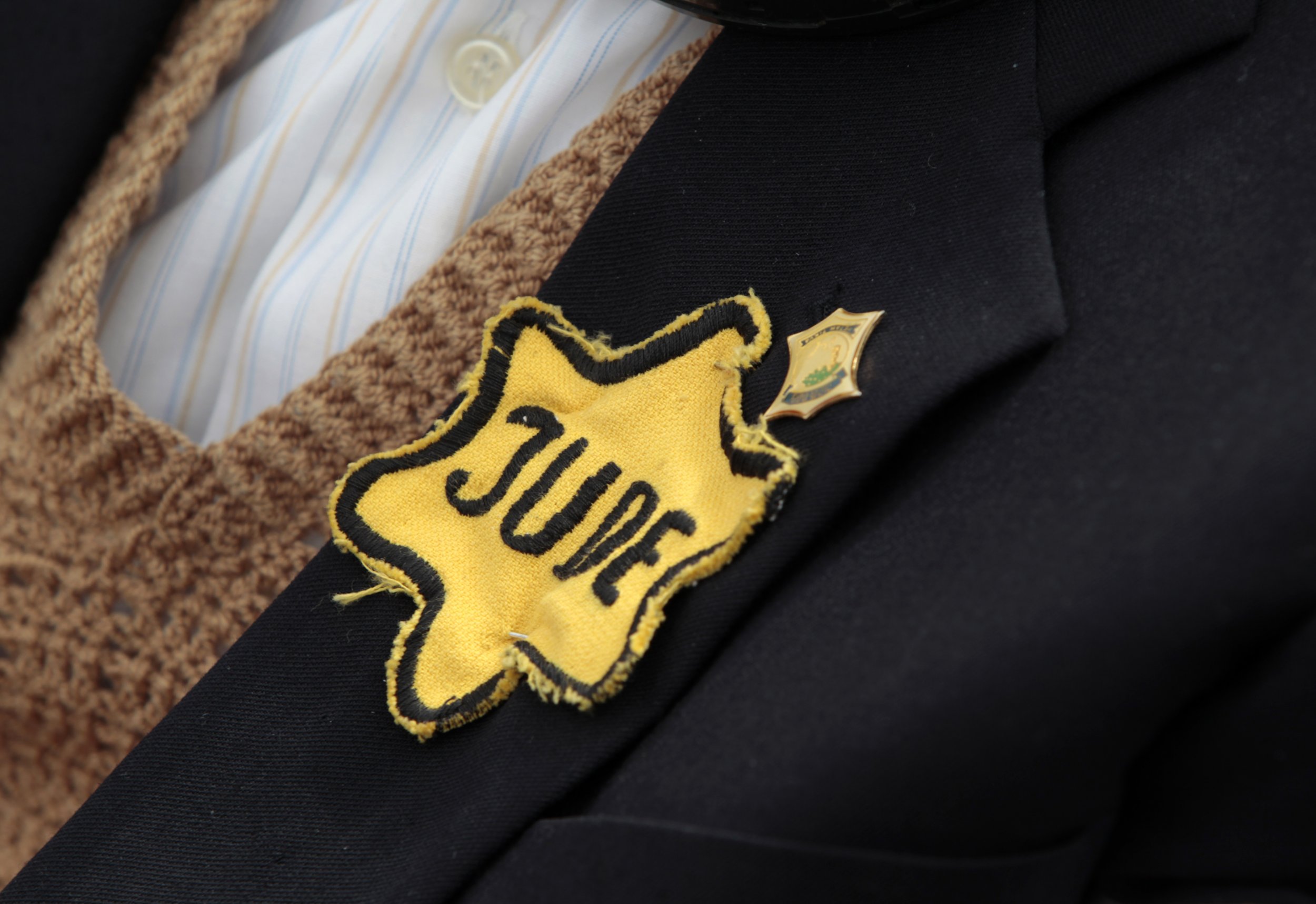 There's an apocryphal story from WWII that when the Nazis started requiring the Jews under their control to wear gold stars, the Danish King donned one himself and suggested his subjects do the same. It's an inspiring story, and it ought to be true, but it is mere folklore in the service of the more mundane historical truth: the Danes saved most of their Jewish population from the Holocaust, but by more conventional methods.
Early warning of Germany's intentions and a negotiated safe passage through Sweden were why nearly 90 percent of the Danish Jews survived the occupation of Denmark. But it is also true that siding with their Jews in 1943 carried substantial risk for the Danes, who had refused since the German invasion of Denmark in 1940—a "war" that took all of two hours—to enact anti-Jewish measures suggested by the occupying forces and gotten away with it because Danes were "Nordic Aryans," considered capable of governing themselves and offering no threat.
In late 1942, Hitler reacted to what he took as a personal insult from the Danish King and increasing acts of violent resistance by Danish people by allowing one more round of elections to see if Danish Nazis would gain power. In March of 1943, the largest turnout in Danish history gave the Nazi Party of Denmark 2.1 percent of the vote—up from 1.8 percent in 1939.
Within months, the Germans dissolved the Danish government, declared martial law and moved directly to round up Danish Jews, finally using Germany's formidable army to act on Hitler's bizarre claims that Jews are a race, and that the Jewish race had to be exterminated. Fortunately for Danish Jews, the collapse of the Danish government happened in slow motion and a German diplomat leaked the coming order to remove all Jews from Denmark. Over a two-month period, most Danish Jews were ferried to neutral Sweden on fishing boats and pleasure craft.
WWII ended badly for Hitler's racial ideas, so those of us who are not Jewish might be excused for thinking that danger had passed.
Last month In Charlottesville, Virginia, there was a torchlight parade that passed in front of a college town synagogue, home of Congregation Beth Israel, with the marchers chanting "Jews will not replace us!" and "Blood and soil!" Some of the marchers had long guns. Those chants were recycled from Hitler's original Nazis, as was the torchlight parade.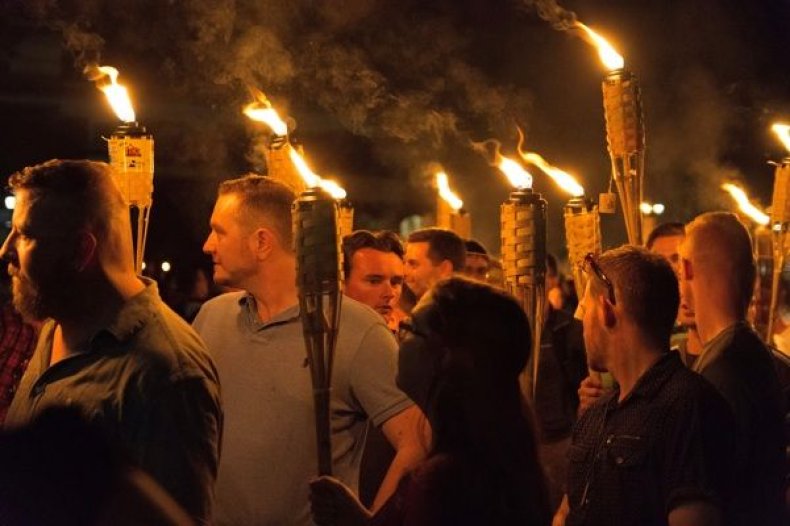 I mention now that I am American Indian because I know some people will be skeptical that one can "remember" happenings older than the person remembering. But we Natives know it's a real phenomenon, perhaps brought on by the repetition of the story within a community over many years. We call such collective recollections "blood memories," and those ugly chants in Charlottesville, combined with the ominous group of armed men who stood across the street from the synagogue as the torch-lit procession passed, had to spur a chilling memory for at least some members of that congregation to Berlin, November 9, 1938.
Kristallnacht. On the night of broken glass, 267 synagogues were destroyed.
Congregation Beth Israel, terrified and helpless the night of the procession and alarmed by the violence the next day, hired armed security guards to ward off the neo-Nazis after the local police department declined to provide a visible police presence. As a precaution against an American Kristallnacht, the Congregation also removed their Torah scrolls from the premises.
Denmark and Germany and Charlottesville, Virginia form the backdrop for a document circulating in a Jewish congregation in Texas whose name will be redacted to preserve what little safety there is in anonymity:
We are about one week away from the High Holy Days and would like to remind you all about the procedures to be followed for attending the Services.

[Name Redacted's] High Holy Day guest policy allows members to bring guests. The only requirement is that guests be accompanied by the member(s) who invited them or that prior arrangements be made. (Email holydays@[redacted] so a guest pass can be provided.) Guests will be asked to provide their names and addresses on a sign-in sheet.

Upon arrival, as you enter the corridor leading to the [redacted[ and [redacted] rooms on the 2nd floor of the [building], you will encounter a Greeting Table. Please be prepared to show your Name Tag or the High Holy Day Pass that you can access by Clicking Here. After printing the pass, be sure to enter your name(s) on the pass and the name(s) of any guest(s) accompanying you. If your guests arrive without you, please ensure that they have a Guest Pass.

If you arrive without either of the documents, the Greeter will ask your name and check it off on the roster. If you are accompanied by guests, please identify them to the Greeter so their names and address(es) can be recorded. This procedure will be repeated for each service. There will be a security guard positioned close to the Greeter's table.

[Effusive gratitude for cooperation redacted.]

[Name Redacted] does not publish the location of its services, just the schedule and an email address if more information is desired. If your guests will arrive separately, please be sure they know where the services are being held.
The instructions in the orginal email were augmented in subsequent email to add, "Unaccompanied guests will also be asked to provide a Picture ID." Members were further cautioned, "If you arrive without either of the documents (pass or name tag), and the greeter is not familiar with you, you will be asked to provide a Picture ID." This addition arrived with the explanation, "Safety is the number one item on our list, and we ask that you not bring any large bags or packages to the services."
These documents were not meant for the general public, but if these kinds of precautions are thought necessary for Jewish holiday worship services in America, then the public needs to know. Public display of swastikas and anti-Semitic chants are protected by the First Amendment, and in some states it is lawful to bring firearms to celebrations of Nazi nostalgia. All of this is lawful, but there are consequences.
The calendar claims this is 2017.
The history books claim the Allies defeated Hitler decisively in WWII.
The President of the United States claims it's not possible to apportion the blame for deaths and injuries at a neo-Nazi rally between those neo-Nazis and the people who gathered to oppose the rebirth of Nazi ideology. That, too, has consequences.