'Neon Genesis Evangelion' Netflix Release Date and Time: When Will Episodes Premiere?
This Friday, Netflix will become the new streaming home of landmark anime series Neon Genesis Evangelion. All 26 episodes of the original Evangelion series, plus two Evangelion movies, will be available for streaming. Neon Genesis Evangelion will premiere on Netflix Friday, June 21 at 3:01 a.m. EDT.
Originally released in 1995, Neon Genesis Evangelion was created by Hideaki Anno (Shin Godzilla), previously an animation director for series like Gunbuster, Royal Space Force: The Wings of Honneamise and Nadia: The Secret of Blue Water. After suffering years of clinical depression, Anno channeled his experience into the development of Evangelion, which used the popular mecha genre of anime to dramatize psychological states through giant fighting robots, with a thematic emphasis on the need to face life.
Evangelion stars Shinji Ikari (Megumi Ogata / Spike Spencer), a whiny young man who's often overwhelmed by social anxiety, but sometimes finds courage with the help of his oft-repeated utterance, "I mustn't run away." Shinji becomes a pawn in his neglectful father Gendo's mech program, who needs his son to pilot the Eva Unit-01 mecha against the invading "Angels" attacking Earth.
Set in the post-apocalyptic Tokyo-3—a fortress city in a world decimated by an alien encounter a generation earlier—Evangelion slowly unfolds from a story about mecha combat against invading aliens, into something much more strange, beautiful and unforgettable.
Also included in the Netflix release of Evangelion are the two movies which wrote a new end to the anime series after widespread disappointment with the introspective and strange final two episodes.
The first, Evangelion: Death True², also known as Neon Genesis Evangelion: Death & Rebirth, combines a clip show retelling of the first 24 hour episodes of the series and 27 minutes of new animation that would become the opening of the second Evangelion movie, The End of Evangelion, which will also be available for streaming on Netflix.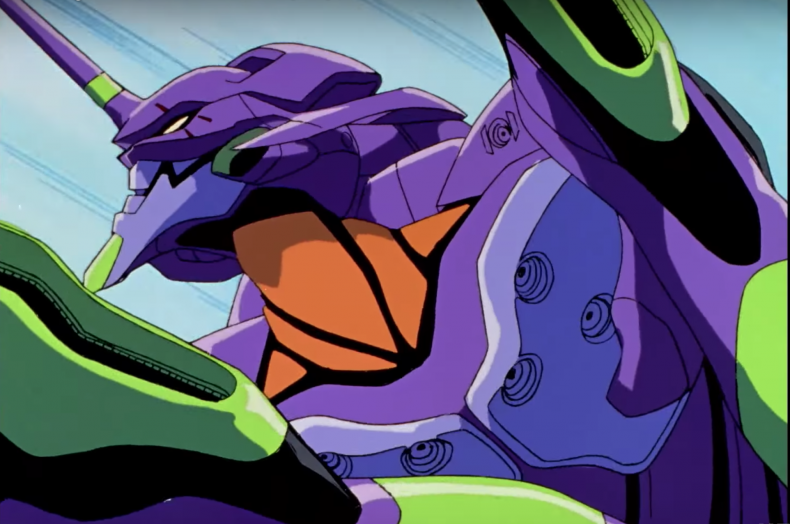 While there's not much reason to watch Death & Rebirth if you've just watched the full Evangelion anime series, End of Evangelion is a different story. It's one of the most spectacularly psychedelic animation experiences ever committed to film, depicting the final fate of the human species in a mind-bending cacophony of religious imagery and destruction.
In recent years, Anno has retold Evangelion in movie form, beginning with 2009's Evangelion: 1.0 You Are (Not) Alone. The fourth and final movie in the Rebuild of Evangelion series is currently in production. None of the three Rebuild movies so far released will be available on Netflix.
Should you be prepared to stay up late Thursday, Neon Genesis Evangelion will begin streaming on Netflix at 3:01 a.m. EDT.