Why Neon is Cool Again: Tacky and Beautiful, It's the Artistic Choice of Pop Culture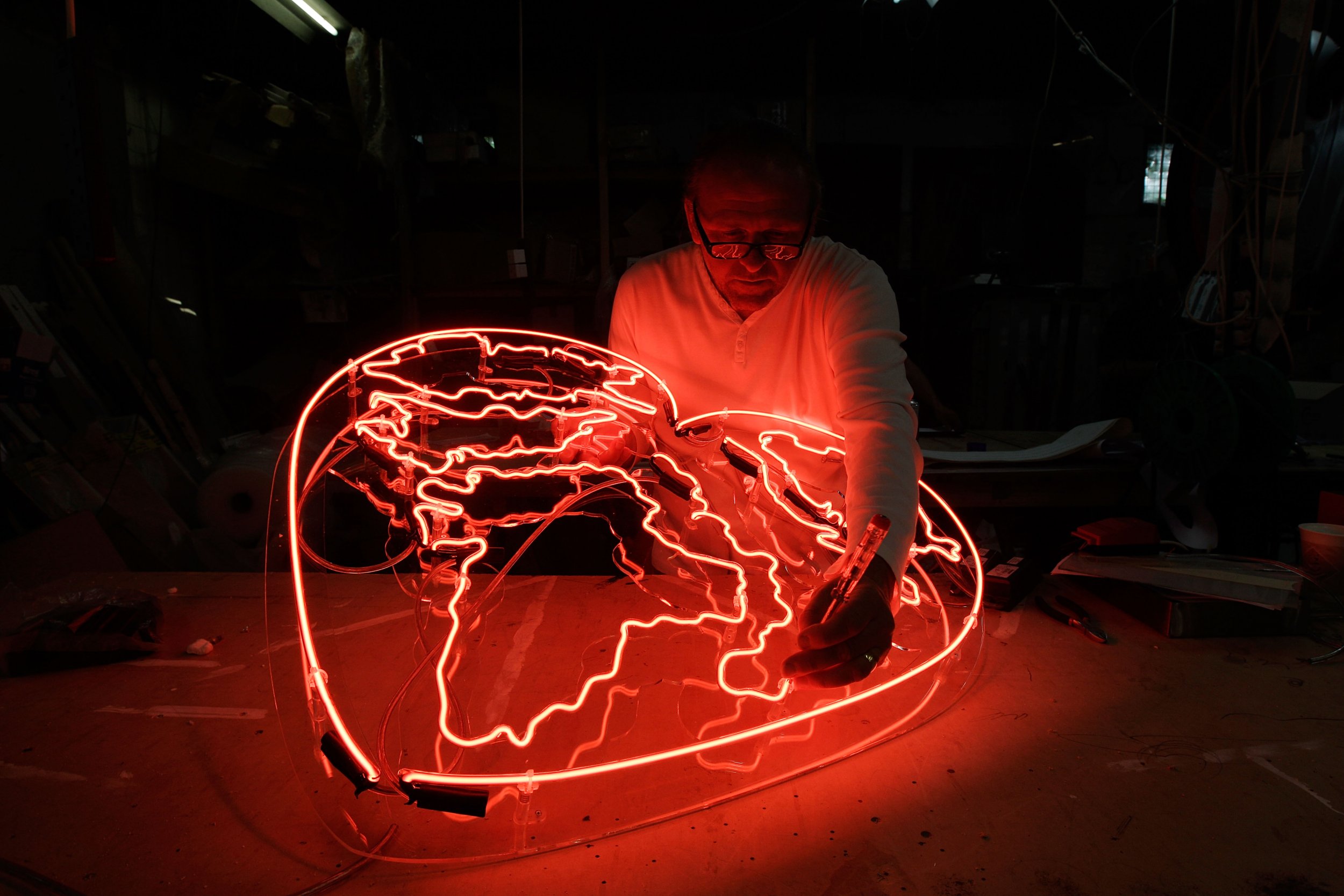 Neon is having a moment. From the album art on Arcade Fire's Everything Now to the poster design for Ingrid Goes West, from the luminescent purple of the Glow title card to the tubes of red and green in Kelela's "LMK" music video, right down to Tim League naming his distribution startup Neon, the glowing element and its copycats have been showing up all over pop culture this summer.
Is it an innovative idea? Of course not. In the same way that millennial pink is a cyclical phenomenon (that trend's most pastel iteration could be found on sweater patterns throughout the 1980s ), neon is re-emerging, once again, as a favored artistic look, in large part due to nostalgia for, well, again, the 1980s. But neon's vintage quality doesn't tell the full story of its rebirth. There's a certain element of artistic finesse—or, at least, the attempt at such—that the gaseous lightning has never had before in such ubiquity.
"Once neon symbolised vulgarity, sleaze, Las Vegas," Jonathan Jones wrote in The Guardian earlier this month. "Now it symbolizes art." He was referring to how its most recent usage—like the Arcade Fire cover, or the set backdrop to the National Theatre's production of Angels in America —borrows heavily off of conceptual art. Among the works Jones cites are Martin Creed's 1999 "Work No. 203: EVERYTHING IS GOING TO BE ALRIGHT" and Tracey Emin's neon-lit confessionals. In other words, none of this stylized neon(-esque) lettering is particularly new. But its commonality, especially in the past year, has been noticeable; you don't even need to be a Black Mirror fan to notice its influence percolating through fashion and home decor, as well. All that work by filmmaker Nicolas Winding Refn in the early-to-mid 2010s has finally paid off.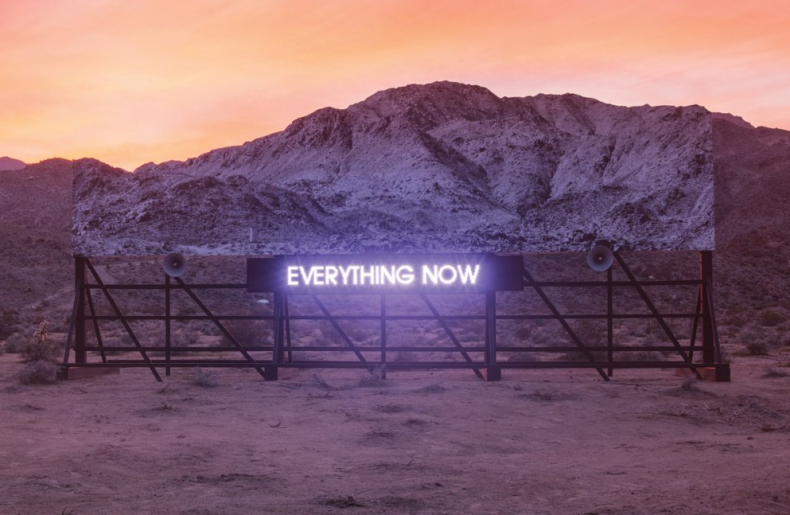 Neon signage dates all the way back to 1910, first demonstrated by inventor Georges Claude at the Paris Motor Show. It reached its apex in the 1940s and '50s, lighting up Times Square and the old marquee movie palaces along Los Angeles's Broadway. But neon began falling out of fashion by the early 1960s. "[A]fter World War II, as neon signs were replaced increasingly by fluorescent-lighted plastic, the art of bending colored tubes into sinuous, gas-filled forms began to wane," writes Margalit Fox in a 2006 New York Times obit on neon artist Rudi Stern. The glamor of Times Square gave way to seediness and sex shops. The movie palaces, bankrupted by television and the decline of the monopolistic studios that once owned them, shuttered their doors and shut off their lights.
For about a decade or so, neon was relegated to dive bars and cheap motels beaming like oases off the sides of darkened highways—the kind of "lost American Dream" symbolism you'd see in a Lana Del Rey video alongside motorbikes and pinball machines. Then, in 1972, Stern opened his New York gallery, Let There Be Neon, and wrote a manifesto of the same name seven years later. In it, he writes of his fears of neon becoming a lost art form: "Paradoxically, at a time when some architects, lighting designers, graphic designers and sculptors are becoming increasingly aware of neon's possibilities, there are few if any young people learning the craft of glass bending." Stern went to design neon installations for Broadway shows and commercial signage. His last great work was a multimedia project called Theatre of Light, performed throughout New York and New Jersey between 1999 and 2001, featuring music from the likes of Tangerine Dream, Peter Gabriel and Enya.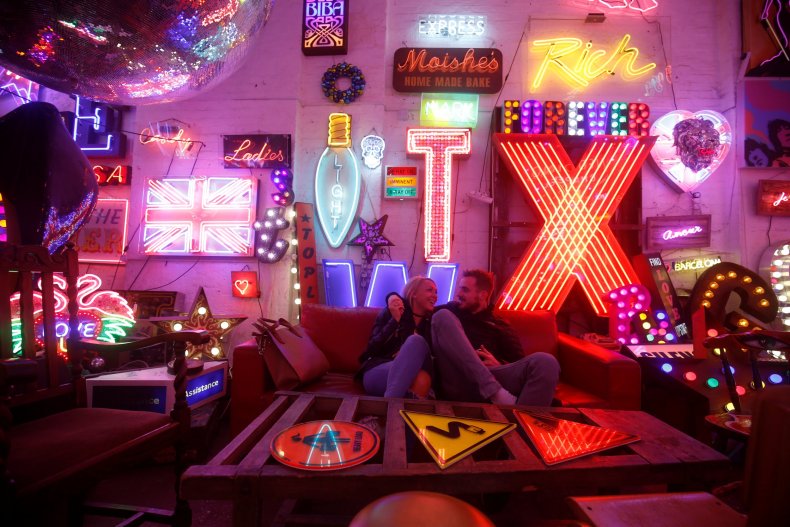 Stern's original Let There Be Neon projects and their contemporaries paved the way for a kind of neon revival throughout the '80s, one that extended out of the art world and into the greater culture consciousness. In our hazy, fantasized, nostalgia-tinted version of that decade, neon and similar lighting could be found everywhere from high-budget music videos to cocaine-fueled nightclubs. At the same time, the rise of video game arcades and science fiction films like Blade Runner perpetuated that well-trodden look of bright, colorful islands of light set against blackout or nighttime settings. Especially for Blade Runner, with its heavily Western and neo-noir influences, you could make the argument that neon was a subtle way of connecting a daunting, globalist future setting with a more familiar past. Beneath all the high-tech spaceships and skyscrapers, the neon-lit alleys that Harrison Ford prowls aren't all that different from the ones Jake Gittes trod in the (1970s version of) 1940.
Just as Grease's 1950s nostalgia gets a revival every 15 to 20 years or so, it seems we're now diving back into the well of borrowed memories from an era of music and movies that increasingly fewer artists lived through or remember very clearly. "Ultimately, all art is cyclical," wrote Marianne Eloise in Noisey last month, noting the trend of neon and "mood lighting" in recent music videos. "We live in a highly nostalgic time when a yearning for aspects of the 80s/90s/00s, especially the aesthetics of the time, permeate all areas of life." It's not just that we have a renewed interest in Blade Runner—those decades are also recent enough that any broad, superficial reference to their culture is recognizable, even to millennials and older members of Gen Z. Think of how often Jack Antonoff, born in 1984 and currently one of the biggest revivalists of '80s-esque anthems in pop, uses reverb drums in his music (both in the songs he produces for Lorde or Taylor Swift and the ones he performs under his Bleachers project).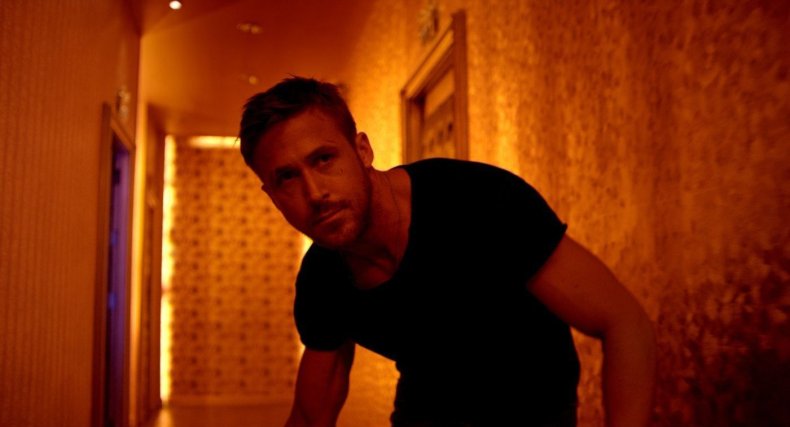 In the same vein, installing some neon lights and a fog machine for, say, a Justin Bieber video, is an inexpensive yet effective way of conveying not only the style of Michael Jackson, but also the hypnotic neon art which Rudi Stern advocated for so thoroughly, and which now, in this age of Instagram, has gone back into fashion. As Alyssa Bereznak recently noted on The Ringer, we've reached a point where the photo-based social network is dictating the experience of art itself. Along with millennial pink walls and infinity mirror rooms, neon and LED installations have turned into convenient photo-ops for Instagrammers, and an easy way for gallery and festival curators to maximize their influence online. (See, for instance, the #glennligon tag.)
"I think it's less of a trend and more of a direction, because you can build [upon] it," says Hambis Charalambous, creative director of theatrical projects at Canyon Design, which assisted in designing the Ingrid Goes West poster. "We wanted something simple and more iconic, more arty." Although the Ingrid design isn't based upon any particular Instagram post or hashtag, it is "set up for the people who use social media...this is what people on Instagram want." It makes perfect sense from a marketing standpoint—design an Instagram-like poster for a movie about Instagram, which will also do its job advertising on social media—but it also speaks to a greater seismic shift in how to get attention from younger audiences. They pay attention to something that looks arty (i.e. neon), even if there's not much effort in looking beyond its superficial coolness.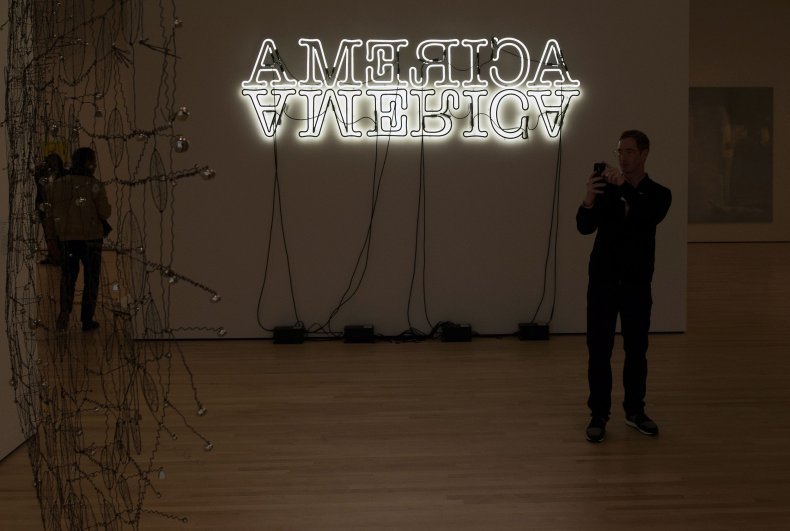 Neon symbolizes modernity and innovation, yet it has also represented the decay of modern invention and and the descent into obsoletism. A flickering neon sign denotes something formerly glorious, formerly shining and bright, that has now fallen into ruin without completely losing its power. It's as tacky as it is beautiful, and even if this particular neon fad fades away, we'll likely still be bathing in those tubular lights for years to come.