New Neopets Mobile App Launches Summer 2019, Replacing Website
Neopets is doing away with its classic website in summer 2019. A press release from JumpStart released over the holiday week teased a new future for the online pet simulator, one that "replaces" the website with a "conversion to mobile."
"Our dedicated Neopets team is happy to share that the Neopets universe is gaining new life in 2019 with mobile technology and keeping Neopia alive and well for all fans," said Taylor Lord, Director of Marketing, Community and Web at JumpStart, in the press release. " Neopets Legends and Letters and all of Neopia will be ready for seasoned gamers who have played Neopets for decades, and also for new fans who are eager to experience this beloved internet game for the very first time."
The Neopets team is working "to completely revamp the Neopets Universe by converting it to a mobile app now slated for a summer 2019 release," the release said. San Diego Comic-Con 2019 "will feature unprecedented celebrations, events and prizes to honor this milestone for the entire Neopets community." This app will provide the classic Neopet experience, like taking care of your pet and playing games, fans have been attached to since its launch in 1999.
The website itself will continue to exist, but with a modern facade that will combine a web and mobile experience. "We do not want the website to disappear, and the mobile app launch will also include optimizing our web pages so the site would be alive and continue to thrive," Lord told Newsweek over email.
The new Neopets app will have the same core features that made Neopets so successful, like events, dailies and pet customization. Relaunching Neopets is a large undertaking and JumpStart Games plans to continue to produce content after the app debuts. "We are not looking at this app as a restart on the Neopets website, more as an extension through a new seamless experience on mobile devices," Lord said.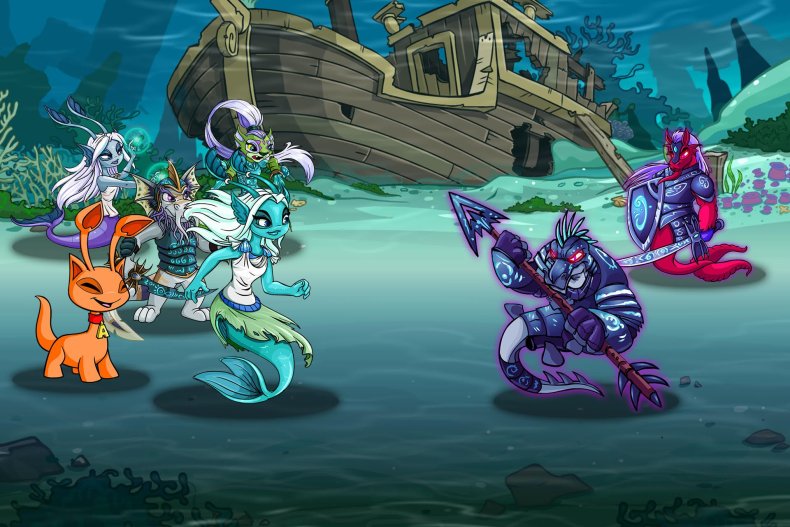 JumpStart Games will also launch another Neopets-themed mobile app called Neopets Mobile Legends and Letters on January 17, 2019. The game will feature brand-new storylines starring the game's classic Neopet avatars, along with word-based combat and gameplay. You'll create a team of Draiks, Lupes and Aishas and challenge the nefarious Claymaker by combining letters on a Scrabble board to power up abilities. Along the way, you'll fight alongside the Faerie Queene, Hannah the Usul and Garin the Foolish to help save the world of Neopia.
"We want this to be the first new product to revitalize the brand and start bringing Neopets into a whole new generation of players," Lord told Newsweek . "Simultaneously, while giving the immensely loyal fanbase a whole new way to enjoy Neopia."
The Neopets site exploded in the early 2000s, as users fell in love with their online virtual critters. As the years went on and Flash animation started to show its age, Neopets failed to adapt. Combine that with the unusual ownership and ties to Scientology that started to leak to the press , and Neopets faded into obscurity as a brand. After being sold to Viacom for $160 million in 2005, the property changed hands again to JumpStart in 2014. JumpStart is owned by Chinese MMO developer and app developer NetDragon, and both companies want to bring Neopets back to its former glory.
Neopets holds a special place in my heart. I spent hours of my childhood locked in front of a computer with my Faerie Grarrl and Darigan Bori spinning the Wheel of Monotony, playing Meerca Chase games and losing all my Neopoints on slot machines. Every day before school, I would do my daily quests and make sure my whole team was fed and happy. They weren't just virtual characters made up of numbers and code, they were my friends. It's been five years since I've been able to access my account and see my Neopets. I know they are starving and miserable, which is why I'm hoping that this new app is a complete wipe of the game. I don't like knowing that my babies are struggling.