In Nepal, Quake Survivors' Suffering Continues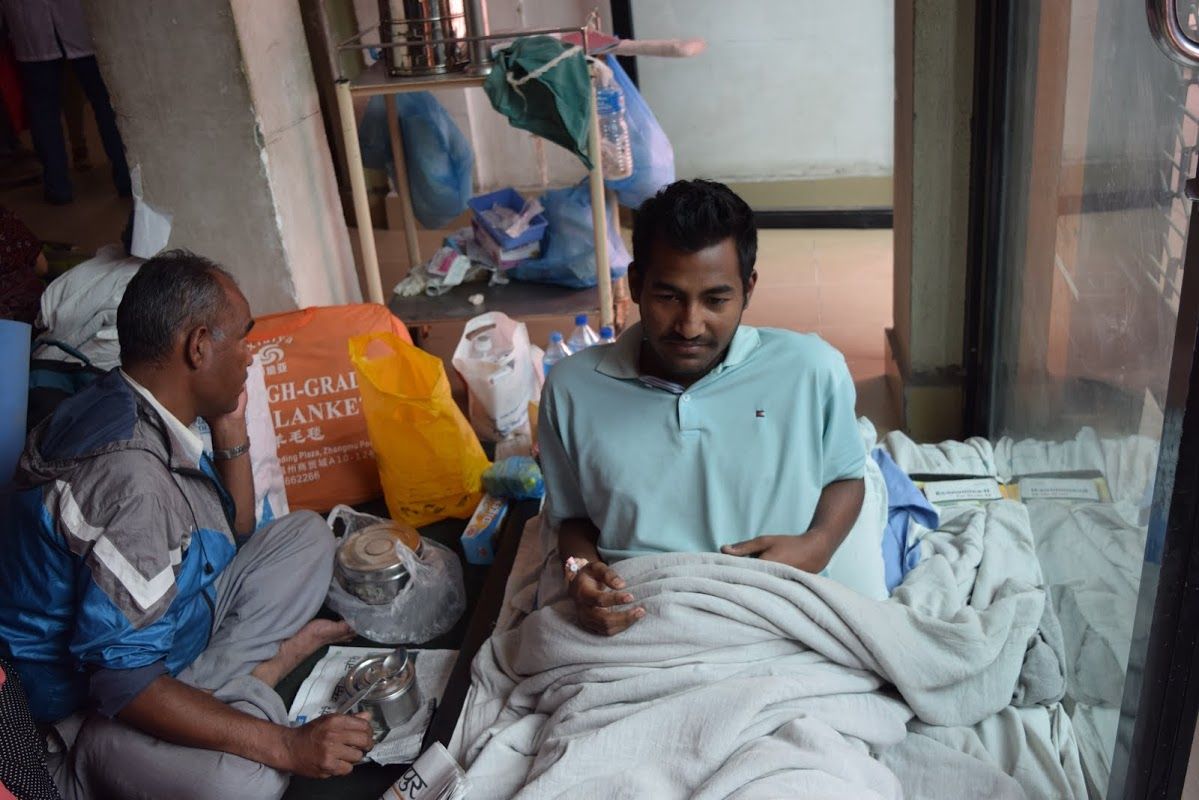 On the floor of the Kathmandu Model Hospital, in what used to be the facility's lobby and waiting room, lies an 18-year-old man. His left leg, encased in blue casting materials, is raised, and his father sits nearby. He was in Bhangal, a village about 10 kilometers northeast of Kathmandu, when the first earthquake made the ground move.
"I had gone to visit my aunt," says Abhisek Bayalkoti. "I have two cousins—one 3-year-old and one 1½-years-old. As soon as the tremors started, I tried to catch them and run. I slipped and fell."
The children were fine. But Bayalkoti couldn't stay balanced, and his legs buckled under him when the ground shook. His shin fractured, the bone splintering and shooting up and out through the muscle and skin. He lay on the ground bleeding for two hours until his brother was finally able to hail a taxi to take him to the hospital. When he arrived, "the situation was chaotic. People were panicked and crying. I also started crying." The health care workers gave him a painkiller injection, and cleaned the wound and set it.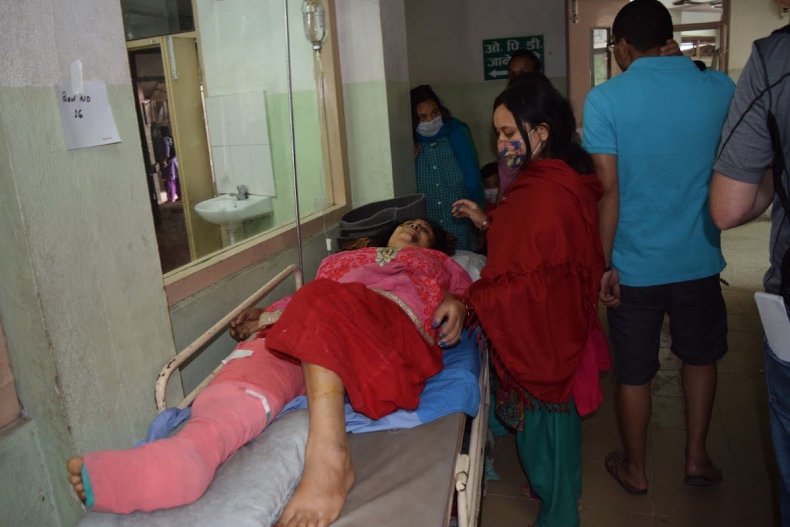 Bayalkoti needs surgery, but the operating theater of Kathmandu Model was damaged in the quake. It can't do much other than intake and maintenance. So he's waiting for space to open up in another branch of the hospital elsewhere, so he can have the surgery there.
In the meantime, the days have been taken up mostly by visits from his father and making constant physical and emotional adjustments to the scattered behavior that comes with uncertainty and dread. With fears of additional quakes sweeping the city, the hospital's staff moved patients out to the courtyard at night. Then they were moved back inside. But without enough beds, many, including Bayalkoti, were left to make do with mattress pads and piles of blankets. At least they have a roof over their heads.
A couple of kilometers away, at the Paropakar Maternity and Women's Hospital, one of the wards, built in the 1950s (it's the oldest maternity hospital in all of Nepal), was reduced to rubble, forcing newborns and their mothers to rest after birth in a tented area in the hospital complex's courtyard. When it rains, the tent leaks, dripping cold water on the women's heads as they bend low to protect their infants. The new parents—some as young as 17, others veterans of over a dozen births—are mostly giddy, despite the cold weather and disaster conditions. But the seriousness of their situation does not elude everyone.
"How can I bring my wife here?" asks Manish Shreshtha, a 28-year-old in a black windbreaker and a buzz cut. His wife is in labor inside the hospital, but when she gives birth, she'll be brought out here. Shreshtha says that in this chill a newborn could develop pneumonia, which could cause lifelong health problems.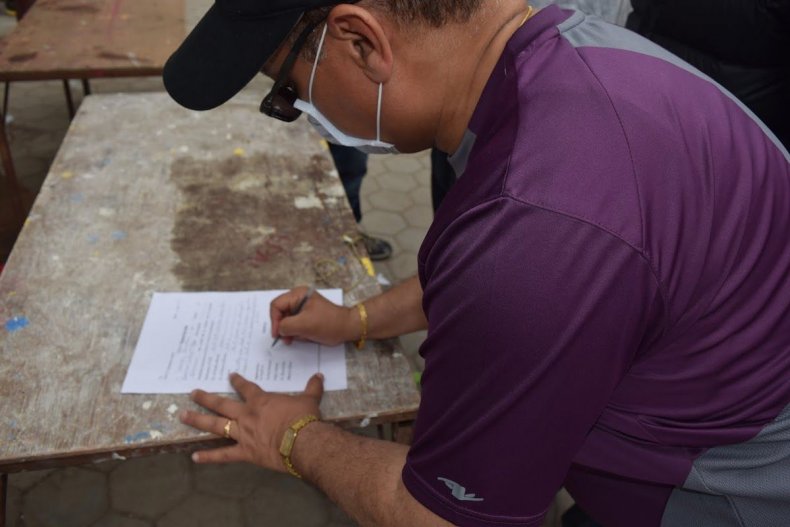 It's not entirely clear who is responsible for this tented maternity ward. A nurse assistant, who would not give her name, said that the hospital administration "provided nothing" and that the tent was actually set up by the community. But Dr. Shanti Joshi, the hospital's congenial, brightly dressed deputy director, said that "they are discharged, but we cannot force them to go." It is true that many of the women say their homes have been reduced to rubble. They are survivors, with nowhere to go.
Of course, everyone in Kathmandu is a survivor.
That's what my translator tells me when I ask for help speaking with Kathmandu residents who survived the earthquake. And it is true, in some ways. The quake has been something of an equalizer: Even the wealthiest Westerners in five-star hotels have spent nights outdoors and days fretting over whether there will be drinkable water tomorrow. And many I meet feel phantom quakes beneath their feet all day long. Almost certainly, post-traumatic stress is plaguing the city; it is hard not to imagine a dead body beneath every pile of rubble.
But for some, survival was a matter of fractions.
Loknath Subedi was riding on a scooter with his wife in Sitapaila, a village northwest of the city, when the earthquake hit. "As we were riding, the wall fell down.... A brick came and hit me, and the scooter fell down."
He was hurt badly—he fractured bones in his feet and in his back. Subedi would have died if not for the quickness and strength with which his wife acted in that split second. She was unharmed, but instead of simply running to safety, she doubled back and was able to drag him out from under the scooter and pull him aside.
If she hadn't, the whole wall would have collapsed on me and I would have died," he says. "My wife was quick, and she pulled us out." Now he is in pain, but "I'm getting better," he says.
The hospitals in Kathmandu all overflow with patients, many of whom share similar stories. It's well known that the city's already fragile health care system is being stretched to its breaking point. At the Kathmandu Model Hospital—famous for being the only hospital in the city to accept injured and ill insurgents during the country's 2006 democracy movement—the pained and fractured lie on mattress pads and blankets on the floor of what used to be the lobby and waiting room. Meanwhile, in the back, a woman is given emergency treatment in the canteen.
"Usually we are a 125-bed hospital," says Dr. Kovid Nepal, but right now they are hosting 150 patients "related to the earthquake" on top of their usual load.
Punyawati Ranjit, a 52-year-old with bruises all over her face and a medicinal IV connected to her right arm, can do little more than moan on her cot in the hallway of Kathmandu Model. "It's difficult," she says, her face contorted in pain. "I am finding it difficult to speak."
Her two grown daughters, attending her bedside, speak on her behalf. Their house, near Durbar Square, was one of many in the area that collapsed in the quake. Ranjit was inside and was buried beneath the rubble. She stayed there, brick and mortar pressing on her body, for half an hour before she was rescued and brought to the hospital. Her body suffered numerous fractures and head injuries.
Some government officials have been open in admitting that attending to the needs of survivors has not been a priority. The New York Times reports that Jagadish Pokharel, a spokesman for the Nepalese Army, told a group of reporters after a briefing that "our primary, primary, primary goal is to rescue the people. We are also trying to synchronize [aid] and to distribute to the needy people. We will do our best."
And many of the planes landing at Tribhuvan International Airport are filled with search and rescue teams: India, China, Germany, the U.S., Israel, New Zealand and the U.K. have all sent their own teams to scour the detritus for bodies of both locals and nationals who remain missing.
Meanwhile, the country is struggling to get aid to the thousands of injured and the many more who have lost their homes in the past few days. The good news is that other government officials have recognized the shifting needs of the country; in a press briefing on Tuesday, Chief Secretary Leela Mani Paudyal said the rescue efforts are over, and what Nepal needs now is specialty doctors and relief distribution.
Others are mobilizing to help. The U.N.'s World Food Programme, for example, just announced an emergency operation that will focus on providing food and aid to survivors in the Ghorka district, one of the worst-hit parts of Nepal. And Raj Bhandaray, part of the coordinating team for the Federation of Nepalese Chambers of Commerce and Industry's relief efforts, says its first priority is "tents, tents, tents."
Meanwhile, for those who lost their homes, the first step is to find somewhere safe to rest their head.