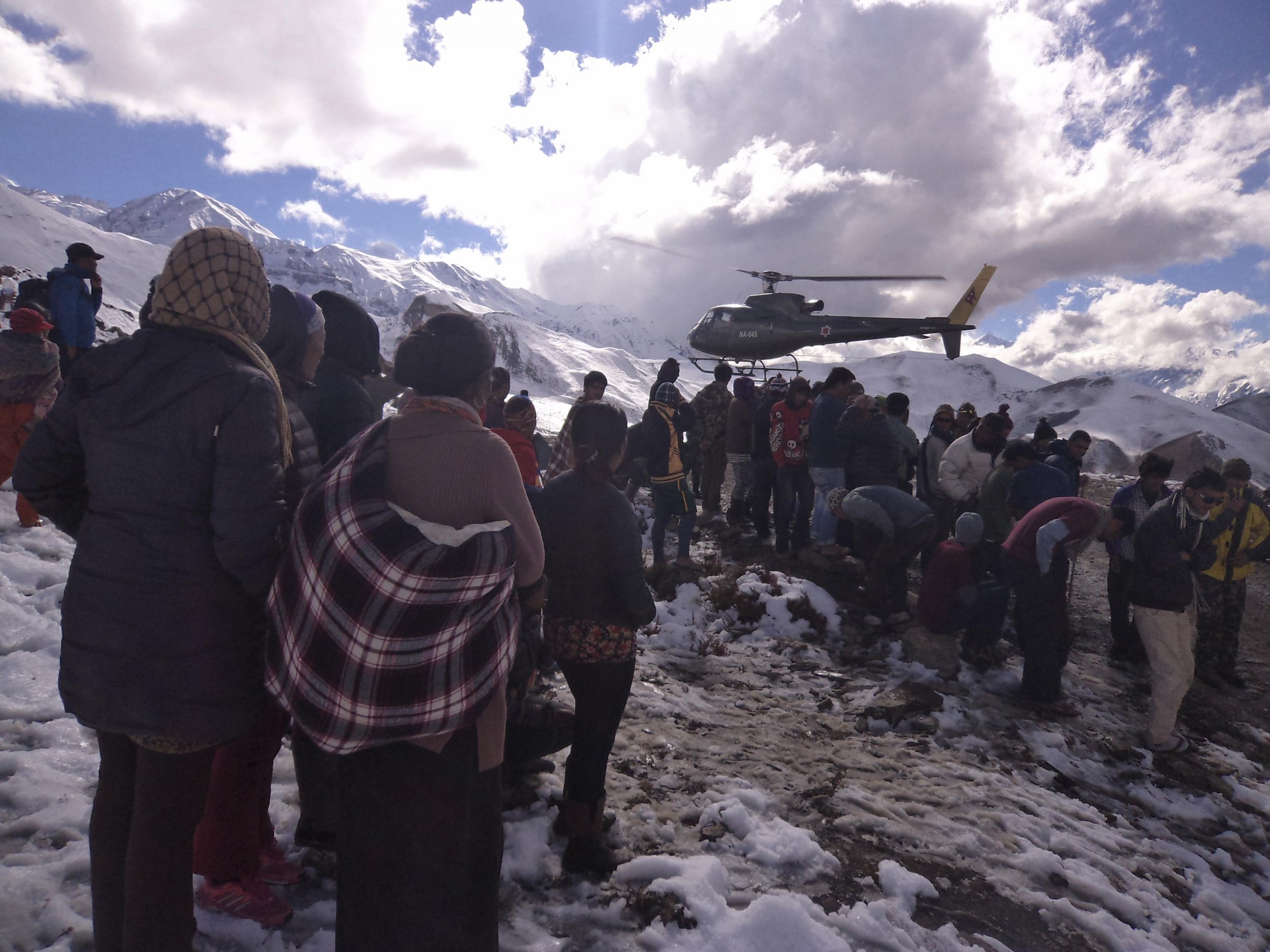 Nepal's government promised Monday to improve safety conditions for local guides and international visitors on a popular Everest route in the wake of two disasters last year that saw dozens killed by avalanches.
The improvements were announced in time for the upcoming climbing season, which begins in March.
"We are working on plans to improve the conditions on the mountain this year," Puspa Raj Katuwal, chief of Nepal's Mountaineering Department, told reporters Monday. "We are setting up a full-time office tent at the base camp which will have our officials throughout the climbing season."
The setup at base camp would help officials keep track of climbers and guides and provide quicker rescues and better security. The government also plans to develop a better weather forecasting system and provide regular forecasts at base camp.
"All possible measures will be taken to make climbing safe and to minimize the danger of natural disasters like last year's avalanche," Katuwal said, referring to the April 18 disaster that killed 16 guides who were setting up a new route.
The route this year will not pass through the spot where the April avalanche occurred but veer about 130 feet to the right of last year's path.
Finally, Katuwal says the government plans to increase the insurance and medical benefits it provides for Sherpas.
The April avalanche, and a snowstorm in October which killed at least 39, brought into focus the safety and regulation of routes on Everest and other tall peaks where guides lead visitors on treks. Nepal's tourism industry, which includes climbing and trekking, brings in $360 million annually, according to The Wall Street Journal.
The government has been criticized in the past for charging high fees without providing sufficient services in return. Katuwal told reporters that the fee for a permit to climb Everest would be reduced this year to $11,000, down from the previous $25,000, to encourage more climbers to make the trip.
But Adrian Ballinger, owner and head guide of U.S.-based Alpenglow Expeditions, said Monday the fee reduction was misleading. Previously, an individual climber could indeed be charged $25,000 to get a permit alone, but groups of seven could sign up for a permit together for $70,000, or $10,000 each.
"No climber I know of has paid [$25,000] in all years I've been there," says Ballinger, who has been traveling and guiding in Nepal since 1997 and leading groups up Everest there since 2009. Since most climbers go through a company like Alpenglow and there are local teams that otherwise help compile groups to sign up for permits, he says, the new $11,000 flat fee actually represents a slight increase.
"I think having an office or permanent government staff at base camp is actually very important. I think that's an excellent change," Ballinger says. But overall, he says, the government has not taken enough meaningful steps to improve safety on Everest, even when taking into account the planned reforms announced Monday, and should require climbers and guides to be more experienced.
The deadly avalanche in April came down in the Khumbu icefall section right above base camp on what many call the Southeast Ridge route.
Under normal conditions, this section already proves dangerous. A glacier moving in the narrow valley between the western shoulder of Everest and the Nuptse mountain gets broken up into ice blocks that are constantly shifting. Some, Ballinger says, call it the "popcorn section."
In addition to the danger of ice blocks moving under one's feet while crossing the Khumbu icefall, a second set of concerns present themselves overhead. Hanging glaciers, called seracs, can break off from the higher slopes and cause avalanches, like the one that killed 16 Sherpas last spring. Avalanches in that area and even on the scale of the one in April, are not uncommon, Ballinger says.
"Every single year we have had close calls or near misses" in the icefall, he says. The "horrible accident that killed 16 Sherpa," he says, was "just confirmation of the risk that we felt." Ballinger recently decided that Alpenglow's Everest climbing trips this spring will take a route from the north via Tibet, rather than the southern route from Nepal that forces passage through the dangerous icefall.
Several operators, including Ballinger, had made suggestions to the Nepali government, such as reducing the number of trips through the icefall by carrying less equipment—extras that more experienced climbers don't need—and in the same vein, increasing the experience level needed to get a permit in order to reduce time spent in the icefall. They also recommended stationing a seasoned rescue team on the mountain with access to helicopters to react quickly in case of an accident. But the government has yet to take these steps, Ballinger says.
Most high-end teams climbing Everest already pay foreign meteorologists to do their weather forecasting, and other teams piggyback on them, Ballinger says. It's the trekkers and tourists on less demanding routes that need improved weather forecasting from the government, he explains. But routes like the Annapurna circuit, where the October blizzard killed dozens, were not included in the government's Monday announcement, Reuters reports.
The government this year is requiring guides who lead Annapurna treks to go through a certification process that includes a month-long training, Ballinger says. A government check post will be set up during trekking season to ensure that all guides are certified.
"I do believe Nepali government is potentially trying to make Everest safer, but they have a really challenging problem with how dangerous the icefall is," Ballinger says. Part of the responsibility lies with the local and international operators that lead the climbing trips, but not all companies put safety above profit, he says.
"If Nepal wants to continue business, which it obviously does, it needs to heavily regulate who's on this mountain," the way that France regulates Mont Blanc or the U.S. regulates McKinley, Ballinger says.
About the writer
Stav is a general assignment staff writer for Newsweek. She received the Newswomen's Club of New York's 2016 Martha Coman Front Page Award for Best New Journalist. She previously interned at Newsday, the San Francisco Chronicle and Dance Magazine and her writing has also appeared in the Jewish Daily Forward, Stanford Magazine, DancePulp, and other publications. Stav is a graduate of Stanford University, where she studied history and dance and helped found the Stanford Arts Review, and Columbia University's Graduate School of Journalism. She prefers sunshine and tolerates winters grudgingly.