Nepal Reopens Historic Sites Ravaged by Earthquakes, Raising Safety Concerns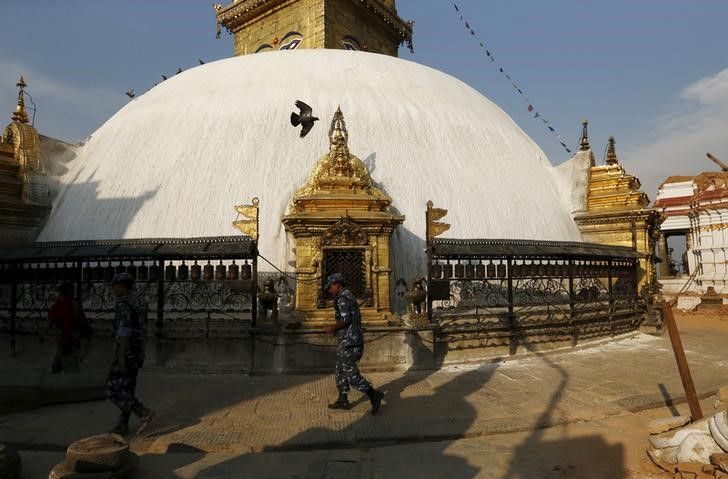 Nepal reopened all seven of its World Heritage Sites on Monday in an effort to attract tourists after two devastating earthquakes in April and May killed nearly 9,000 people. The sites were reopened despite concerns raised by the United Nations's cultural arm over the safety of visitors..
Nepal's Durbar squares, or "noble courts," popular tourist sites filled with temples and statues, were severely damaged by the earthquake, the BBC reports. While there will be security at the sites and special routes are in place to make sure the least amount of damage is caused to the sites by the public, UNESCO said in a statement last week that reopening the sites raised safety concerns and hoped the decision to reopen them can be reexamined.
The public has be to "extra cautious and reconsider the necessity of visiting those sites," UNESCO said. Many monuments within the sites have collapsed and are unsafe, the organization added.
Among the reopened sites are the Bhaktapur, Kathmandu and Lalitpur Durbar squares, CNN reports. Durbar Square in Bhaktapur celebrated its reopening with performances by traditional dancers and musicians, Australia's ABC News reports.
UNESCO expressed concern over the reopening of three sites in particular: the Kathmandu Durbar Square, the Swayambhu temple complex and the Patan Durbar Square, saying they are in a "precarious state." The organization also raised concerns about the risk of theft of art and cultural objects at the Swayambhu site and said both the Swayambhu and Changu Narayan sites are at risk for landslides.
Tourism made up 8.6 percent of Nepal's annual budget in 2014, providing almost 145.3 billion Nepali rupees in revenue, according to the World Travel and Tourism Council. Over 800,000 houses have been destroyed or damaged since the first earthquake, which struck Nepal April 25, and the second, which struck in May, according to USAID. Eighty percent of hotel reservations in the country have been canceled since then, according to the Nepal Economic Forum, a Kathmandu-based think tank. An estimated $6.66 billion is needed to rebuild infrastructure, The Wall Street Journal reports.
Nepal's Department of Archaeology estimates 12 billion Nepali rupees ($117 million) is needed to rebuild damaged monuments, a process that could take five years, the BBC reports.
Bhesh Narayan Dahal, the department's director general, said the department had assessed the "vulnerabilities of the sites and significant monuments, and the sites will be opened for visitors on priority basis, while a long-term plan will be introduced to reconstruct the fallen monuments."
A message on the Nepalese tourism board's official website says that efforts have been made to make visits to the sites "safe and fascinating" and that "rebuilding and recovery initiatives are also underway."