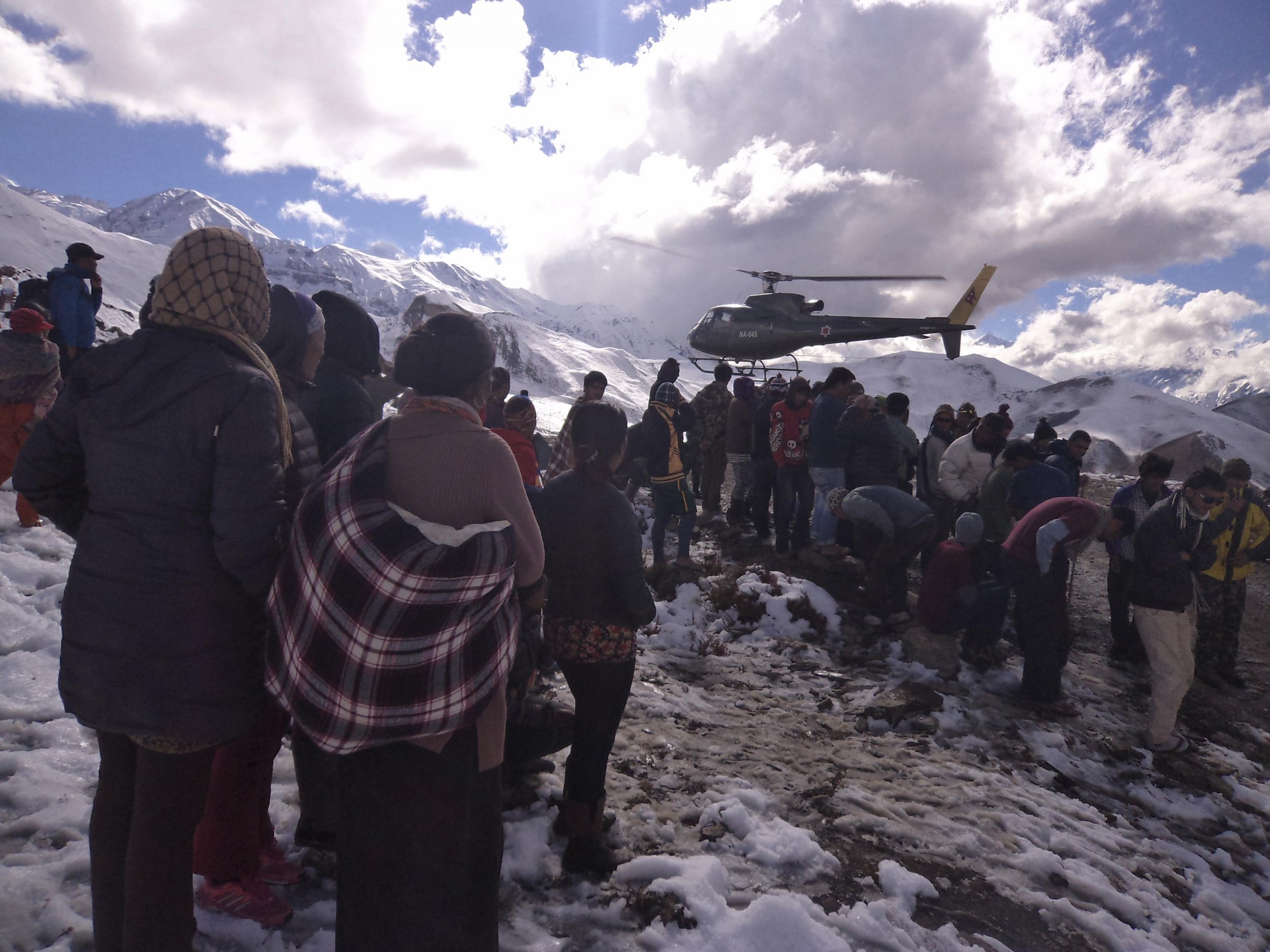 Blizzards that hit the Himalayas in Nepal on Tuesday trapped trekkers out on the popular Annapurna circuit, a 150-mile route that ascends to over 17,000 feet at Thorung La Pass. The resulting death toll has risen to 32, according to The Guardian, while roughly 200 have been rescued, according to Fox News. Others remain stranded or missing. As rescue efforts continue, questions and criticism about trekking safety and communication come to the fore.
"The government is happy collecting money from trekkers but doing nothing for them," Keshav Panday, an official of the Trekking Agencies' Association of Nepal told Reuters. "It must now spend the cash for making arrangements for weather forecasts and a quick response for rescue when hikers are in distress."
The storm did not come as a surprise to meteorologists, Adrian Ballinger, owner and head guide Alpenglow Expeditions, a leading high-altitude guiding company, tells Newsweek. His company, which did not have any tours out in the Annapurna area this week, received a warning from its hired team of meteorologists in Switzerland 48 hours in advance that Cyclone Hudhud—which had hit the east coast of India—would brush the Himalayas and bring serious stormy weather with it.
The trekkers "could have been forewarned," Ballinger says, "but there's no system in place."
Communication is poor in the Annapurna area, according to Sarad Dulal, general manager of Swissa, a rafting and trekking tours company popular with Israeli clients in Nepal. Locating stranded trekkers this week was made more difficult by a power outage that lasted nearly two days, he tells Newsweek.
However, there is some phone and Internet access in Annapurna, climate analyst Ngamindra Dahal told the Nepali Times. She says Indian and Nepal meteorological offices too warned about the weather that remnants of the cyclone would bring, but the information didn't make it to those on the trails.
October is well within popular trekking season, Alan Hinkes, a British climber who has scaled all 14 peaks that are over 8,000 meters high, tells Newsweek: "Cool nights, warm days, clear air; it's a brilliant time to trek." But October storms aren't unheard of, says Ballinger.
The government has responded to the disaster with a promise to improve the system.
"I want to assure that the government will make efforts to establish early-warning centers for weather in the important spots across the country, especially in the Himalayan areas and along rivers," Sushil Koirala, Nepal's prime minister, said Thursday, according to The Guardian. He called the events "extremely tragic at a time when worldwide weather updates are available every second."
This week's storm is the second big disaster to hit Nepal's peaks in the last six months. An April 18 avalanche on Mount Everest killed 16 local guides who were setting up a new route.
The April accident brought into focus the regulation—or lack thereof—on Everest and other tall peaks where guides lead visitors on treks, part of Nepal's $360 million trekking-and-tourism industry, according to The Wall Street Journal.
"This [accident] happened unexpectedly but if we cannot completely rule out the chances of avalanche at least should learn something and try to minimize it," Ang Tsering Sherpa, the president of Nepal's Mountaineering Association, told The Guardian after April's avalanche.
"We should…adopt some precautionary measure—learning from [how] mountains [are managed] in developed countries where they adopt measures to avoid avalanches by putting some kind of wood or some concrete so that it helps make it safe."
After the same events, Wanchu Sherpa, chairman of Everest Summitteers Association of Nepal, told The Guardian that "nothing can be done to prevent such events." He called them "simply natural disasters that are unavoidable."
Hinkes tells Newsweek that "people have to be prepared to accept a certain amount of risk, take responsibility for their own safety."
Alpenglow Expeditions's Ballinger says trekkers should their research before choosing a tour provider. The latter—who are part of a lucrative business—could invest more in safety measures while the government could do more to regulate their services, he says.
It's important, however, to distinguish between the two disasters in Nepal this year, Ballinger says. The first involved a group of professionals who were fully aware of the risk they were taking, while the most recent storm took by surprise hundreds of inexperienced trekkers who might not have been as informed.
But one thing is certain, Ballinger says: "Both are going to affect Nepal's tourism and how people think about going."