Nest Doorbell (Battery) Review: A Solid Video Doorbell Eliminates Wiring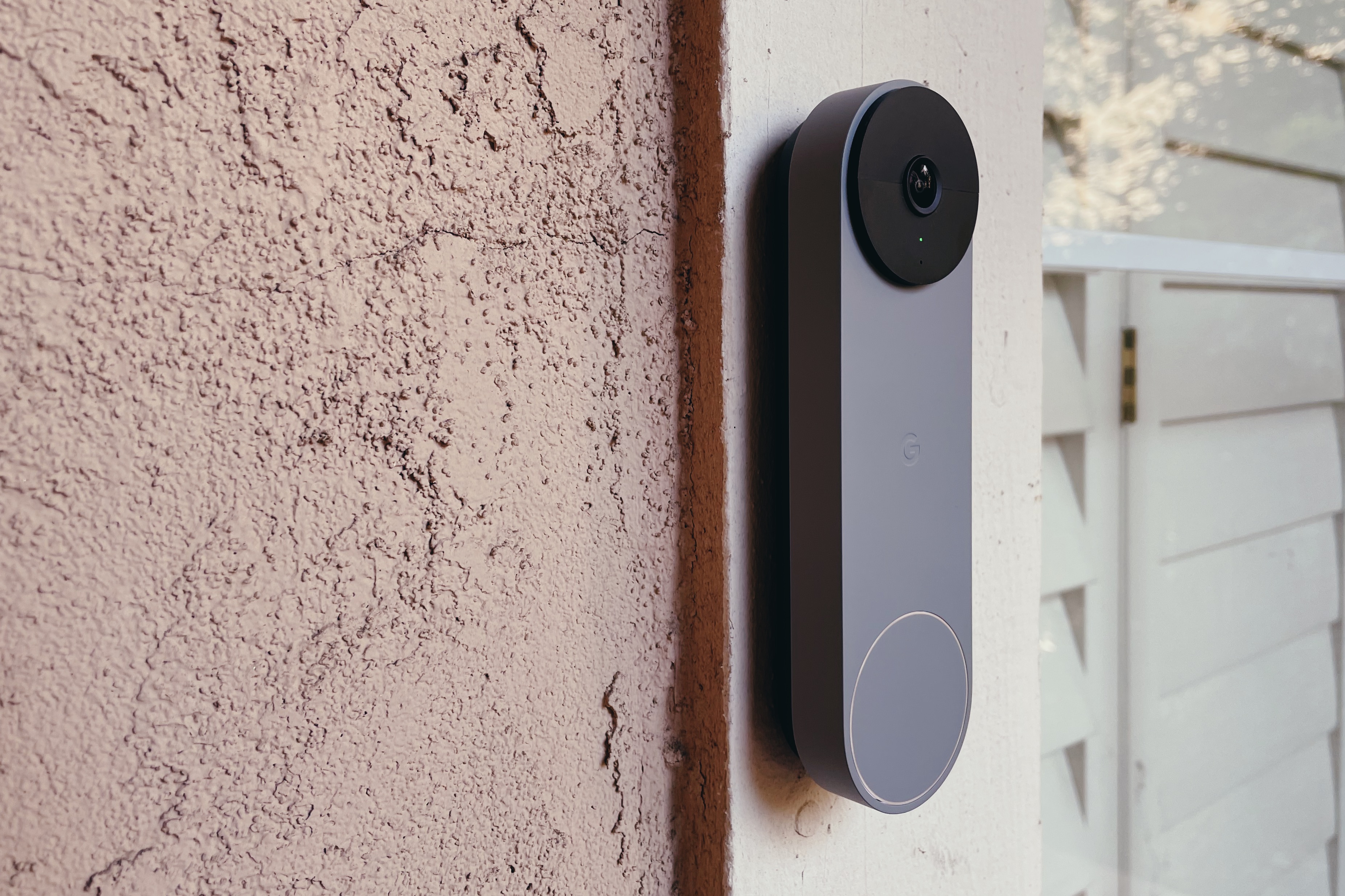 If your home has an existing doorbell with a great viewing angle, then you should absolutely consider getting a wired video doorbell. Many homes and businesses aren't that fortunate, however, and so a doorbell running on a battery is the next best solution. To address this need, it seems Google finally heard the call for a battery version of its past Nest Hello doorbell. Only a few things have been tweaked and updated in the new model, so the largest difference is that the Nest Doorbell (battery) can now run on battery, without wiring.
For $179.99, you get a lot of the same features as the previous, wired-only, model, including HD video and HDR night vision. Google did use the refresh opportunity to add a few new colors to the line as people try to color coordinate with their home's exterior.
I have used both generations, and there are a lot of similarities between the wired and battery doorbells. I like each, but at the end of the day, you'll need to pick the model that best suits your needs.
TL;DR
Pros:
Four color choices
Easy to install
Extra notifications without a subscription
Cons:
No instant-view video feed in the Home app
3-hour event history without a yearly subscription
Buy at Google.
Nest Doorbell (Battery) Features
The most pressing question is whether the new Nest Doorbell (battery) is better than the previous model—or just different. Overall, it is probably better, but it's not clear-cut. The new doorbell provides alerts for motion, people, packages, animals and vehicles without needing a Nest Aware subscription, while the previous model only does motion and people without one having to pay. The new one also includes video clips in the 3-hour history, compared to wired version's still images.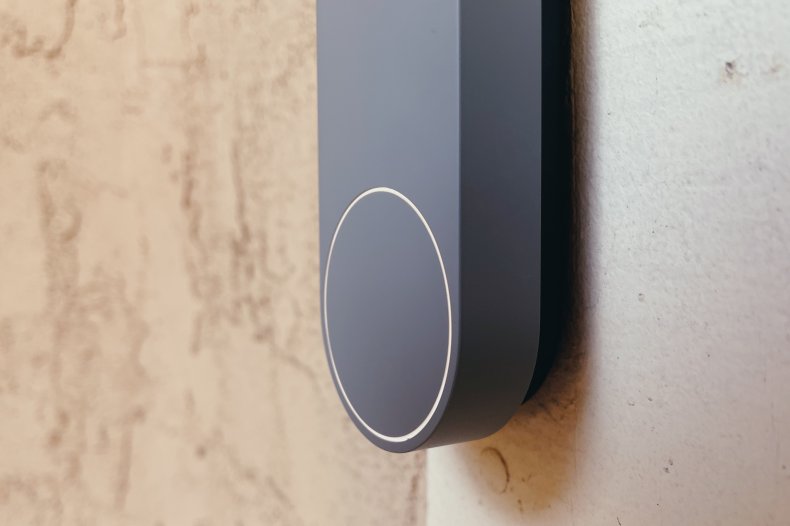 The new Nest Doorbell (battery) can also record for up to an hour of video without power or Wi-Fi, thanks to its onboard storage. Do you live in a place susceptible to blackouts or other internet connection issues? The battery one may be much better in your case.
After several years, the video quality remains the same and not much else has noticeably improved.
I tested the Ash color doorbell. It looks nice in person and, although it didn't match the exterior color of my house, I thought it fit in just fine. There are four colors to choose from, though there are none with a black front like the old version's. Is the look of the new design better? I would say it just feels fresh and clean but that it's not necessarily a better design.
Wired Versus Battery Doorbells
I have had a wired Nest Hello doorbell, now called Nest Doorbell (wired), for a few years. Actually, I've had two since I decided to install another Doorbell (wired) after moving houses. The functionality, video quality and general results of the wired model have all been good. It has been reliable enough at deciphering between people, animals and motion. In testing the new battery version of the doorbell, it lives up to the performance expectations I had for it, with a few extra points to consider.
One disappointment is that the doorbell does not immediately show video when you open the Google Home app and pull up the camera. This is intended to conserve battery life. Instead, it displays the battery percentage, and if you'd like to see the live video, it requires another tap.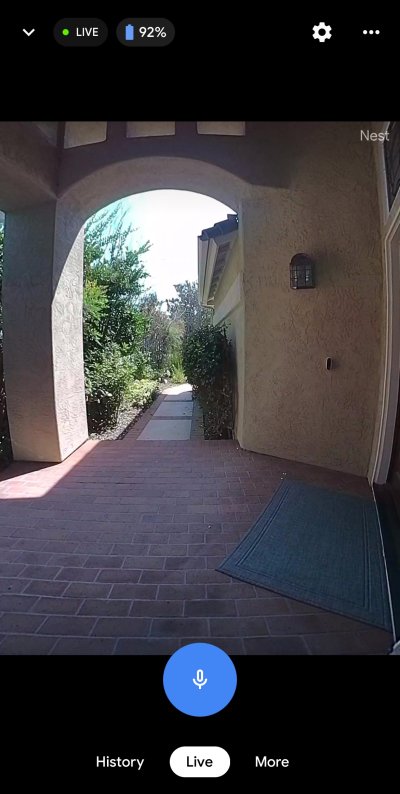 Despite the new doorbell trying to conserve battery life when possible, it was very quick to send push notifications proactively when it detected people or whatever types of motion may have enabled it. Because it's waiting to record until it detects motion, however, it can miss early moments. For example, it notified me of a person at the door, while the delivery person was still there, but when I went back to look at the footage, it didn't capture the five or six steps they took up the walkway to the porch.
Another noticeable difference, from the previous wired-only version, is the viewable angle. The original, Nest Doorbell (wired) has a wider field of view, while the new one is a bit narrower: 145 degrees with a 3:4 aspect ratio, versus the older model's 160 degrees with a 4:3 aspect ratio. Depending on where you plan on mounting the doorbell, this could seem limiting. But in practice, it didn't change too much.
I actually like the (slightly) less wide viewing angle for video. The scene is less distant when pulling up the video on your phone. You can pinch to zoom or double tap on either doorbell model's footage to get a digital zoom, but I like the field of view on the new Doorbell (battery) a little bit better. Not being tied to specific wiring allows the new battery-powered doorbell to be moved over a foot or two for more precise viewing or to be more accommodating.
The battery doorbell is physically bigger, but it shouldn't be enough to be a deciding factor between the two. With the larger size comes a bigger touch target to ring the bell. It's neat, but, again, ultimately not a deciding factor.
I haven't been testing the new doorbell for months, so I haven't been able to review its battery life fully. From daily usage though, it does seem like the battery will certainly get close to its two and a half months of battery rating. I averaged a 1 to 3 percent drop in battery life per day.
Once the device knows it has seven or fewer days of battery life left, it will try to conserve even more by reducing functionality further. You'll have to decide if charging the doorbell from four to six times a year is too inconvenient for you.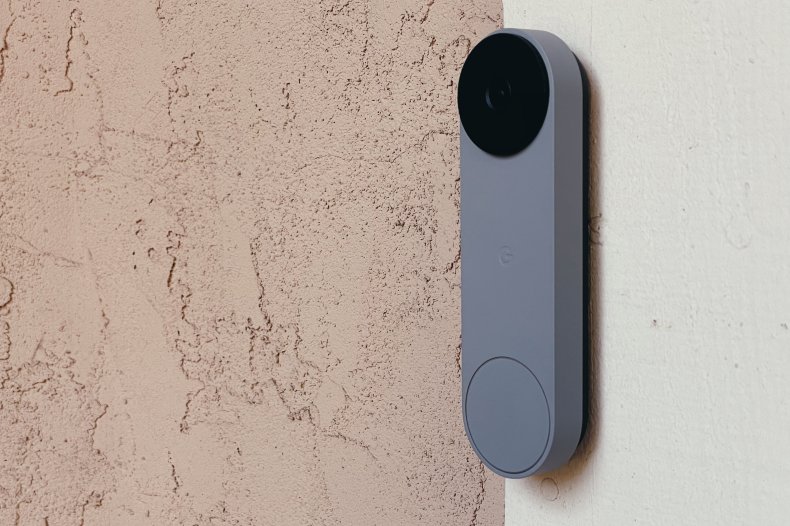 Nest App Versus Home App
My Doorbell (wired) uses the Nest app, while the new one uses the Google Home app. (Though I can view the older doorbell in the Home app, too.) I understand why Google has moved Nest products over to the Home app, but I don't care for it. It's fine and it works, but I like having a dedicated app for my thermostat, smoke detectors, exterior cameras and doorbell. I think the controls and user interface are easier to use. The Home app can get cluttered with lots of smart home devices showing up in it.
Both doorbells provide push notifications through their respective apps. I always received the ones for the new doorbell through the Home app slightly faster. I don't know whether this is the hardware, software or just a coincidence. Both notifications were very similar in timing overall.
Should You Buy the Nest Doorbell (Battery)?
There are all kinds of considerations for installing a video doorbell, but if you can wire one, I would do that. Worrying about recharging the battery every couple of months, depending on use, is annoying. But, no judgment, if you need or want a battery-powered video doorbell, the new Nest Doorbell (battery) works great and is easy on the eyes. Plus, the new Nest Doorbell (battery) can be wired if you change your mind later.
The new Nest Doorbell (battery) is better than its predecessor, but just barely. It's the one I would pick. For existing Nest Doorbell (wired) owners, there's no need for you to upgrade from the previous model to this one. Mostly, the new version allows more people with more front porch circumstances to use a Google Nest product, if that's what they've been waiting for.
Buy at Google for $179.99.
Newsweek may earn a commission from links on this page, but we only recommend products we back. We participate in various affiliate marketing programs, which means we may get paid commissions on editorially chosen products purchased through our links to retailer sites.