Netanyahu and Abbas Meet Face-to-Face and Shake Hands For First Time in Five Years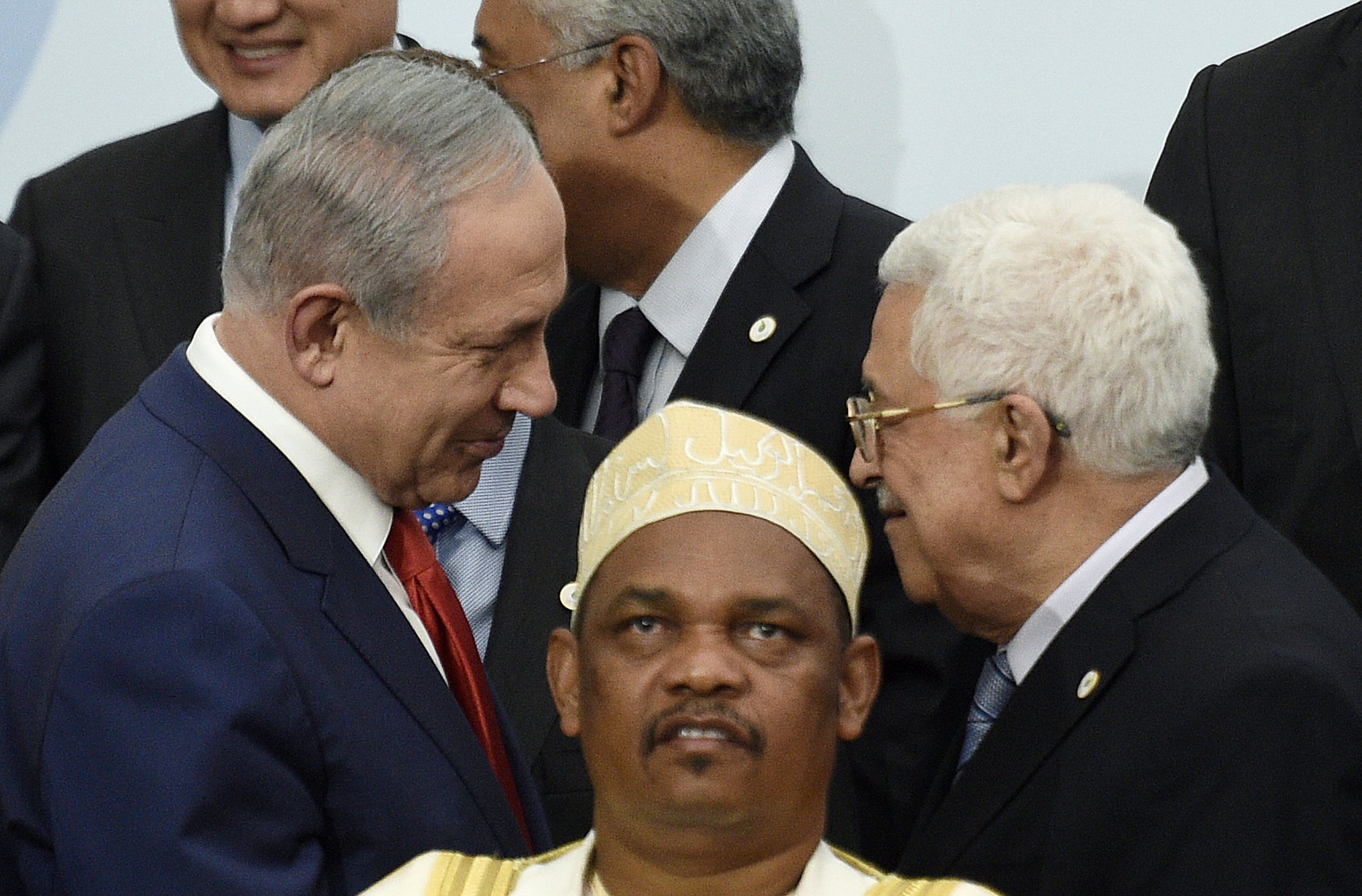 Israeli Prime Minister Benjamin Netanyahu and Palestinian President Mahmoud Abbas met face-to-face and shook hands for the first time in more than half a decade at the U.N. climate summit in Paris on Monday.
The leaders met during a group photograph of world leaders attending the summit. Both men were in the same row and only New Zealand Prime Minister John Key separated the pair. They proceeded to exchange a few words following the photograph.
The last time the pair met was at Netanyahu's Jerusalem residence in September 2010 ahead of proposed peace talks. Hillary Clinton, who was U.S. Secretary of State at the time, was also present. This was their first public meeting since the 2012 and 2014 Gaza conflicts and the latest wave of stabbing attacks by Palestinians against Israelis.
Relations between the pair have continued to deteriorate as the Palestinians launched a new "diplomatic Intifada" at a number of world organizations and the Israeli government continued its building of settlement units in east Jerusalem and the West Bank.
Both Abbas and Netanyahu have been present in joint photographs since 2010, such as the leaders' march following the attacks on the Paris magazine Charlie Hebdo and kosher supermarket in January, but have declined to exchange niceties.
Netanyahu embarked on a whirlwind diplomatic tour of the climate conference grouping of more than 100 world leaders. On the sidelines of the event's opening day, Netanyahu met with U.S. President Barack Obama and Secretary of State John Kerry, as well as Japanese Prime Minister Shinzo Abe, French President Francois Hollande, German Chancellor Angela Merkel, Italian Prime Minister Matteo Renzi, British Prime Minister David Cameron and Britain's Prince Charles, according to Israeli daily newspaper Haaretz.
He also discussed the European Union's decision to label settlement products with EU foreign policy chief Federica Mogherini, after he decided to suspend communications with a number of EU bodies involved in the Israeli-Palestinian peace process on Sunday in reaction to the move.
Government leaders from across the world have gathered in what has been billed as the largest meeting of heads of state in history to discuss a climate deal and avert a future environmental crisis over 12 days of meetings, negotiations and speeches.