Netanyahu Defends Use of 'Legitimate Force' in Response to U.S. Comments on Israel Street Violence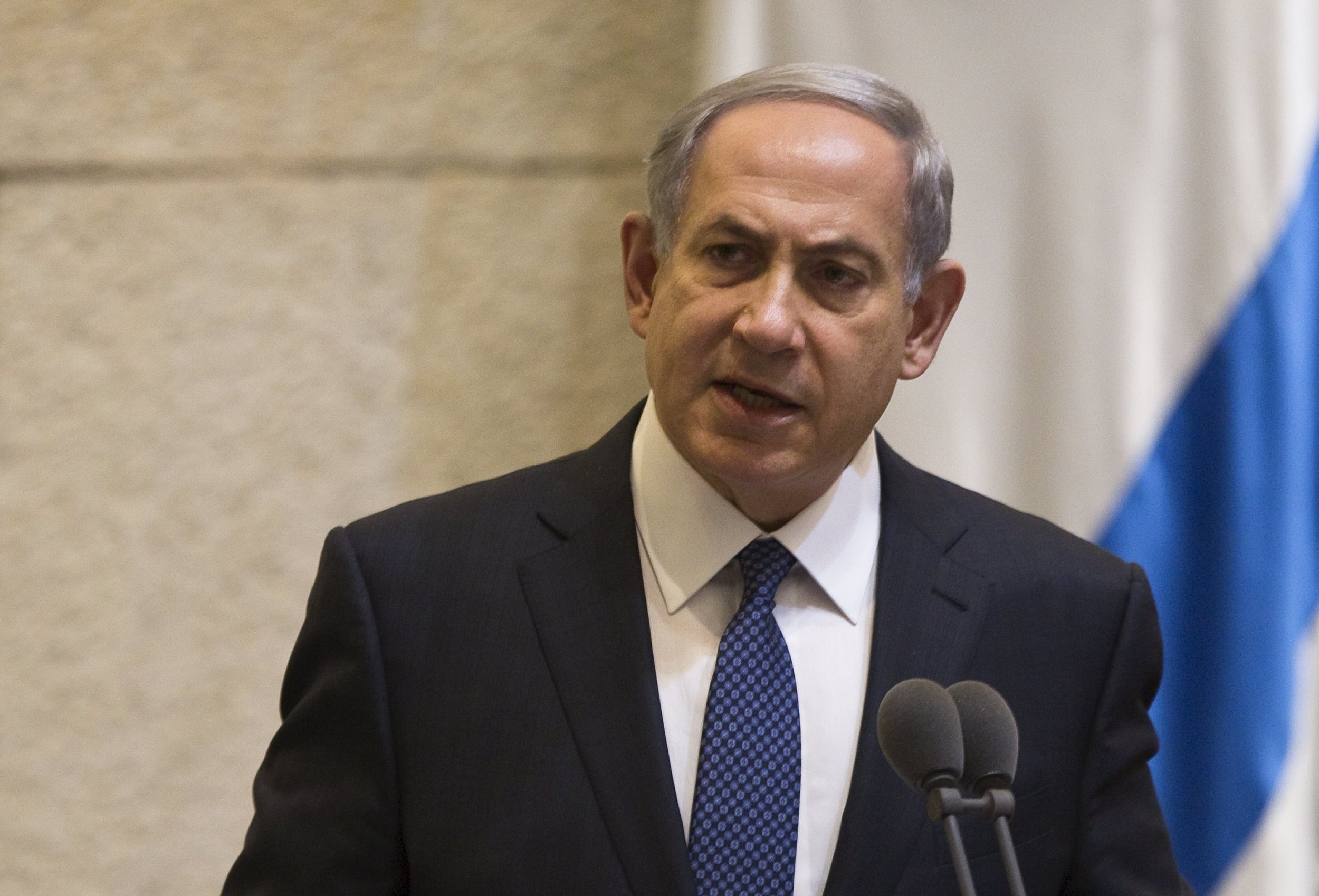 JERUSALEM (Reuters) - Israel bristled on Thursday at what it saw as U.S. suggestions it used excessive force following Palestinian stabbings, and published images to refute Palestinian President Mahmoud Abbas's allegation that a teen suspect had been "executed."
Prime Minister Benjamin Netanyahu said Israel was using legitimate force and any other country would do the same to deal with "people wielding knives, meat cleavers, axes, trying to kill people on their streets".
Saeb Erekat, secretary-general of the Palestine Liberation Organization, said in a statement that the PLO sent a letter on Thursday to the U.N. special rapporteur on extrajudicial executions requesting an investigation into "state-sponsored killings of several Palestinians during the past few weeks".
Thirty-two Palestinians and seven Israelis have been killed in the past two weeks of bloodshed. The Palestinian dead include 10 knife-wielding assailants, police said, as well as children and protesters shot in violent demonstrations.
Israeli Defense Minister Moshe Yaalon accused Washington of "misreading" the conflict, saying shooting knife-wielding Palestinians was self-defense. Public Security Minister Gilad Erdan called the U.S. remarks "foolish".
As of the late hours of Thursday, no new attacks were reported amid an Israeli security clampdown in occupied East Jerusalem and the deployment of police and troop reinforcements throughout Israel.
The unrest, the most serious in years, has been triggered in part by Palestinians' anger over what they see as increased Jewish encroachment on Jerusalem's al-Aqsa mosque compound, which is also revered by Jews as the location of two destroyed biblical Jewish temples.
At a daily press briefing on Wednesday, U.S. State Department spokesman John Kirby said Israel, which has set up roadblocks in East Jerusalem, where many of the Palestinian attackers resided, has a right and responsibility to protect its citizens.
He added: "Now, we have seen some—I wouldn't call the checkpoints this—but we've certainly seen some reports of what many would consider excessive use of force.
"Obviously, we don't like to see that, and we want to see restrictions that are elevated in this time of violence to be as temporary as possible if they have to be enacted," Kirby said, without citing specific incidents.
Asked at a news conference for the foreign media in Jerusalem about those remarks, Netanyahu said:
"What do you think would happen in New York if you saw people rushing into crowds trying to murder people? What do you think they would do? Do you think they would do anything differently than we are doing?"
But on Thursday, Kirby insisted there had been no U.S. fingerpointing at Israel.
"I want to be very clear that we have never accused Israeli security forces of excessive force with respect to these terrorist attacks," he said.
The International Committee of the Red Cross, in a statement on Thursday, called on both sides to show restraint and condemned "deliberate or indiscriminate" attacks on civilians.
"Any use of force in response to the situation must be proportionate, in particular firearms and live ammunition must be used only as a last resort, to protect against an imminent threat to life," the ICRC said.
Palestinian Allegations
Kirby's Wednesday comments touched a nerve in Israel especially after allegations by Abbas, in a televised speech in Arabic the same day, that Israeli forces were "executing our sons in cold blood, as they did with this child, Ahmed Manasra, and other children in Jerusalem and other places in Palestine."
Many Palestinians were incensed by amateur video that had shown Manasra, 13, lying on the street in Pisgat Zeev, a Jewish settlement on the northern edge of Jerusalem, with blood coming from his head.Israeli police said that he and a cousin stabbed two Israelis there on Monday.
The 15-year-old cousin was shot dead, and Israel said that day that Manasra was alive and taken to hospital after being hit by a car during the attack.
On Thursday, after Abbas's address, Israel's Government Press Office released a video, without sound, showing Manasra in Jerusalem's Hadassah hospital.
A doctor at Hadassah said Manasra could be discharged soon. His family confirmed that the boy shown in the video was Manasra.
U.S. Secretary of State John Kerry has said he plans to travel to the Middle East soon to try to calm the violence.
"A suggestion was raised that John Kerry and I and King Abdullah (of Jordan) and others would meet," Netanyahu told the news conference.
"I have no problem with that, we did that a year ago, it was actually fruitful. It could happen again," he said, adding that he was willing to meet Abbas.