Netanyahu's Victory is a Historic Triumph—But Offers No Clues on Israel's Future | Opinion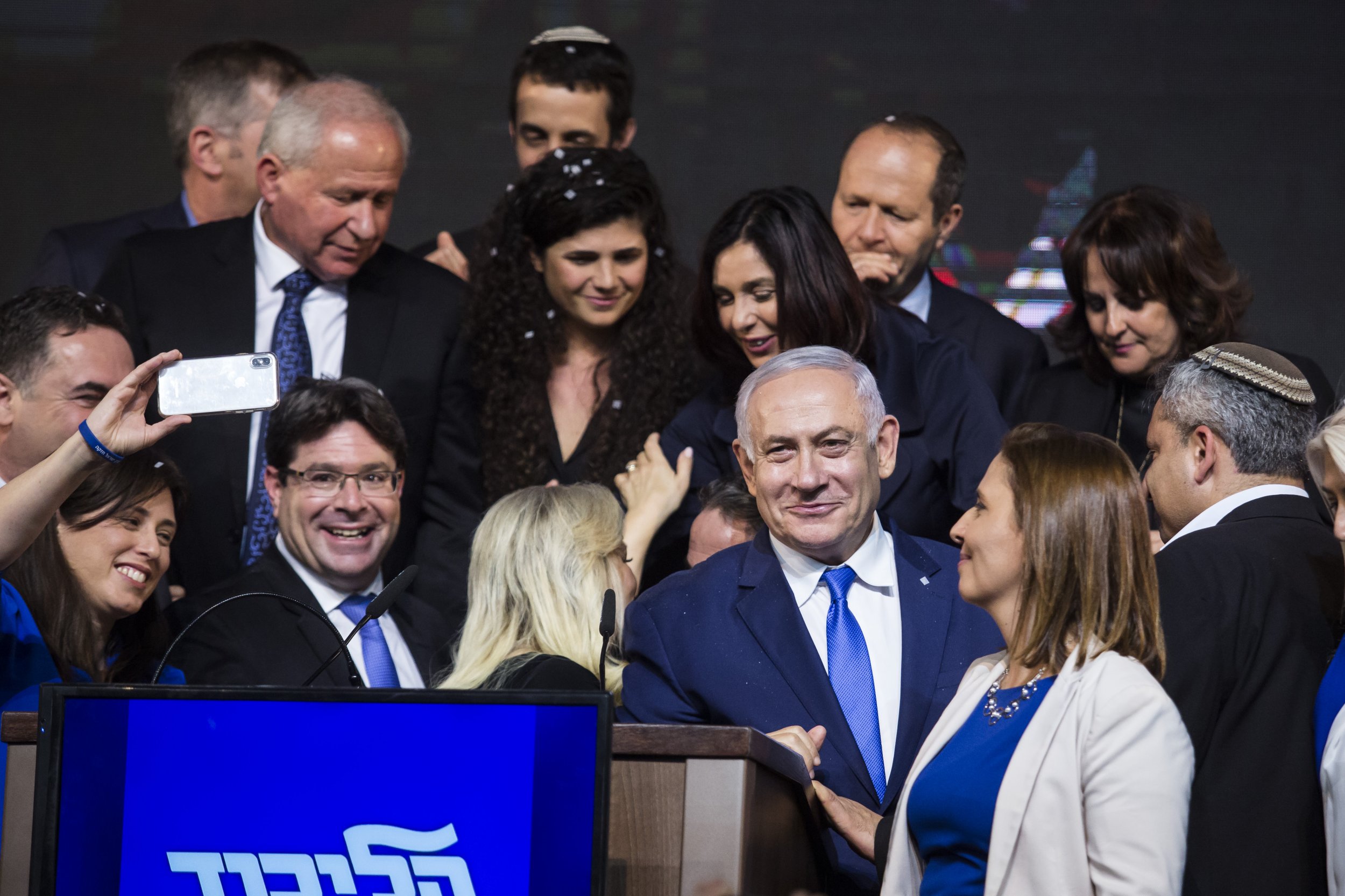 "This is a night of an incredible, incredible victory" proclaimed Prime Minister Benjamin Netanyahu in his triumphant speech late Tuesday night. And Netanyahu's victory in this election was historic indeed. He is now poised to become Israel's longest serving prime minister; in a few months, exceeding the tenure of founding father David Ben Gurion. Netanyahu won despite facing indictment on multiple corruption charges and a quartet of challengers that included three former IDF chiefs of staff (who should have easily trumped Netanyahu's self-self-appointed monicker of "Mr. Security," but did not.)
In retrospect, it turns out that Netanyahu's initial campaign message was the most effective: depicting the trio of generals as "weak left-wingers." As a result, while the generals were instrumental in uniting all those who oppose Netanyahu, they did not succeed in convincing almost any right-of-center voters to leave Netanyahu's coalition and support them.
Once again, Netanyahu proved his abilities as a master campaigner, who knew how to do whatever it took to win. At the last moment, he managed to siphon off enough right-wing supporters to vote for him and ensure his party was largest, while destroying some, but crucially not all, of his potential coalition partners.
In 1982, Prime Minister Menachem Begin made a pact with the ultra-Orthodox parties. In return for their support, Begin guaranteed generous financial resources for their institutions, as well as exempting their students from compulsory draft. That pact remains incredibly durable to this day. It is that unshakable support from ultra-Orthodox voters that guaranteed Netanyahu would indeed lead the next coalition.
Netanyahu's next step will be to negotiate the details of his coalition agreement. He will do all that he can to ensure his partners will not desert him even after his likely indictment— as his plan seems to be to remain Prime Minister throughout his trial, and if need be, his appeals.
There were several significant losers in the election—first and foremost, the Labor party. The party which founded the state and dominated its policies until 1977, only received six seats. Labor's leader, Avi Gabbay, a refugee from Netanyahu's government, will almost certainly either resign or be voted out. Gabbay's failure in this election, combined with his unilateral decision to oust Former Foreign Minister Tzipi Livni will not be forgiven. The further left-wing Meretz Party ran a ridiculous, value-free campaign, whose sole message was—"Save Meretz because without Meretz there is no revolution". With their four seats, there is neither a revolution nor, barely, even a party. The two parties which represent the classic Zionist left-wing will need to rethink their place in Israeli politics, and indeed, whether there is a need for either or both of them.
On a personal basis, the two greatest losers are former Education Minister Naftali Bennett and former Justice Minister Ayelet Shaked. Both Bennett and Shaked were senior ministers and members of the security cabinet. As of Wednesday morning, their new list, the New Right party has not made it into the 21st Knesset. While that may change when the so far uncounted votes of the soldiers get tabulated, the duo's hopes of being influential figures in a coalition have evaporated. They gambled that there was space for a new party bridging secular nationalists in Israel's mainland and religious nationalists in the settlement, and lost.
However, the most surprising loser of this election was Moshe Feiglin, whose party some polls projected would receive as high as seven seats, just one week ago. It turned out that Feiglin, who ran an incoherent campaign, focused on support for the legalization of Marijuana, Ayn Rand capitalism, and a messianic view of the Land of Israel was not taken seriously when it came to the actual vote.
The Israeli-Arab vote was down significantly. During the last election, all of the Arab Israeli parties managed to unite. Formation of the unified Arab bloc created an expectation in their communities that they could become a force in the Knesset. Ultimately, that force proved weaker than many anticipated, and the four parties that made up the coalition fractured into two groups. As a result, voter turnout in the Arab sector dropped considerably. Their representation has been weakened from 13 seats to 10—still split into two factions—and their tepid turnout helped ensure Netanyahu's victory.
When the history of Israeli elections is written, this elections will go down as a tremendous personal victory for Netanyahu—as it was fundamentally a referendum on whether or not he should remain Prime Minister. What this election was not about, was what the future of the state of Israel should look like. None of the parties, neither right nor left presented a coherent picture of what they envision for the country. One can only hope that by the next election, parties will be prepared to present thoughtful, articulate visions of the future.