Netanyahu Hints at East Jerusalem Compromise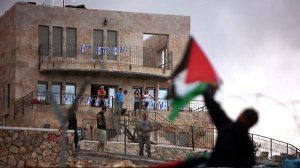 Are Israel and the U.S. coming closer to an agreement over halting housing construction for Jews in East Jerusalem? Probably not. The Wall Street Journalreported today that Prime Minister Benjamin Netanyahu rejected President Barack Obama's demand for a building freeze in the area, which Israel seized in 1967 and which Palestinians claim as the capital of their future state. According to various reports, Obama was expecting not only a freeze but a series of Israeli concessions designed to get Palestinians back to the bargaining table. The Journal story said Israel and the U.S. have had little contact over the issue since Obama outlined his demands in a meeting with Netanyahu in Washington last month (neither side has made the demands public).
But in fact, Israeli and American representatives have been meeting quietly over the past few weeks on both sides of the Atlantic. Two U.S. officials are currently in Israel as part of the ongoing dialogue. And a careful read of the public comments Netanyahu has made, even as these talks were underway, might point to the compromise Israel is hoping to reach with Washington: an implicit American greenlight for continued construction of homes in Jewish neighborhoods of East Jerusalem, in exchange for suspending more provocative Jewish building projects within Palestinian neighborhoods like Sheikh Jarrah. Notice, for example, Netanyahu's emphasis on Jewish neighborhoods--and not Palestinian ones--during an interview on Sunday with George Stephanopoulos: "This demand that they've now introduced, the Palestinians, to stop Jewish construction in Jewish neighborhoods in Jerusalem, is totally, totally a nonstarter."
The problem with the idea is that even if Obama is willing to accept it, Palestinian leaders probably aren't. Jewish housing projects in Arab neighborhoods of East Jerusalem, though particularly enraging for Palestinians, amount to only a fraction of Israel's overall construction in the area. Most East Jerusalem building projects, like the one approved in Ramat Shlomo during Vice President Joe Biden's visit to Israel last month, are expansions of neighborhoods Israel built after 1967, usually away from heavily populated Palestinian areas. Mahmoud Abbas, the Palestinian president, has said repeatedly that talks would only get underway when a full settlement freeze was in place. Netanyahu's spokesman, Mark Regev, would not comment on the details of the U.S.-Israel dialogue.
On another matter, Regev denied that Netanyahu had asked two prominent American Jews to press Obama to ease up on Israel regarding East Jerusalem. Elie Wiesel, the Nobel laureate, and businessman Ron Lauder both took out full-page ads in large American newspapers last week to support Israel, prompting speculation that the campaign was coordinated with Netanyahu. Wiesel told NEWSWEEK the idea was his own, though it followed a meeting he had with the Israeli leader earlier this month. "I was in Israel during Passover and I saw Netanyahu. He explained to me many things. I especially wanted to know about the behavior of Obama in the [March 23] meeting," Wiesel said by phone from Boston. "This was not a matter [of Netanyahu] telling me what to do. I'm a free man and I never involve myself in the domestic politics of Israel."
Netanyahu Hints at East Jerusalem Compromise | World