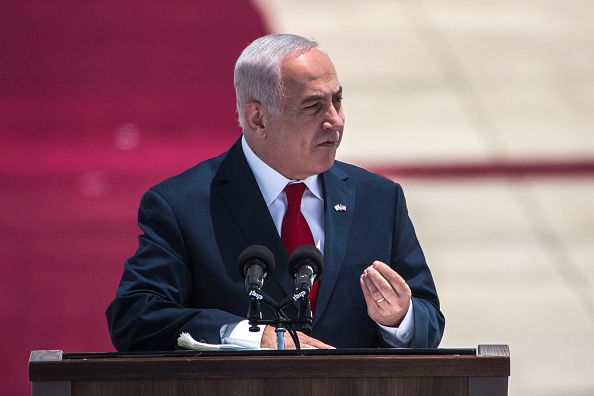 Police investigating Israeli Prime Minister Benjamin Netanyahu say they are in "unanimous agreement" that he should face charges for accepting bribes and illicit gifts.
Police are currently investigating two separate cases in which Netanyahu is accused of bribery. A third case is also reportedly pending.
The recommendation for indictment must now be sent to Israeli Attorney General Avichai Mandelblit. The attorney general would then be charged with determining whether there is sufficient evidence to prosecute.
Under Israeli law, it is possible for the prime minister and other senior political figures to be indicted, but experts note that a police recommendation doesn't necessarily mean the attorney general will move forward with the case.
"The positive recommendation is necessary but not a sufficient condition for an indictment," Professor Oren Gazal-Ayal, dean of the Faculty of Law at the University of Haifa, in Israel, told Newsweek. "He will be careful, he doesn't want to indict the PM and then get an acquittal. But I think he will look at the evidence fairly."
In the first case, Netanyahu and his wife are accused of accepting expensive cigars, champagne and other gifts from wealthy friends. He is also accused, in a separate case, of attempting to weaken the conservative newspaper Israel Hayom in exchange for receiving favorable coverage from its rival.
A third case, which is said to involve close members of Netanyahu's family, is reportedly being investigated.
Mandelblit, who was once a top jurist for the Israeli Defense Force, is considered by many experts to be a politically independent figure who takes his job seriously. Nevertheless, he was selected for the position by Netanyahu.
Netanyahu wouldn't be the first Israeli leader to face criminal charges, although he would be the first sitting prime minister to be indicted. A previous Israeli Prime Minister, Ehud Olmert, was convicted of breach of trust in 2012 and was sentenced to six years in prison. His sentence was later reduced. A former Israeli President, Moshe Katsav, was also convicted of rape and obstruction of justice.
Netanyahu has maintained his innocence throughout the investigations. A recent poll revealed that around 60 percent of respondents believe the prime minister should resign if he is found guilty.