Updated | Jim Clyburn was livid. In February, shortly after learning that Israeli Prime Minister Benjamin Netanyahu would deliver a speech to Congress criticizing President Barack Obama's nuclear diplomacy with Iran, the House's assistant minority leader joined a small group of senior Democrats for a closed-door meeting in the Capitol building with Yuli Edelstein, the speaker of Israel's parliament. The boyish-looking Edelstein, a member of the ruling Likud party, had flown from Jerusalem to tamp down the furor that erupted over Netanyahu's planned address.
Usually, meetings between American lawmakers and Israeli officials on Capitol Hill are chummy. But this one was tense. The Democrats felt it was outrageous for a foreign leader to use Congress as a soapbox to challenge their president, and they were particularly incensed by the way Netanyahu and Republican leaders had arranged the speech behind Obama's back. But Clyburn, a long-standing member of the Congressional Black Caucus, went even further, adding an unmistakable racial overtone to Netanyahu's offense. According to aides, the South Carolina Democrat bluntly told Edelstein he regarded the prime minister's upcoming speech as an "affront to America's first black president."
Since that meeting, the rancor between black Democrats and Netanyahu has intensified. Some 57 Democrats—including most black lawmakers in D.C.—stayed away from the Israeli leader's March 3 speech in protest. Two weeks later came Israel's parliamentary elections, when Netanyahu renounced his support for a staple of U.S. Middle East policy: a two-state solution to the Israeli-Palestinian conflict. After his reelection to a fourth term, Netanyahu tried to walk back his remark, but Obama said he took Netanyahu "at his word" and would now reevaluate his approach to the Middle East peace process. The U.S.-Israel relationship suffered yet another body blow on March 24 after a Wall Street Journal report quoted unnamed American officials saying that Israel had spied on the Iran negotiations, then leaked cherry-picked details to Congress in a bid to scuttle the talks.
But for black Democrats like Clyburn, it was Netanyahu's coded election-day warning that Israel's Arab citizens were headed to the polls "in droves" to vote him out of office that pushed them from anger to outrage. Netanyahu later apologized for his remark, but his contrition appeared to have no effect on Clyburn and company. "The Congressional Black Caucus is gone," a Democratic congressional aide told Newsweek, referring to its support for Israel under Netanyahu.
As negotiators from the U.S., Iran and five major powers continue to work toward a framework nuclear accord, Netanyahu's loss of black support on Capitol Hill probably means he's lost his gamble to convince Congress to pass a bill that would block an agreement. "Bibi," a congressional aide says, using Netanyahu's nickname, "ensured there will be no veto-proof majority in the House."
The Fight for 40 Votes
There are two such bipartisan measures in the Senate. One, introduced by Republican Mark Kirk of Illinois and Democrat Robert Menendez of New Jersey, would automatically impose additional sanctions on Tehran if no framework accord is reached—a move analysts say is intended to torpedo a deal. In April, the Senate Foreign Relations Committee is slated to vote on a second Iran bill; this one would require the president to obtain congressional approval for any nuclear agreement with the Islamic Republic.
The White House has vowed to veto both. That threat has prompted Republican predictions of veto overrides—a formidable legislative hurdle that requires two-thirds majorities in both chambers. That means 67 votes in the Senate and 287 votes in the House.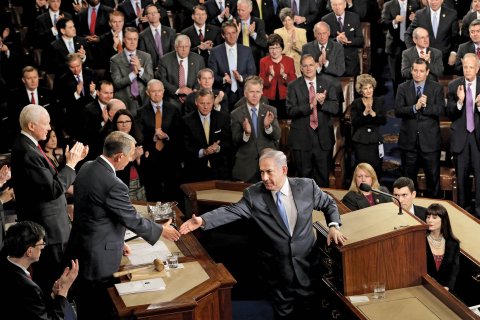 It's possible the Senate's 54 Republicans could find 13 Democrats and independents willing to cross the aisle. After all, the American Israel Public Affairs Committee, the largest pro-Israel lobby, is against the emerging Iran deal. And the group still wields enormous influence with pro-Israel donors, whose contributions often dictate the way lawmakers vote on Israel-related legislation.
But assuming most of the House's 247 Republicans vote to override an Obama veto, they would still need around 40 Democrats to join them. The Congressional Black Caucus, most of whose members don't receive many pro-Israel campaign donations, has 46 lawmakers, the vast majority of whom would fiercely defend Obama's signature foreign policy effort. Joining them: around 100 out of the 188 remaining Democrats who also would likely rally to prevent a veto override. In other words, the Republicans will likely fall short of the necessary votes.
To make matters worse for Netanyahu and his supporters, no House Republican has offered companion legislation to the two Iran-related measures in the Senate. The Senate may pass one or both bills, but without identical legislation clearing the House, there would be no bill for the president to veto. That, of course, could change. But on the Iran nuclear issue, House members have been far more measured than their colleagues in the Senate. And until the House weighs in with a bill, anything the Senate does is the legislative equivalent of one hand clapping.
'All Sides Have Agreed to Buy the House'
Like Netanyahu, Obama's Republican critics worry that a nuclear accord will provide Iran with significant sanctions relief without placing enough constraints on its capacity to enrich uranium to weapons-grade levels. Under any agreement, Obama could temporarily waive congressionally mandated sanctions and lift another layer of sanctions imposed by executive order. Any permanent change in congressional sanctions would require new legislation, and Obama doesn't think that will happen.
Another Republican complaint is that Obama plans to submit any agreement to the U.N. Security Council, which would presumably agree to lift a third set of international sanctions. Such broad relief, these critics contend, will only reinforce Tehran's inclination to flout the agreement and continue to fund international terrorist groups.
At this point, however, their criticism may be little more than noise to the White House (as they say in the Middle East, the dogs bark and the caravan moves on). Negotiations have kicked into high gear, with all sides reporting progress and arms-control experts sounding optimistic about an accord. "President Obama's political opponents try to block everything he does," Joseph Cirincione, president of the Ploughshares Fund, a global security foundation, told NPR. "But I think the center of the American security establishment is solidly behind the deal as it's been outlined.… It looks like all sides have agreed to buy the house, and we're just negotiating the closing costs."
All this leaves U.S.-Israel relations at one of its lowest points since the birth of the Jewish state in 1948. At his March 24 news conference, Obama made it clear that the U.S. will continue to cooperate with Israel on security and intelligence, but because of Netanyahu's election-day disavowal of a two-state solution, the U.S. will reassess America's relationship with Israel. "What we can't do is pretend that there is a possibility of something that is not there. And we can't continue to premise our public diplomacy based on something [a two-state solution] everybody knows is not going to happen at least in the next several years.… [For] the sake of our own credibility, we have to be able to be honest about that."
On Capitol Hill, that message seemed to resonate loudest among Obama's black Democratic allies. There was a time before Netanyahu's speech when many members of the Congressional Black Caucus, some of whom are steeped in the Old Testament, saw their reflection in Israel's struggle. But after Netanyahu's broadsides against Obama's diplomacy and his remarks about Israeli Arabs, those days appear to be over. As one Democratic aide put it: "It's going to be very difficult to bring them back."