Netanyahu to Miss West Bank Annexation Date As Pandemic Takes Precedence
Israeli Prime Minister Benjamin Netanyahu is set to miss his self-imposed July 1 target to begin annexing territory in the Palestinian West Bank, a controversial election pledge illegal under international law that has prompted protests from the international community.
Netanyahu plans to extend Israeli control to West Bank Jewish settlements and the Jordan Valley—some 30 percent of all West Bank land—as part of President Donald Trump's Middle East peace plan.
Palestinian leaders have rejected the proposal as a pro-Israeli blueprint more akin to continued hostile occupation than a bilateral peace deal.
Netanyahu entered into a power sharing deal with rival Benny Gantz—leader of the centrist Blue and White coalition—in April after three inconclusive general elections. He will remain prime minister until November 2021 when Gantz—currently defense minister—will then take over.
Gantz has supported annexation in the past, but said this week that the project cannot get underway until the COVID-19 coronavirus is under control in Israel. Health Minister Yuli Edelstein said Sunday the country is now entering its second wave of the pandemic, having recorded the highest daily tally of new cases since April 3.
There have been 25,547 confirmed cases in Israel to date, according to Johns Hopkins University, with 320 deaths.
The Associated Press reported that U.S. officials want both Netanyahu and Gantz on side before annexation begins. The latter's preference to address coronavirus first appears to have frustrated the prime minister's ambitious start date.
Cabinet minister Ofir Akunis told Israel's Army Radio on Wednesday that annexation will likely not begin on Wednesday, citing the need for more discussions with the White House. "Coordination with the American administration is not something that can be dismissed," he said, suggesting annexation was more likely to begin later this month.
Foreign Minister Gabi Ashkenazi also said the prime minister would miss his July 1 deadline. "I reckon there will be nothing today," the Blue and White minister told Army Radio. Government discussions with U.S. officials would instead take place "in the coming days," Ashkenazi explained.
Israel's coalition government plans to push ahead with annexation despite protests by Palestinian groups and condemnation from the international community. The number of Israeli settlers living in illegal West Bank settlements has steadily grown over the years, now sitting at more than 427,000 people, as shown by the below Statista infographic.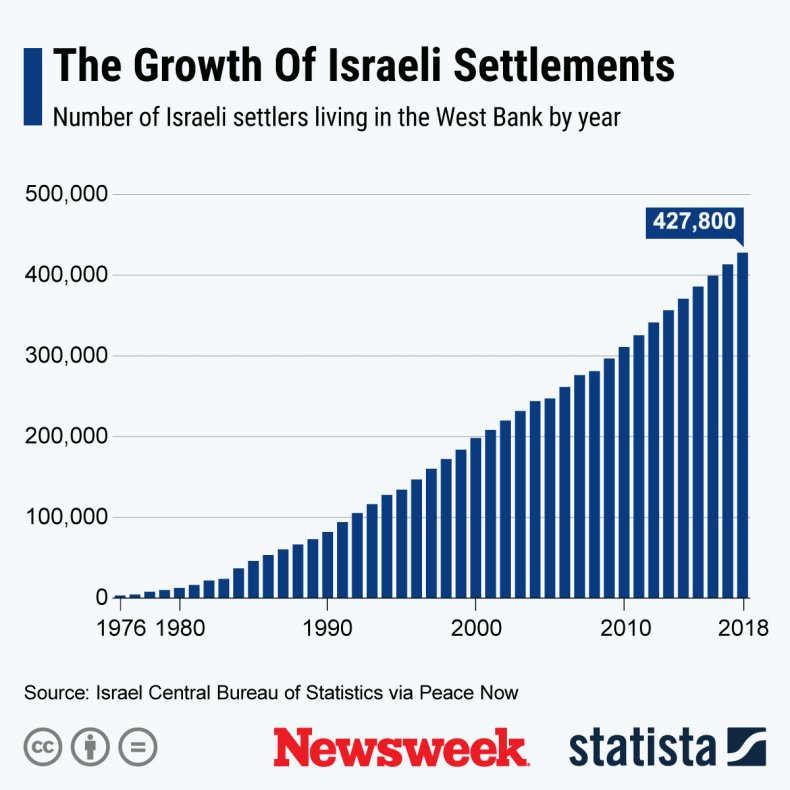 Critics have warned that annexation will kill any chance of a two state solution to the Israeli-Palestinian conflict, though much of what would one day constitute a Palestinian state in the West Bank is already under the de facto control of Israeli authorities.
The peace plan would establish a demilitarized Palestinian state in the areas that remain—an archipelago of smaller territories split up by Israeli land, checkpoints and strategic areas occupied by the military.
United Nations High Commissioner for Human Rights Michelle Bachelet has said annexation would be "illegal" and warned that "shock waves of annexation will last for decades."
If the plan does go ahead it will do so without Palestinian support. Thousands of people took part in "Day of Rage" demonstrations in the blockaded Gaza Strip on Wednesday. Hamas—the radical militant group that has controlled the territory since 2007—has said any annexation would be a "declaration of war."
In the West Bank, Saeb Erekat—secretary-general of the executive committee of the Palestine Liberation Organization, chaired by Palestinian Authority President Mahmoud Abbas—said the group "will not sit on a table where the American-Israeli plan is on the table...This is not a peace plan from Netanyahu, it's an annexation, apartheid ... and we will not sit on any table."