Netanyahu Says 'Dangerous' New Government in Israel Will Tell U.S. Before Attacking Iran
Former Israeli Prime Minister Benjamin Netanyahu has called the new government that succeeded his administration a threat to the country's national security because it has promised to inform the United States before acting against Iran.
Last Thursday, Israeli Alternate Prime Minister and Foreign Minister Yair Lapid held his second phone call with U.S. Secretary of State Antony Blinken in just four days, and the two agreed on a "no surprises" policy, according to an Israeli Foreign Ministry statement.
On Monday, Netanyahu issued a response to the arrangement via video remarks in which he assailed the new government's apparent break with his own strategy of acting unilaterally. He called it an "astonishing commitment."
"Lapid promised Blinken that Israel would not surprise the United States on matters relating to Iran's nuclear program. That's the program designed to produce nuclear weapons to annihilate the state of Israel," Netanyahu said.
He said if such a deal had been reached by former Israeli Prime Minister Menachem Begin decades ago, "we would not have destroyed [Iraqi President] Saddam Hussein's nuclear reactor."
"I have been asked by the United States many times to give such a commitment," Netanyahu added. "Now, mind you, there is no greater ally and no greater friend than Israel has like the United States, but when it comes to matters of our security, our very survival, I've always reserved the right to act on our own without informing our American friends."
The former prime minister revealed that there were times where he acted without first consulting the U.S. and that the commitment by the new ruling coalition headed by Lapid and Prime Minister Naftali Bennett would only accelerate its collapse.
"There were times that I did tell them of impending actions, there are many other times where I didn't, and yet it took the Lapid-Bennett government three days to undermine this important and critical tenet of our national security," Netanyahu said. "That's why this government is so dangerous to our future. That's also why we'll bring them down a lot faster than you think."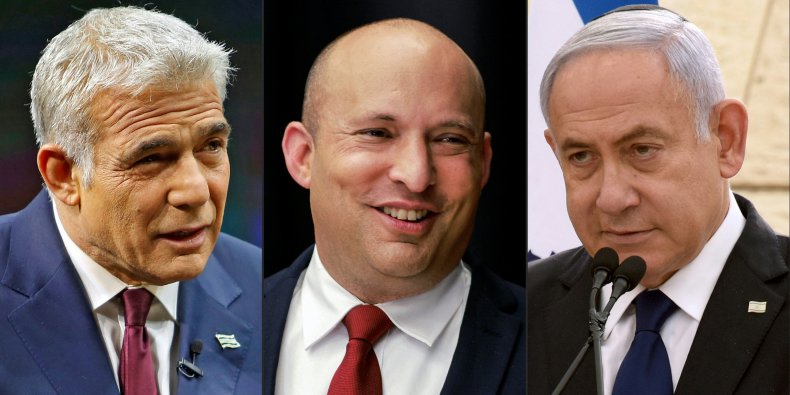 Asked about the call and Netanyahu's reaction later Monday, State Department spokesperson Ned Price said Blinken had set out to emphasize the U.S.' "incredibly close relationship with Israel."
"Israel is, of course, among our closest partners in the world. We share any number of values, we share any number of security concerns, and it's on those questions of security where our relationship has and will continue to be rock solid," Price told a regular press briefing. "This administration is seeking ways to deepen that relationship and, in fact, that cooperation."
He pointed to Washington's assurances to replenish Israel's Iron Dome anti-rocket system after last month's 11-day conflict with Palestinian movement Hamas in the Gaza Strip, and other longstanding U.S. commitments to provide military assistance to Israel.
Specifically, on the "no surprises" angle, Price explained that information-sharing was key to the U.S.-Israel alliance.
"When it comes to the comments from the opposition leader, what I would say is that Israel is a close security partner," Price said. "We share information, we work together across a range of shared concerns and shared challenges, and it is in that context that we work together and will continue to do so, again, across a wide array of mutual threats."
Ahead of Netanyahu's comments Monday, Lapid had trashed the previous administration in comments delivered to a meeting of his Yesh Atid party, which came in second only to Netanyahu's Likud but managed to coalesce with Bennett's Yamina and other parties to score the parliamentary majority necessary to win the recent election.
"We have a lot of work to do. The destruction and neglect we have found in government ministries are inconceivable," Lapid said. "We're not starting working from zero but below zero. Instead of worrying about the state, the previous government cared only for itself and its close associates."
Netanyahu was Israel's longest-serving prime minister, having served for 12 years consecutively in addition to a previous single term in the late 1990s. He oversaw an intensification of Israeli efforts to thwart Iran's nuclear program, which Tehran has always argued was not intended to produce a weapon of mass destruction.
Iran has accused Israel of being behind a spat of assassinations targeting nuclear scientists and cyberattacks against reactors dating back a decade as well as more recent incidents that have emerged since the U.S. and other major world powers entered into a 2015 multilateral agreement lifting sanctions on Iran in exchange for strict controls on the Islamic Republic's nuclear program. Netanyahu was vehemently opposed to the deal and celebrated former President Donald Trump's exit from the pact in 2018.
His successor, President Joe Biden, however, has entered into talks to revive U.S. participation in the agreement officially known as the Joint Comprehensive Plan of Action (JCPOA), in the event that Iran returned to initial levels of compliance. The Biden administration has affirmed to both Netanyahu and Bennet's administrations that it would not allow Iran to obtain a nuclear weapon, and also reiterated U.S. commitment on other areas of concern.
"The Secretary discussed the U.S. commitment to Israel's security, the importance of the U.S.- Israel bilateral relationship, and the need to improve Israeli-Palestinian relations in practical ways," the State Department said of Blinken and Lapid's latest call Thursday. "They also shared opinions on opportunities to deepen normalization efforts as well as on regional security issues, including Iran. Secretary Blinken and Minister Lapid underscored the strong partnership between the United States and Israel, and America's unwavering support for Israel's security."
As part of a made deal to form the coalition to oust Netanyahu, Bennett is set to serve as premier for two years until Lapid takes over for the remaining two years of their shared four-year term in 2023.
While Lapid had previously criticized Trump's exit from the nuclear agreement three years ago, he has since referred to the deal as a "bad agreement" and Bennett emphasized his own opposition to the arrangement on Sunday after Iranian Chief Justiciary Ebrahim Raisi won his country's elections in a landslide over the weekend.
"Raisi's election is, I would say, the last chance for world powers to wake up before returning to the nuclear agreement, and to understand who they are doing business with," Bennett told his first cabinet meeting as a leader.
He referred to hard-liner Raisi and his cohorts as "mass murderers," referring to the Iranian president-elect's controversial past mired in allegations he oversaw the execution of political prisoners.
While Raisi too had expressed skepticism about the prospects of the JCPOA in the past, he has since reaffirmed his commitment to reentering the deal if the U.S. honored its own obligations by lifting sanctions on his country. He told a press conference Monday that the Iranian delegation negotiating the deal in the Austrian capital in Vienna was continuing its work and issued a message to the U.S. and other Western parties to comply with the deal as initially agreed upon six years ago.
"We are telling the United States that you have a duty to lift all sanctions and that you must go back and fulfill your obligations," Raisi said. "The Europeans must not be influenced by American pressure and [should] act on what they have promised. This is the demand of the Iranian nation from you."