Netanyahu's Legal Troubles Threaten Trump's and Kushner's Middle East Peace Plan, Expert Says
Israeli Prime Minister Benjamin Netanyahu's legal troubles and uncertain election could take their toll on President Donald Trump's and his son-in-law Jared Kushner's yet to be revealed Middle East peace plan, an expert has warned.
"The Israeli attorney general's 55-page preliminary indictment linking Prime Minister Benjamin Netanyahu to three charges of corruption may create collateral damage: President Donald Trump's Middle East peace plan," David Makovsky, the Ziegler distinguished fellow at the Washington Institute and a former senior adviser in the office of the U.S. Secretary of State, wrote in an op-ed published by Politico on Tuesday.
Kushner, who serves as a senior adviser to his father-in-law and has been tasked with spearheading a peace agreement between Israelis and Palestinians, has yet to reveal the details of the long-awaited plan. However, last month Kushner announced that the roadmap would not be released until after Israel's election next month. Makovsky suggested this decision was linked to growing uncertainty about Netanyahu's future. Until recently, the prime minister was widely expected to win reelection but the legal charges against him have made that less certain.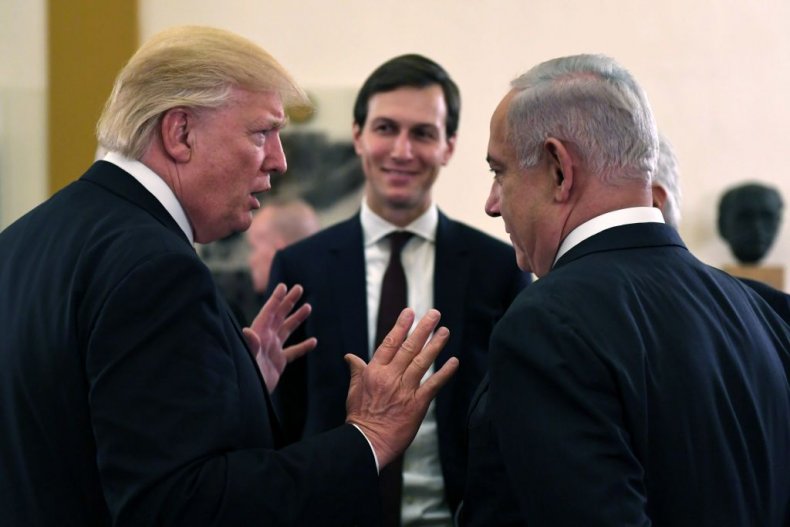 In February, Israeli police recommended Netanyahu be indicted on charges of bribery. Authorities allege that the owners of Bezeq Israel Telecom provided favorable coverage of the prime minister and his wife on a news site they controlled, and in return Bezeq received favors from Israel's communications regulators. At the end of last month, Israel's attorney general announced that his office planned to formally indict the prime minister for corruption.
Outlining several possible options for next month's election, Makovsky argued that all of them could throw a wrench into Kushner's proposed peace plan. If Netanyahu wins and forms a government with the far-right, many of those potential allies "think Trump's ideas are too risky for Israel." Makovsky argued that Netanyahu winning and moving toward the center appears unlikely under the current reality, as his top competitor—Benny Gantz —has pledged not to join Netanyahu's government. A third option, in which Gantz wins, would also leave the Kushner plan on the rocks, as the new leader would be "unlikely to get behind a peace plan he has not had a chance to shape."
As Makovsky pointed out in his op-ed, analysts and experts have long been skeptical that Trump's administration would make any headway in resolving the decades-old conflict.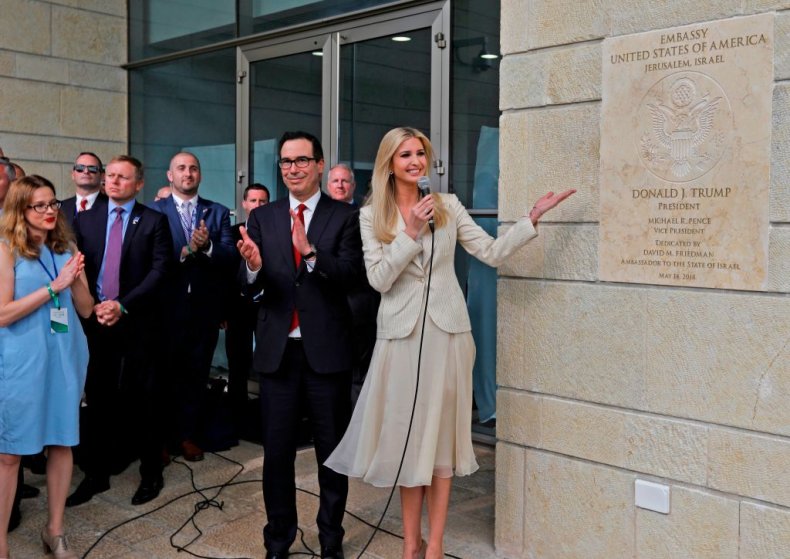 Veteran British journalist Robert Fisk, who has spent his career reporting on the Middle East, has harshly criticized Kushner's efforts as totally misunderstanding the desires of the Palestinians. He has called the plan being formulated "the final destruction of Palestinian statehood," in an op-ed published by British news site The Independent earlier this month. Fisk explained that the plan appears to be an attempt to simply buy off the Palestinians.
"But who has ever seen, in all the bloody Palestinians protests, demonstrations and cries of despair and massacres, a single poster— just one demand—for prime business opportunities, new motorways, five-star hotels, hospitals or prenatal clinics?" he wrote. "Palestinian demands have been uniformly identical: justice, dignity, freedom and— yes —the return of lost lands, if only of those properties thieved from them by Israel in the West Bank."
Thus far, Trump's policies toward Israel have only appeared to alienate Palestinians. His controversial decision to move the U.S. Embassy to Jerusalem was widely criticized by the international community and led to massive protests by the Palestinian community. Palestinian leaders have even refused to meet with Trump administration officials since the decision was announced.