Israeli Elections Could Spell Trouble for Netanyahu, Trump
Last night Israel held elections to determine the country's next prime minister, a seat that incumbent Benjamin Netanyahu has held onto for more than 13 years. But things don't seem to be going his way. Local papers report that the longest-serving prime minister in Israeli history is trailing his competitor, centrist Benny Gantz, by one seat as of early Wednesday afternoon (Eastern Time).
This is bad news for U.S. President Donald Trump, who has worked hard to build a partnership with Netanyahu, upon which the prime minister ran his reelection campaign. Posters of Trump and Netanyahu together hang in Tel Aviv and Jerusalem, and ahead of the election Trump officially recognized the Golan Heights as Israel's, which was marked by a celebration at the White House. Just days before the election, Trump tweeted that he was working on a new mutual defense bill with Israel.
In recent weeks, however, the president's attention has been on Iran, which some analysts speculate may have hurt Netanyahu. Trump's wish to meet with Iranian President Hassan Rouhani as the Israeli prime minister insisted that Iran was developing its nuclear program potentially hurt Netanyahu's credibility, as did the White House's refusal to publicly support Netanyahu's recent decision to annex the Jordan Valley as part of Israel.
When asked today about the situation, the president distanced himself from Netanyahu. "Our relationship is with the state of Israel," he said.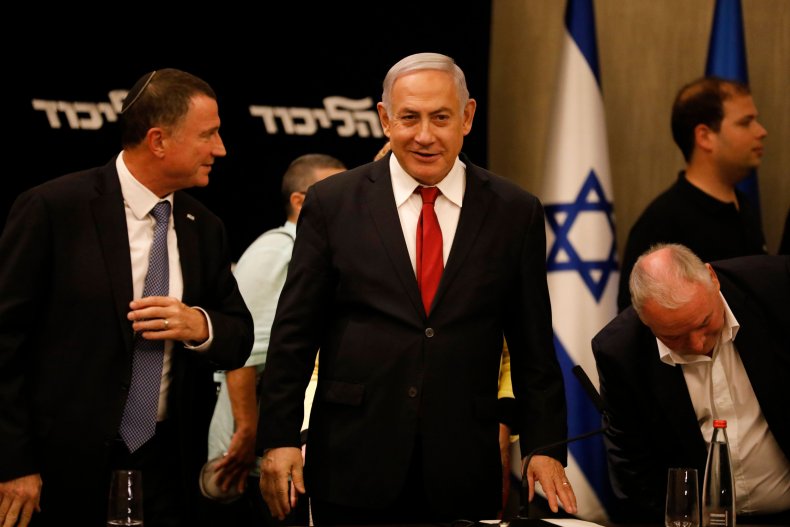 So what comes next? A lot of confusion.
Gantz has not yet declared outright victory, but he appears to be getting ready to. "I promise tonight to start the journey of repairing Israeli society," he told his supporters late Tuesday night. "We'll look for common ground among our citizens and recite a common prayer. We are one people and one society," he said. "The polarization and divisions are now behind us."
Netanyahu also delivered a tempered speech where he refused to concede the close race. "Israel needs a strong, stable, Zionist government committed to Israel as a national state for the Jewish people," he said.
Next week, the leaders of the parties who have won seats in parliament will meet with Israeli president Reuven Rivlin who will then appoint a leader he believes will be the most successful and will begin to create a coalition government. But if there is no clear winner in the election, and a coalition can't be created easily, then we might see weeks of negotiations between parliament members and the two leaders to see who comes out on top.
Either way, this is not a clear victory for Netanyahu, who is currently under investigation for fraud charges and will face a pre-trial hearing in October. It could also be a bad sign for the crop of closed-border, anti-globalist leaders like Trump, Russian President Vladimir Putin, Polish President Andrzej Duda and UK Prime Minister Boris Johnson.