Israeli PM Netanyahu Plans to Annex Part of the West Bank After Election, Claiming He Will Have Trump's Support
Israeli Prime Minister Benjamin Netanyahu announced his plan to annex the Jordan Valley and the Northern Dead Sea area if he wins his re-election campaign next week, and will coordinate with President Donald Trump and his administration.
"If I am elected I commit to annex the Jordan Valley. It is our eastern border, our defense wall," said Netanyahu at a press conference while pointing to a map. The plan, he said, is to cut off the eastern edge of the West Bank which would make Jericho a Palestinian island inside Israel territory. The Jordan Valley and Northern Dead Sea area make up about 30 percent of West Bank territory.
But Netanyahu also announced plans to coordinate with President Donald Trump to annex all Israel settlements in the West Bank, if reelected.
"I want to receive a clear mandate from you to apply Israeli sovereignty over all settlements. Out of respect to President Trump, I'll wait with the application of sovereignty until after the president presents his plan," Netanyahu said. "I am waiting to do this in maximum coordination with Trump."
So far, The White House has remained tight-lipped about any support for the plan but a press conference with Secretary of State Mike Pompeo, Treasury Secretary Steve Mnuchin, and National Security Advisor John Bolton is scheduled for this afternoon.
Netanyahu also promised to annex the West Bank, home to controversial Israeli settlements, just prior to his last election in April. "I'm going to extend sovereignty," he said in an interview with Israeli Channel 12 at the time. "I don't differentiate between the settlement blocs and isolated settlements." This attempt was seen as a way to attract far-right voters ahead of the vote.
The West Bank is a territory that sits between Israel and Jordan, and is home to around 2.5 million Palestinians and 400,000 Jewish Israelis. Jordan initially won the land during Israel's 1948 War of Independence, but Israel captured it during the 1967 Six-Day War but never annexed it into the country. So while Israel has technically had control of the territory for the past 52 years, there has been some controversy over who it truly belongs to. Some see the area as Palestinian territory while Netanyahu says it's rightfully his to annex. Israelis who live in the area have built settlements that opponents believe are illegal.
Ahead of his speech, Netanyahu's team billed the announcement as "dramatic" and allowed rumors to float about what the troubled leader would be discussing just one week ahead of his next election. Left wing parties petitioned the Central Elections Committee to stop the live statement, claiming it could amount to illegal campaigning, but were struck down by the Committee's chairman, Justice Hanan Melcer.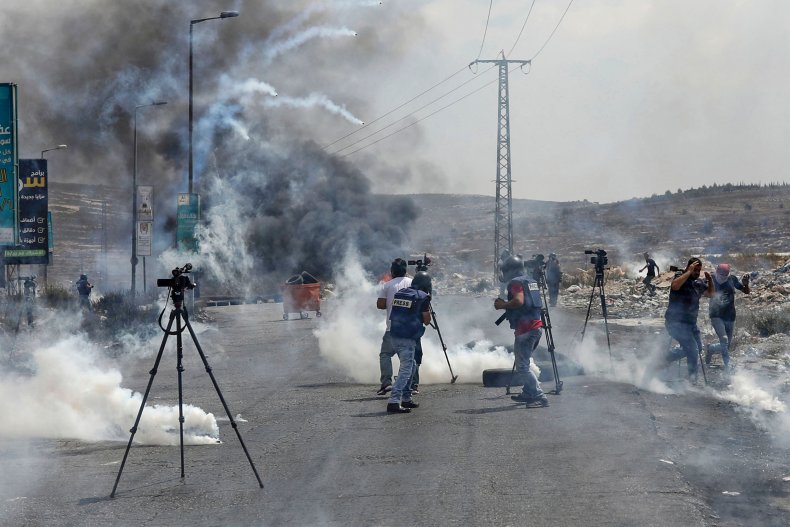 On Monday Netanyahu delivered another speech announcing that Israel had found new Iranian sites used to develop Tehran's nuclear program, which Benny Gantz of the opposition Kahol Lavan party knocked as using sensitive national security information to gain votes.
In January, ahead of the most recent April election, Netanyahu also called a "dramatic announcement" in which he discussed investigations into multiple corruption cases that he and his wife are currently entangled in.
Next week's elections in Israel come just five months after the last time at the polls where Netanyahu's right wing won the majority of seats but failed to come to an agreement and join into one governing coalition. Now, they're trying again, and the results are expected to be the same with the right-wing winning a similar number of seats. This time, however, there's expected to be less small parties running and more unity amongst the Israeli conservatives. Netanyahu became Israeli's longest-serving prime minister in July.
Netanyahu has recently aligned himself with U.S. President Donald Trump and Russian President Vladmir Putin, who he will meet with just days before the election. The Israeli PM opposes statehood for Palestine and has said in the past that he views Iran as the nation's biggest threat.
Earlier this year, President Donald Trump announced his support for the Annexation of the Golan Heights, another territory that was long considered "occupied" by Israeli settlements.
"Everyone says you can't hold an occupied territory, but this proves you can," Netanyahu told reporters at the time. "If occupied in a defensive war, then it's ours."
The changes, however, have all but eliminated the idea of a peaceful agreement between Palestine and Israel. When Netanyahu promised annexation at the end of August, Nabil Abu Rudeineh, a spokesman for Palestinian President Mahmoud Abbas, replied that the announcement was a "continuation of attempts to create an unacceptable fait accompli that will not lead to any peace, security or stability."
Update (9/4 12.04 p.m.): The headline of this article has been updated to more accurately reflect translations that indicate Netanyahu says he will move to annex territories by coordinating with, and having future support, from the Trump administration.