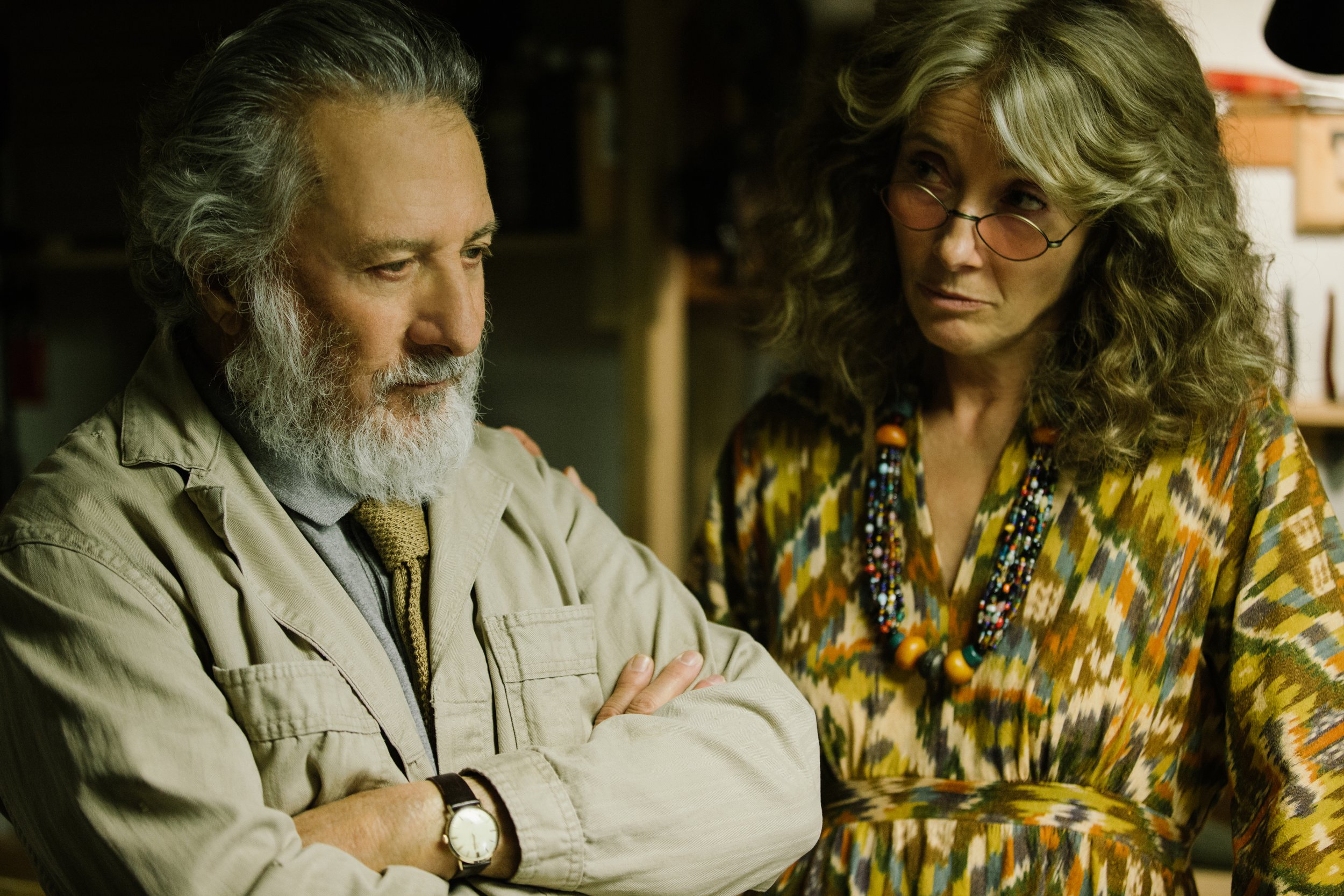 With another set of Emmy Awards behind us, it's time to look ahead to another year of television and streaming series, some of which might be in the running next time around.
This month's highlights on Netflix include the original film The Meyerowitz Stories, the first season of The Day I Met El Chapo: The Kate del Castillo Story, the second season of Stranger Things, the documentaries Joan Didion: The Center Will Not Hold and The Death and Life of Martha P. Johnson, and stand-up comedy specials from Patton Oswalt, Judah Friedlander andChristina P. Amazon will debut shows Inside Edge, Lore and Sigmund and the Sea Monster, as well as the third season of Red Oaks and the films City of Ghosts and The Wall. Finally, Hulu's slate includes the season premiere of I Love You, America, the second seasons of Freakish and Chance and the documentary Too Funny to Fail.
In addition to originals, there's a slew of new movies and shows coming to the three streaming platforms, including Miss Congeniality, Fargo, Ferris Bueller's Day Off and Arrival, as well as recent seasons of American Horror Story (Season 6) and The Americans.
What's New?
Here's what's coming to Netflix, Amazon and Hulu in October, as announced as of the time of publication (* denotes an original):
Available October 1/Netflix
88 Minutes
A Cinderella Story: Once Upon a Song
Before Midnight
Blood Diamond
Boogie Nights
Charlie and the Chocolate Factory
Cleverman: Season 2
Death Sentence
Don't Be a Menace to South Central While Drinking Your Juice in the Hood
Eagle vs. Shark
Eyes Wide Shut
Generation Iron 2
Ghost Patrol
I Love You, Man
Ice Guardians
Lockup: Disturbing the Peace: Collection 1
Made of Honor
Miss Congeniality
Miss Congeniality 2: Armed and Fabulous
Must Love Dogs
Never Let Me Go
No Reservations
Penelope
PJ Masks: Season 1
Set Up
The Reaping
Tokyo Idols
Tommy Boy
Vanished
Veronica
Available October 1/Amazon
Abandoned Mine
Alcoholist
Apartment 1303
Bunker of the Dead
Clueless
Election
Escape from L.A.
Fargo
Ghost World
Ghoulies
Ghoulies II
I Believe in Unicorns
Invasion of the Body Snatchers
Jug Face
Margot at the Wedding
Needlestick
Pet Sematary
Pet Sematary Two
Pi
Queens and Cowboys
Scareycrows
Snake Eyes
Texas Chainsaw Massacre II
The Machinist
The Whistleblower
Unlimited
Available October 1/Hulu
60 Days In: Seasons 1-2
Alone: Seasons 1-2
American Pickers: Seasons 1 & 11
Ancient Aliens: Season 11
Ax Men: Seasons 1 & 9
Born this Way: Seasons 1-2
Bring It!: Seasons 1-3
Chopped: Seasons 14-16
Counting Cars: Season 1
The Curse of Oak Island: Season 1
Dance Moms: Seasons 1 & 6
Escaping Polygamy: Seasons 1-2
The First 48: Seasons 6, 16-17
Forged in Fire: Seasons 1-3
Hoarders: Season 4
House Hunters: Season 7
Hunting Hitler: Seasons 1-2
Prison Break: Seasons 1-5
Property Brothers: Season 5
The Rap Game: Seasons 1-2
Saving Hope: Season 5
Tiny House Hunters: Seasons 1-2
Worst Cooks in America: Season 4
1492: Conquest of Paradise
50 First Dates
6 Dead Souls
A Fistful of Dollars
A Long Walk Home
Abduction of Jennifer Grayson
Across the Great Divide
Across the Universe
The Adventures of Panda Warrior
Alice
The Amityville Horror
Another 9 ½ Weeks
Arlo: The Burping Pig
Arthur's Missing Pal
Asylum of Darkness
Bananas
Bethany
Blood Ransom
Blue Chips
The Bounty
Broadway Danny Rose
Broken Mile
Brotherhood of Justice
Bubba the Redneck Werewolf
Butterfly Girl
Cabin Fear
Cabin Fever
Care Bears: Friends Forever
Care Bears: Magical Adventures
Carrie
Carrie 2: The Rage
Clueless
The Confession
Congo
Covenant
The Creature Below
The Crying Game
Curious George: A Halloween Boo Fest
The Cutting Edge
Deliver Us from Evil
Deuces Wild
The Devil's Advocate
The Devil's Double
The Disappearance of Alice Creed
The Disembodied
Election
Elephant Kingdom
End of a Gun
Enemy at the Gate
Escape From Alcatraz
Escape From L.A.
Everything or Nothing: The Untold Story of 007
The Faculty
Fall Time
Fargo
Ferris Bueller's Day Off
Fierce People
The Final Cut
Fire in the Sky
A Fistful of Dollars
Fly Me to the Moon
Frances
Frog Kingdom
From Dusk till Dawn
Gandhi
The Ghost and the Darkness
Ghost World
Ghosts of Darkness
Ghoulies
Ghoulies II
The Glass Coffin
Godzilla
Godzilla 2000
Godzilla Against Mechagodzilla
Godzilla Vs. Destroyah
Godzilla Vs. King Ghidorah
Godzilla Vs. Mechagodzilla II
Godzilla Vs. Megaguirus: The G Annihilation Strategy
Godzilla Vs. Mothra
Godzilla Vs. Spacegodzilla
Godzilla, Mothra, And King Ghidorah: Giant Monsters All-Out Attack
Godzilla: Final Wars
Godzilla: Tokyo S.O.S.
Grease 2
Guess Who
Halloween H20: 20 Years Later
Hatchet
Heaven Can Wait
Hellboy
Hemingway's Garden of Eden
High Tension
The Holiday
Hostel
Hostel 2
Hot Pursuit
The Human Stain
The Hunted
Hunting Grounds
Invasion of the Body Snatchers
Jesus's Son
Kalifornia
Kill Bill: Volume 1
Kill Bill: Volume 2
Little Shop of Horrors
A Long Walk Home
Love Finds You in Valentine
Love Hurts
The Maddening
The Madness of King George
March of the Penguins
Mousehunt
New Year's Evil
Ninja III: The Domination
The One
Oogieloves: The Big Balloon Adventure
Out of Time
Paulie
Pet Sematary
Philadelphia
Pi
Pieces of April
Postcards from the Edge
Pride
The Punisher
Rancher, Farmer, Fisherman
Reds
Rent
Road House
Scream at the Devil
Snake Eyes
Southwest of Salem
Space Guardians
Species III
Spy Kids 2: The Island of Lost Dreams
Spy Kids 3-D: Game Over
The Station Agent
Swingers
Teenage Ghost Punk
This Binary Universe
The Uninvited
Under Siege
U.S vs. John Lennon
The Velveteen Rabbit
Volver
Warpath
Wes Craven Presents: Dracula 2000
What Lies Beneath
The Whistleblower
Yellowbird
Available October 2/Netflix
Mr. Dynamite: The Rise of James Brown
Sleeping with Other People
Available October 2/Amazon
Song to Song
Beauty and the Baker: Season 1
Available October 2/Hulu
Bob's Burgers: Season 8 Premiere
Family Guy: Season 16 Premiere
Ghosted: Series Premiere
The Last Man on Earth: Season 4 Premiere
Shark Tank: Season 9 Premiere
The Simpsons: Season 29 Premiere
Ten Days in the Valley: Series Premiere
The Toy Box: Season 2 Premiere
Available October 3/Netflix
13 Demons
Rodney Carrington: Here Comes The Truth *
Cult of Chucky
The Survivalist
Available October 3/Amazon
American Horror Story: Season 6
Available October 3/Hulu
American Horror Story: Season 6
The Gifted: Series Premiere
Lucifer: Season 3 Premiere
Available October 4/Netflix
Raw
Available October 4/Amazon
Blood Hunters
Save My Seoul
Available October 4/Hulu
Black-ish: Season 4 Premiere
Fresh off the Boat: Season 4 Premiere
Kevin (Probably) Saves the World: Series Premiere
The Mayor: Series Premiere
The Middle: Season 9 Premiere
Bad Frank
Colossal
Frontera
Rapture-Palooza
The Reagan Show
Available October 5/Netflix
Bonus Family: Season 1 *
Schitt's Creek: Season 3
The Fosters: Season 5
Available October 5/Amazon
The Americans: Season 5
Available October 5/Hulu
The Fog
Available October 6/Netflix
ID-0: Season 1 *
Skylanders Academy: Season 2 *
Suburra: Season 1 *
The Death and Life of Marsha P. Johnson *
Word Party: Season 3 *
Available October 6/Amazon
The Fashion Hero: Season 1
Available October 6/Hulu
Scandal: Season 7 Premiere
Available October 7/Netflix
Chris Brown: Welcome To My Life
Middle Man
Available October 7/Amazon
Blair Witch
Megan Leavey
Available October 7/Hulu
Once Upon a Time: Season 7 Premiere
Blair Witch
Available October 9/Amazon
Inside Edge *
Available October 9/Hulu
America's Funniest Home Videos: Season 28 Premiere
A Long Way Down
Available October 10/Netflix
Christina P: Mother Inferior *
The Skyjacker's Tale
Available October 10/Hulu
Brotherhood of Blades
Available October 11/Netflix
Donnie Darko
Available October 11/Amazon
5150
Available October 11/Hulu
Chance: Season 2 Premiere *
Folk Hero & Funny Guy
The Lookalike
Available October 12/Netflix
Fe de etarras *
Available October 12/Hulu
I Love You, America: Series Premiere *
Blind
I Love You Both
Available October 13/Netflix
El Especial de Alex Fernández, el Especial *
Kingdom of Us *
MINDHUNTER: Season 1 *
Super Monsters: Season 1 *
Talladega Nights: The Ballad of Ricky Bobby
The Babysitter *
The Meyerowitz Stories (New and Selected) *
Voltron: Legendary Defender: Season 4 *
Available October 13/Amazon
City of Ghosts *
Lore: Season 1 *
Sigmund and the Sea Monster: Season 1 *
Available October 14/Amazon
Jack Reacher: Never Go Back
Available October 14/Hulu
Jack Reacher: Never Go Back
Available October 15/Netflix
Belief: The Possession of Janet Moses
LEGO: City: Season 1
Money
OtherLife
She Makes Comics
West Coast Customs: Season 6
Available October 15/Amazon
The Other Dream Team
The Whole Truth
Available October 15/Hulu
Bounce
Cruel and Unusual
The Crying Game
The Fly Room
Get Rich or Die Tryin'
Jersey Girl
Like Water for Chocolate
Mamaboy
The Other Dream Team
Orthodox
This is Meg
Undisputed
Unzipped
The Whole Truth
Available October 17/Netflix
Patton Oswalt: Annihilation *
Slasher: Guilty Party *
Available October 18/Amazon
Fight for Space
Available October 18/Hulu
Freakish: Season 2 *
Arctic Adventure: On Frozen Pond
In the Radiant City
Isolation
No Way to Live
Phoenix Forgotten
Skating to New York
Available October 19/Netflix
Wedding Unplanned
Available October 20/Netflix
1922 *
Haters Back Off: Season 2 *
One of Us *
Smurfs: The Lost Village
The Day I Met El Chapo: The Kate del Castillo Story *
Wheelman *
Available October 20/Amazon
The Wall *
Red Oaks: Season 3 *
Available October 21/Hulu
Adventure Time: Season 9
Too Funny To Fail *
Available October 23/Netflix
Meet the Robinsons
While We're Young
Available October 24/Netflix
Wanted: Season 1 *
Wanted: Season 2 *
The Mist: Season 1
Available October 25/Netflix
The Hateful Eight
The Final Master
La Querida del Centauro: Season 2
Available October 25/Amazon
Awaken the Shadowman
The Liberators
Available October 26/Netflix
Strange Weather
Available October 26/Hulu
Neon Joe: Complete Season 2
2:22
Available October 27/Netflix
Stranger Things 2 *
Joan Didion: The Center Will Not Hold *
Available October 28/Netflix
Pup Star: Better 2Gether
Available October 28/Amazon
Arrival
Available October 28/Hulu
Blindspot: Season 3 Premiere
Arrival
Available October 29/Amazon
Priceless
Available October 29/Hulu
Catfish: Season 6
Priceless
That Sugar Film
Available October 30/Netflix
Judah Friedlander: America Is The Greatest Country In The United States *
Available October 31/Netflix
Zumbo's Just Desserts: Season 1 *
Available October 31/Hulu
Midnight Express
What's Leaving?
Here are dozens of titles that will be rotating off of Netflix in October 2017 and from Hulu on the last day of September (Amazon had not released its list as of publication):
September 30/Hulu
Akeelah and the Bee
Among Friends
Apocalypse Now
Apocalypse Now Redux
Arthur
Bad News Bears
Bandits
Benny & Joon
Beverly Hills Ninja
Big Fish
Bill Durham
The Blob
Delta Force
Dream a Little Dream
Eight Men Out
Encino Man
Fall Time
Get Well Soon
Guns of the Magnificent Seven
Kingpin
Hammett
Hey Arnold! The Movie
Hitch
Joe Dirt
Killing Zoe
Outbreak
Poseidon
Sacred Ground
Sahara
Shooter
Surf's Up
Teen Witch
Leaving October 1/Netflix
30 Rock: Seasons 1-7
A Love in Times of Selfies
Across the Universe
Barton Fink
Bella
Big Daddy
Carousel
Cradle 2 the Grave
Crafting a Nation
Curious George: A Halloween Boo Fest
Daddy's Little Girls
Dark Was the Night
David Attenborough's Rise of the Animals: Triumph of the Vertebrates: Season 1
Day of the Kamikaze
Death Beach
Dowry Law
Dr. Dolittle: Tail to the Chief
Friday Night Lights: Seasons 1-5
Happy Feet
Heaven Knows, Mr. Allison
Hellboy
Kagemusha
Laura
Love Actually
Malcolm in the Middle: Seasons 1-7
Max Dugan Returns
Millennium
Million Dollar Baby
Mortal Kombat
Mr. 3000
Mulholland Dr.
My Father the Hero
My Name Is Earl: Seasons 1-4
One Tree Hill: Seasons 1-9
Patton
Picture This
Prison Break: Seasons 1-4
The Bernie Mac Show: Seasons 1-5
The Shining
The Wonder Years: Seasons 1-6
Titanic
Leaving October 19/Netflix
The Cleveland Show: Seasons 1-4
Leaving October 21/Netflix
Bones: Seasons 5-11
Leaving October 27/Netflix
Lie to Me: Seasons 2-3
Louie: Seasons 1-5
Hotel Transylvania 2
Leaving October 29/Netflix
Family Guy: Seasons 9-14