Netflix, Amazon, Hulu: The Shows and Films Coming and Going in February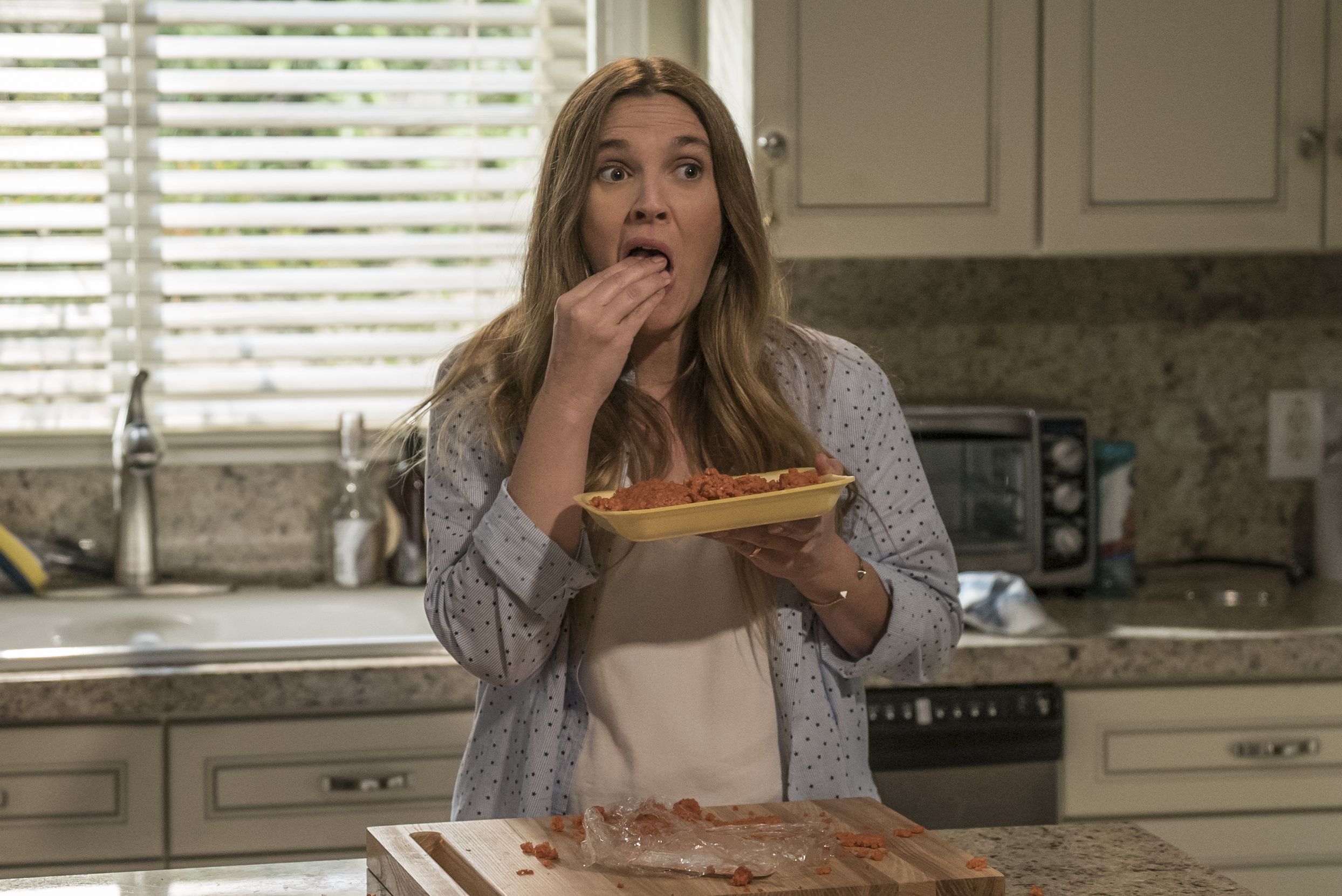 Updated |If January smacks of post-holiday emptiness—and especially this year, with its newly inaugurated president—then February will ring in with some post-emptiness cold and post-inauguration joy or terror (depending on your politics). The work of citizens is by no means done until the next presidential election, but whether you cheered enthusiastically on January 20 or marched defiantly on January 21, you might be in need of a recharge.
Related: The shows and films coming to Netflix in January
Netflix, Amazon and Hulu are adding a bunch of new titles and old favorites in February. Viewers can check out new originals such as the series Santa Clarita Diet (Netflix), starring Timothy Olyphant and Drew Barrymore; the series The Collection (Amazon), about a Parisian fashion house in the aftermath of the Nazi occupation; the movie David Brent: Life on the Road (Netflix), starring Ricky Gervais, reprising his role as the oblivious boss from the British version of The Office ; Author: The JT LeRoy Story (Amazon), a documentary about a young literary sensation; and Michael Bolton's Big, Sexy Valentine's Day Special (Netflix), which we're a little scared to ask about. There will be new seasons of Chef's Table, The Seven Deadly Sins, and DreamWorks Dragons: Race to the Edge.
In addition to original content, these three streaming platforms will be adding titles such as Finding Dory (Netflix) whose animated protagonist is voiced by Ellen DeGeneres; the 1979 film Escape from Alcatraz (Amazon and Hulu), starring Clint Eastwood; Woman in Gold (Netflix), about a Jewish woman from Austria (Helen Mirren) who decades after World War II is fighting with the help of her lawyer (Ryan Reynolds) for the return of a painting that belonged to her family and was stolen by the Nazis; both versions of the movie Sabrina (Amazon and Hulu), from 1954 and 1995; season two of Crazy Ex-Girlfriend (Netflix), a TV show slash perpetual musical; and all seasons of Golden Girls (Hulu).
What's New?
Here's what's coming to Netflix to soothe your cold, politically fatigued soul next month, as well as what you need to watch now before it's too late (the company maintains that "all title and dates are subject to change"):
Available February 1/Netflix
Ashley Madison: Sex, Lies, and Cyber Attacks (2016)
Babe (1995)
Babe: Pig in the City (1998)
Balto (1995)
Balto 2: Wolf Quest (2001)
Balto 3: Wings of Change (2004)
Contact (1997)
Corpse Bride (2005)
Disney's Finding Dory (2016)
Eleven P.M. (1928)
From This Day Forward: A Trans Love Story (2016)
Gun Runners (2015)
Hell-Bound Train (1930)
Highly Strung (2015)
Hot Biskits (1931)
I Am Sun Mu (2016)
Invincible (2006)
Les beaux malaises: Season 1-4 (2014)
Magic Mike (2012)
Masha's Spooky Stories: Season 1 (2012)
Mother with a Gun (2016)
Paris Is Burning (1990)
Project X (1987)
Silver Streak (1976)
The Blair Witch Project (1990)
The Chronicles of Narnia: The Lion, the Witch & the Wardrobe (2005)
The Five Heartbeats (1995)
The Furchester Hotel: Season 1-2 (2014)
The Girl from Chicago (1932)
The Longest Day (1962)
The Nightmare Before Christmas (1993)
Twilight (2008)
Woman in Gold
Available February 1/Amazon
Into the Wild (2007)
Thelma & Louise
Teen Wolf (1985)
My King
Nuts! (2016)
Hook
Forces of Nature (1999)
Care Bears Movie (1985)
Dead Heat
Diamonds Are Forever
Die Another Day
Drop Zone
Escape From Alcatraz
The Firm
Frankie & Johnny (1991)
Goldfinger
Hoosiers
I Went Down
Judgment Day
Kiss the Bride
Live and Let Die
The Living Daylights
Man With the Golden Gun
Never Say Never Again
Octopussy
Payback
Pretty in Pink
Rob Roy
The Running Man
Sabrina (1954)
Sabrina (1995)
Soapdish
The Spy Who Loved Me
Untamed Heart
Wild Bill
The World Is Not Enough
You Only Live Twice
Available February 1/Hulu
The Only Way Is Essex: Season 17 (All3 Media)
Addicted to Love (1997)
The American President (1995)
Black Hawk Down (2001)
Care Bears Movie (1985)
Chocolat (2000)
City of Angels (1998)
Dead Heat (2002)
Drop Zone (1994)
Dying Laughing (2016)
Escape From Alcatraz (1979)
Failure to Launch (2006)
The Firm (1993)
Forces of Nature (1999)
Forget Paris (1995)
The Fountain (2006)
Frankie & Johnny (1991)
From Dusk Till Dawn (1996)
Girl, Interrupted (1999)
Hoosiers (1986)
How to Eat Fried Worms (2006)
Hubble (2010)
I Went Down (1998)
Judgment Day (1999)
Kiss the Bride (2004)
The Machinist (2004)
Olympic Pride, American Prejudice (2016)
Payback (1999)
Pretty in Pink (1986)
Rent (2005)
Revolutionary Road (2008)
Rob Roy (1995)
The Running Man (1987)
Sabrina (1954)
Sabrina (1995)
Shakespeare in Love (1998)
Soapdish (1991)
There Will Be Blood (2007)
The Station Agent (2003)
Untamed Heart (1993)
Wild Bill (1995)
Available February 2/Netflix
American Crime Story: The People v. O.J. Simpson (2016)
Frequency: Season 1
Available February 3/Netflix
Daniel Sosa: Sosafado
Imperial Dreams
Santa Clarita Diet
Available February 3/Hulu
I Love You Phillip Morris (2009)
The Dog (2013)
Available February 4/Netflix
Superbad (2007)
Available February 4/Amazon
Yellowbird (2014)
Margin Call
Available February 4/Hulu
Murder in the First: Season 3 (TNT)
Margin Call (2011)
Available February 5/Netflix
Elvira I Will Give You My Life but I'm Using It (2014)
Los Herederos (2015)
Available February 6/Netflix
Girls Lost (2015)
Me, Myself and Her (2015)
Available February 6/Amazon
Hostile Border
Available February 6/Hulu
24: Legacy: Series Premiere (FOX)
The Incredible Dr. Pol: Season 10 Premiere (National Geographic)
Hostile Boarder (2016)
The Look of Love (2013)
Restored Me (2016)
Available February 7/Netflix
Michael Bolton's Big, Sexy Valentine's Day Special
Available February 7/Amazon
Creative Galaxy Heart Day Special
Available February 7/Hulu
APB: Series Premiere (FOX)
Gender Revolution: A Journey With Katie Couric: Special (National Geographic)
Available February 8/Netflix
Tiempos Felices (2014)
Girl Asleep (2015)
Available February 8/Hulu
Devious Maids: Season 4 (ABC)
Lawless Oceans: Season 1 (National Geographic)
UnREAL: Season 2 (A&E)
Available February 10/Netflix
Abstract: The Art of Design
David Brent: Life on the Road
Available February 10/Amazon
The Collection
Available February 10/Hulu
MasterChef Junior: Season 5 Premiere (FOX)
Available February 11/Netflix
Crazy Ex-Girlfriend : Season 2 (2016)
Stronger Than the World
Available February 11/Hulu
Kampai! For the Love of Sake (2015)
Available February 12/Netflix
Clouds of Sils Maria (2014)
Available February 12/Hulu
Outback Wrangler: Season 2 Premiere (National Geographic)
K.C. Undercover: Season 2 (Disney)
Puppy Days: Season 1 (National Geographic)
Snake City: Season 3 Premiere (National Geographic)
Available February 13/Netflix
Code: Debugging the Gender Gap (2016)
Magicians: Life in the Impossible (2016)
Available February 13/Hulu
Golden Girls: Series (Disney)
Available February 14/Netflix
Girlfriend's Day
Katherine Ryan: In Trouble
King Cobra (2016)
Project Mc ²: Part 4
White Nights
Available February 14/Hulu
The Mindy Project: Season 5B Premiere
Available February 15/Netflix
Aram, Aram (2015)
Before I Go to Sleep (2014)
Fire Song (2015)
Available February 15/Amazon
American Teen
The Americans
Available February 15/Hulu
American Teen (2008)
Available February 16/Netflix
Milk (2008)
Sundown (2016)
Available February 16/Amazon
Author: JT Leroy Story
Available February 17/Netflix
Chef's Table: Season 3
DreamWorks Dragons: Race to the Edge: Season 4
Kill Ratio (2016)
The Seven Deadly Sins: Season 2
Available February 18/Hulu
The Boondocks: Series (Adult Swim)
Available February 19 /Netflix
Girl Meets World: Season 3 (2016)
Growing Up Wild (2016)
Tini: El Gran Cambio De Violetta (2016)
When Calls the Heart: Season 3 (2016)
Available February 20/Hulu
As Cool as I Am (2013)
Available February 21/Amazon
The Tunnel
Available February 23/Netflix
Sausage Party (2016)
Available February 24/Netflix
I Don't Feel at Home in This World Anymore
Legend Quest : Season 1
Ultimate Beastmaster
Ultimate Beastmaster Mexico
VeggieTales in the City : Season 1
Available February 24/Amazon
10 Cloverfield Lane
Available February 26/Netflix
Night Will Fall (2016)
Available February 26/Amazon
Touched With Fire
Available February 27/Netflix
Brazilian Western (2013)
Available February 27/Amazon
Captain Fantastic
Havana Motor Club
Available February 28/Netflix
Be Here Now (2015)
Michael Birbiglia: Thank God for Jokes
Available February 28/Hulu
Taken: Series Premiere (NBC)
The Voice: Season 12 Premiere(NBC)
When We Rise: Series Premiere (ABC)
What's Leaving?
Here are dozens of titles that will be rotating off of Netflix and Hulu in February 2017:
Leaving February 1/Netflix
A.C.O.D.
An American Girl: Saige Paints the Sky
An Inconvenient Truth
Ashby
Black Hawk Down
Bratz: Babyz: The Movie
Bratz: Super Babyz
Charlotte's Web 2: Wilbur's Great Adventure
Clerks
Elizabeth
Extract
Failure to Launch
Frida
Girls Just Want to Have Fun
Jackass 2.5
Lalaloopsy Girls: Welcome to L.A.L.A. Prep School
Last Holiday
Mission Impossible: III
Sahara
Save the Last Dance
Serving Sara
Star Trek: Nemesis
The Kite Runner
The Machinist
The Original Latin Kings of Comedy
There Will Be Blood
Trainspotting
What's Eating Gilbert Grape
Leaving February 7/Netflix
Justin Bieber's Believe
Leaving February 12/Netflix
Grounded for Life : Season 1-5
Leaving February 13/Netflix
Scary Movie 5
The Nut Job
Leaving February 15/Netflix
Brothers in War
Chris Porter: Ugly and Angry
Closure
Exile Nation: The Plastic People
Jack Frost
I Am Not a Hipster
Plastic Paradise: The Great Pacific Garbage Patch
Prince of Broadway
Stephanie in the Water
The Man on Her Mind
Unlikely Animal Friends : Season 2
Leaving February 16/Netflix
Santa Claws
Somewhere
Leaving Febraury 17/Netflix
Winnie the Pooh: A Very Merry Pooh Year
Leaving February 19/Netflix
Problem Child: Leslie Jones
Leaving February 28/Netflix
Clueless
Leaving February 28/Hulu
Groundhog Day (1993)
Good Advice (2002)
Bratz: The Movie (2007)
This Is Spinal Tap (1984)
Autumn in New York (2000)
Desperately Seeking Susan (1985)
Vampires Kiss (1989)
No Country for Old Men (2007)
Pulp Fiction (1994)
Reservoir Dogs (1992)
Indecent Proposal (1993)
Rosemary's Baby (1968)
Rounders (1998)
All Dogs Go to Heaven (1989)
All Dogs Go to Heaven 2 (1996)
This post has been updated to include titles coming to Amazon and Hulu in February, as well as those leaving Hulu that month.