Netflix Announces 2016 Premiere Dates and Releases New Teasers and Trailers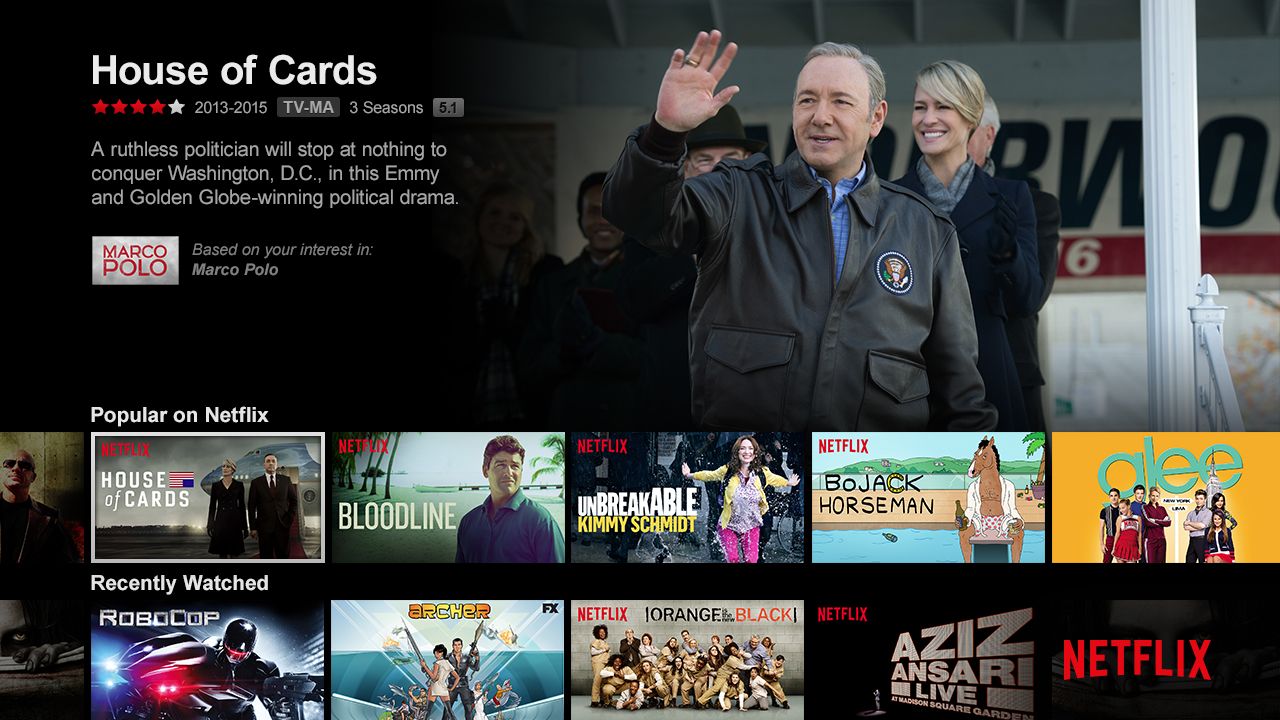 Netflix is on quite a roll. The online streaming platform made a splash with its original content in 2013, when the political drama House of Cards captivated audiences. By the time the 2015 Primetime Emmy Awards came around this past September, the company's shows racked up 34 nominations and four wins, up from zero in 2012.
The company's first feature film, Beasts of No Nation, arrived in October of last year, with more movies to come, including Special Correspondents, starring Ricky Gervais and Eric Bana and scheduled to premiere on April 29. Earlier this month, Netflix expanded its services to 130 new countries.
In the three years since Kevin Spacey and Robin Wright first took to the small screen as Frank and Claire Underwood, Netflix premieres have begun accumulating at a dizzying pace, with several new shows and additional seasons of existing shows poised to inspire binge-watches in the coming months.
The company announced a handful of 2016 premiere dates Monday for comedies, dramas, kids series and stand-up comedy specials, and promised a second season of its Jessica Jones series at a yet-to-be determined date. Netflix's U.S. and Canada YouTube channel has also posted a handful of new teasers and trailers in the last several days.
Below find a list of the upcoming premiere dates Netflix revealed Monday, along with several previously-announced releases, accompanied by the most recently-posted clips and previews.
Comedy and drama series coming up on Netflix:
Chelsea Does… (January 23)
Love (February 19)
Fuller House (February 26)
House of Cards, Season 4 (March 4)
Flaked (March 11)
Marvel's Daredevil, Season 2 (March 18)
The Ranch (April 1)
Unbreakable Kimmy Schmidt, Season 2 (April 15)
Marseille (May 5)
Grace & Frankie, Season 2 (May 6)
Orange is the New Black, Season 4 (June 17)
Stranger Things (July 15)
The Get Down (August 12)
Stand-up comedy:
Hannibal Buress: Comedy Camisado (February 5)
Theo Von: No Offense (February 26)
Jimmy Carr Funny Business (March 18)
Patton Oswalt: Talking for Clapping (April 22)
For kids, tweens and teens:
Word Party (June 3)
Lost & Found Music Studios (April 1)
Kong: King of the Apes (April 15)