Netflix's 'Big Mouth' Prompts Debate After Controversial Sexuality Scene
Big Mouth Season 3 premiered on October 4 to mixed reviews. While longtime fans of the show seemed to appreciate the third season, others slammed Netflix and the show's writers for a episode featuring an explanation of sexuality, which some found problematic.
The conversation, which picked up steam on Twitter Sunday, pointed at one scene in particular. In it, comedian Ali Wong portrays a new girl in school who identifies as pansexual. A discussion between animated middle schoolers questions the difference between identifying as pansexual and bisexual.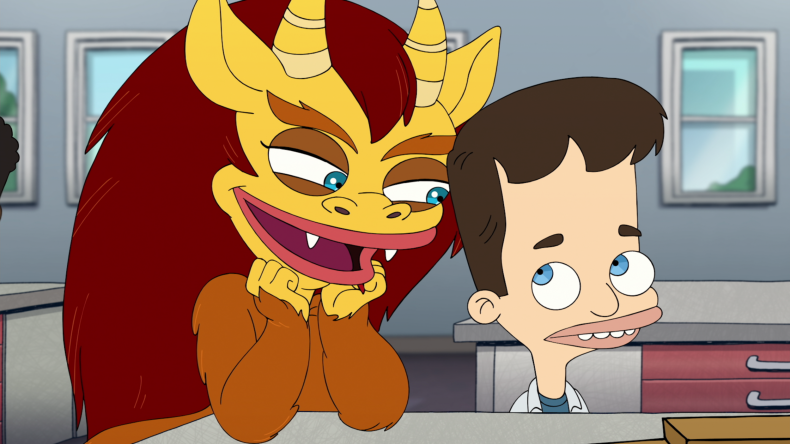 A clip of the controversial scene was posted by Twitter user @spicygemss, who explained why the scene was offensive to them: "Not only is this biphobic, transphobic, and panphobic with extremely incorrect definitions, but they've made this weird image where pansexuality is seen as morally higher than bisexuality. Not only that, but everyone in the room treated the term pansexual like a dirty word."
Thousands of Twitter users liked the post. Defenders of the scene seemed to think it was intended to feel problematic, since the characters, who are middle school aged, wouldn't know better than to be entirely respectful and receptive.
User @Oolaytiger explained this side: "They're KIDS. They reacted the same way a lot of us did when we were kids, and had never heard of any terms outside of gay and straight. Maybe watch the show LMAO, the struggle that one male character faces with his bisexuality really resonates."
A handful of Twitter users who identify as bisexual or pansexual also spoke out. Many of them didn't have a problem with the scene. "I'm bisexual and I don't like Big Mouth for separate reasons and I don't see what the problem is?" said @Vepkhia. "These characters aren't morally black and white and it's just a dumb bit. This isn't harming anyone."
The show's creators responded with an apology for "missing the mark" in the scene. Executive Producer Andrew Goldberg shared a comment on his Twitter account. "We missed the mark here with this definition of bisexuality vs. pansexuality, and my fellow creators and I sincerely apologize for making people feel misrepresented," he wrote. "Any time we try to define something as complex as human sexuality, it's super challenging and this time we could have done better. Thank you to the trans, pan, and bi communities for further opening our eyes to these important and complicated issues of representation."
The statement also said future seasons of the show will aim to advance the conversation.
Big Mouth is an animated show aimed at adults. It follows a group of middle schoolers as they go through puberty and discover sexuality, have family problems like divorce and more. Some may find the show explicit for its raunchy details, while others seem to find it an accurate portrayal of growing into teenage years.
The show premiered in 2017, and the show has been renewed for another three seasons.
This article has been updated to include a statement from Big Mouth creators.