Conservatives Are Boycotting Netflix After It Named Obama Official Susan Rice to Board of Directors
Some conservatives are promoting a campaign to boycott Netflix over the streaming service's announcement that a former Obama and Clinton official was appointed to its board of directors.
"#BoycottNetflix this crap is unbelievable! Susan Rice is a liar and thief," tweeted Trudy Mallon, whose Twitter account bio describes him as a "builder, Real Estate Agent constitutional conservative, military supporter."
"Canceled my Netflix and sell my stock," Mallon added.
Netflix appointed Susan Rice, the former United States national security adviser and United Nations ambassador to the U.S., to the company's board of directors on Wednesday. She previously served as the assistant secretary of state for African affairs under President Bill Clinton.
"We are delighted to welcome Ambassador Rice to the Netflix board," Netflix co-founder and chief executive officer Reed Hastings said in a statement. "For decades, she has tackled difficult, complex global issues with intelligence, integrity and insight and we look forward to benefiting from her experience and wisdom."
The announcement followed a March 8 New York Times report that former President Barack Obama was in "advanced negotiations with Netflix to produce a series of high-profile shows."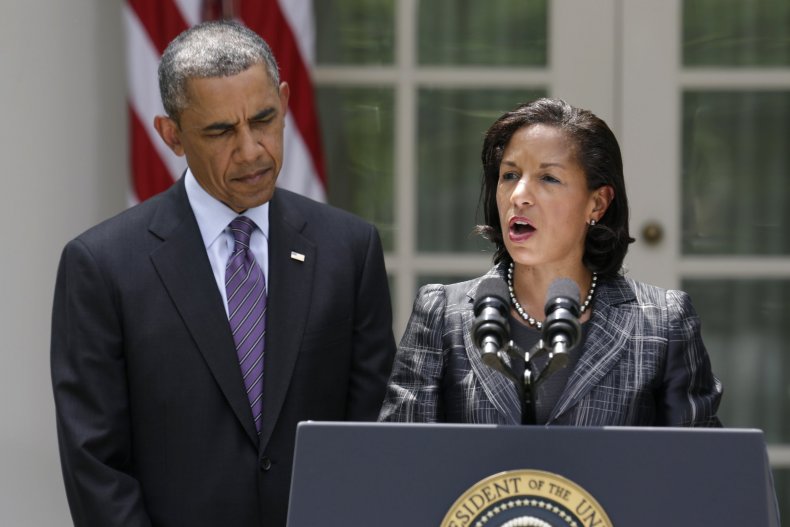 The double-barreled news drove some conservatives like Mallon to promote the #BoycottNetflix campaign and cancel their membership.
"Netflix Hires Susan Rice on board of directors while Barack Obama is still in negotiating to produce the content for @netflix," tweeted the account @SavingAmerica4U. "Netflix obviously doesn't care about the fact that Susan Rice repeatedly lied about Benghazi and the unmasking of American citizens #BoycottNetflix."
Much of the fury around Rice's appointment stems from her early reports about the September 11, 2012, attack on the U.S. consulate in Benghazi, Libya.
Rice, then the UN ambassador to the U.S., went on the Sunday news shows following the attack and reported that preliminary information suggested the incident was a reaction to protests in Egypt over a U.S.-made YouTube video.
Asked what information about the attack—which left four Americans dead, including U.S. Ambassador to Libya, J. Christopher Stevens—she could share, Rice said, "It's important to know that there's an FBI investigation that has begun and will take some time to be completed.
"But our best assessment, based on the information that we have at present, is that [...] it was a spontaneous—not a premeditated—response to what had transpired in Cairo," she said. "In Cairo, as you know, a few hours earlier, there was a violent protest that was undertaken in reaction to this very offensive video that was disseminated."
Obama officials later corrected that accounting, saying the incident was a premeditated terror attack, not a protest that devolved into violence.
Rice has since been target of opprobrium, particularly within conservative circles. That criticism was renewed in 2017. Rice was behind a request to "unmask" or reveal the redacted names of U.S. citizens who American spy agencies had intercepted speaking with foreign sources. She was specifically concerned with a December 2016 meeting between the United Arab Emirates crown prince Sheikh Mohammed bin Zayed al-Nahyan in New York following the election.
CNN and The Washington Post later reported that unmasking is a relatively common request and that the meeting in question involved President Donald Trump's former national security adviser Michael Flynn—who has since been indicted by special counsel Robert Mueller for lying to the FBI about his contacts with Russian operatives—the former White House chief strategist Steve Bannon and Trump's son-in-law and senior adviser Jared Kushner.
The Netflix boycott joins a growing list of things some conservatives have abandoned.
"I've boycotted NFL, Starbucks and CNN it won't be hard to add Netflix. #BoycottNetflix," FriendlyJan tweeted.
In November 2017, the coffee maker Keurig pulled its advertising from Fox News' Hannity after the host appeared to then Alabama Senate hopeful Roy Moore, who was facing pedophilia accusations.
"Good afternoon @Keurig. You are currently sponsoring Sean Hannity's show. He defends child molester Roy Moore and attacks women who speak out against sexual harassment. Please reconsider," Angelo Carusone, president of media watchdog Media Matters," tweeted at the company.
Keurig then pulled its advertising from the program, as did four other companies. That sparked a crush of videos showing Keurig patrons destroying their coffee makers.
"Liberals are offended by this video of a Keurig being thrown off of a building.Please retweet to offend a Liberal. #BoycottKeurig," Collin Rugg tweeted.
Conservatives aren't the only bloc upset with Netflix. Comedian Mo'Nique called on her fans to boycott the platform in January over issues of pay disparity according to gender and race.
Netflix declined to comment about the reaction to Rice's appointment.