How Netflix Christmas Movies Connect in a Cinematic Universe
For the last few years Netflix has been upping its festive content offering.
Every fall, viewers are treated to an array of Christmas movies and series, but did you know that some of these take place in the same universe?
Yep, Netflix has created a world that we can only imagine smells entirely of cinnamon and chestnuts roasting on an open fire, and where happily-ever-after is an everyday, snow-covered reality.
These are all the films that tie the universe together.
What Movies Are in the Netflix Christmas Cinematic Universe?
Christmas Inheritance
The one that started it all, Christmas Inheritance was released in 2017.
It follows New York heiress and socialite Ellen whose partying reputation has given her father Jim pause as to whether she's ready to inherit his position as CEO.
Jim reveals he and his former business partner Zeke have a practice of exchanging Christmas letters in-person, traveling to the New England town of Snow Falls.
In a test, Ellen is sent to take on this task for her father without using her wealth, social status or influence and is sent there with just $100.
When she arrives, she finds she has just missed Zeke and a snowstorm leaves her trapped at the inn, managed by Jake.
A Christmas Prince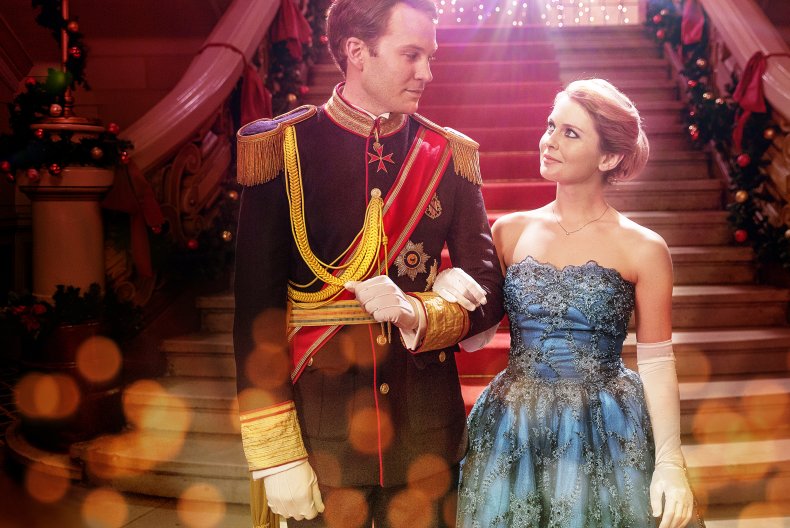 The first in a trilogy, A Christmas Prince hit the streaming platform in 2017.
It sees aspiring journalist, Amber, suddenly offered the career opportunity of a lifetime when she is sent to the fictional European country of Aldovia as the nation's playboy Prince Richard prepares to either ascend the throne or abdicate following the death of his father.
His royal highness fails to appear at a press conference and while the seasoned pros among the press pack grumpily return to their hotels with no questions asked, plucky Amber saunters past the concerningly lax security and wanders round the palace.
Once she's caught, she uses her initiative to pose as a tutor for the prince's younger sister Princess Emily, while attempting to get the scoop of the century.
Now, we don't want to spoil it for you but it's a romcom and there are two sequels, so you can guess where Amber and Richard's paths are heading.
The Holiday Calendar
2018 is where the first stitches across the Netflix universe are made.
The Holiday Calendar follows struggling photographer Abby, who receives an old wooden advent calendar from her grandfather.
Curiously, none of the doors can be opened. Instead, they open themselves on the corresponding day and as she sees synchronicities between the gifts behind each door and the events of her life, she believes this could be a magic advent calendar.
The Princess Switch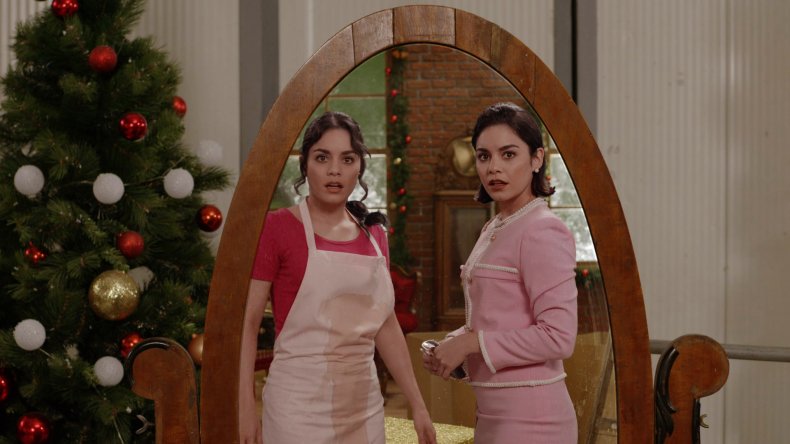 In this modern twist on The Prince and the Pauper, fans get two Vanessa Hudgens for the price of one.
Stacey (Hudgens) is a talented Chicago baker encouraged to enter a prestigious baking competition in Belgravia.
While there, she has a chance encounter with Lady Margaret Delacourt (also Hudgens), Duchess of Montenaro and fiancée of Crown Prince Edward of Belgravia.
The pair are floored by their uncanny resemblance and Margaret invites Stacy back to the palace for a consultation.
From inside her gilded cage, Margaret explains her plight at having grown up a royal and desperation to live like the rest of us commoners. And so she suggests they switch places, promising to swap back in time for Stacy's baking competition.
The sequel introduces a third Vanessa Hudgens into the mix, and with The Princess Switch 3: Romancing The Star hitting the platform soon, who knows how many credits Hudgens will have.
Holiday In The Wild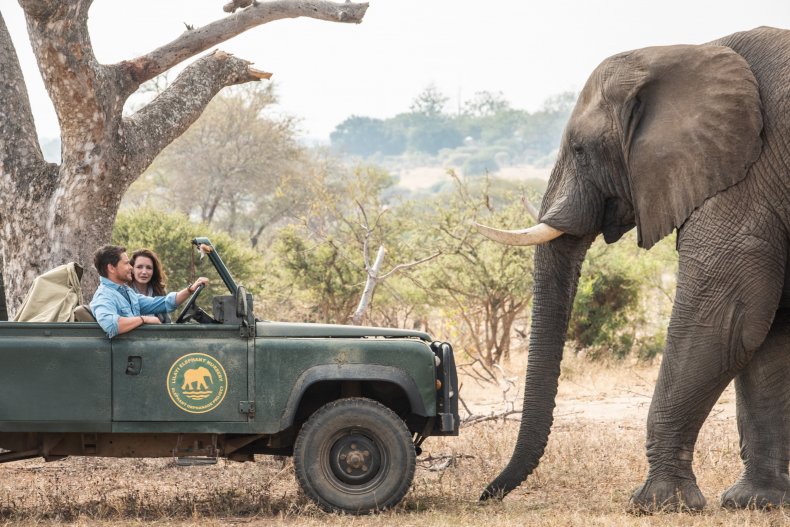 You might be surprised to find that this movie takes place in the same universe given there are no castles, magic inanimate objects, or even any snow.
Holiday In The Wild centers on Kate, a former veterinarian, who surprises her husband with a second honeymoon to Zambia, only for him to announce he is leaving her.
Kate decides to take the trip on her own and when pilot Derek diverts their light aircraft from a spa to the middle of nowhere to rescue a baby elephant, Kate decides to give up her luxurious trip and to volunteer at the elephant sanctuary instead.
The Knight Before Christmas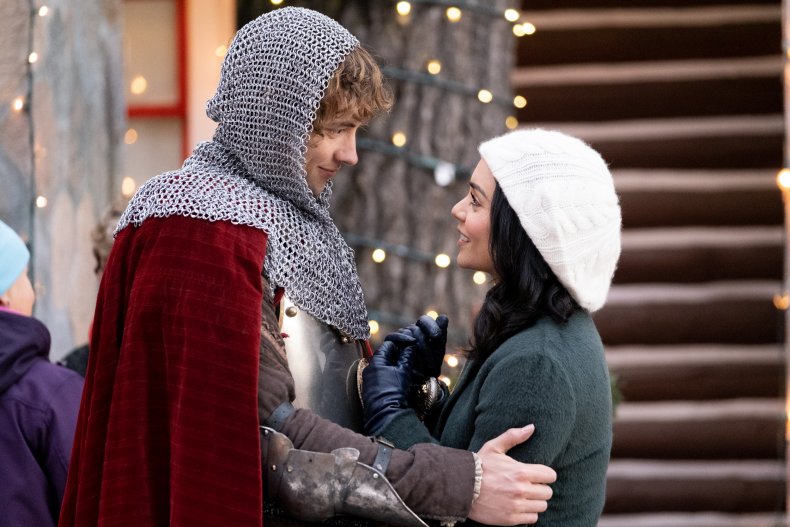 Did somebody say they wanted more Vanessa Hudgens?
This is where things get confusing.
Opening in Medieval England, aspiring knight Cole takes part in an annual Christmas hawking competition and while wandering the woods of Norwich, he happens upon a woman referred to not-so-charmingly throughout as "old crone."
After escorting her to shelter, the old crone thanks him for his kindness and then sends him on a magical quest to a faraway land with a blue medallion, telling him that if he doesn't fulfill his unspecified quest by Christmas Eve, he will never be a true knight.
Where is this mystical place he is sent to? That would be Ohio in the year 2019.
Enter our fourth Vanessa Hudgens, this time playing high school science teacher Brooke.
Their paths cross at the Christmas Castle fair, where Cole, who is perplexed by pretty much everything given he has just travelled nearly 700 years into the future, doesn't understand roads and is hit by Brooke's car.
As he has no way to identify himself, because he is literally from the past, Brooke and a police officer decide he must have amnesia and she agrees to let Cole stay with her until he gets his memory back.
So, How Do All the Movies Tie Together?
This all began when The Holiday Calendar was made and needed movies to appear on the characters' TV screens.
In a Twitter thread explaining how the films connect to each other, Netflix stated that many of the above movies were made by MPCA.
"It felt like a natural fit to show one of our other films available on Netflix," said Amanda Phillips Atkins, EVP at MPCA.
A Christmas Prince and Christmas Inheritance were chosen to feature on-screen as Easter eggs.
The two films both also appeared on TV screens in The Princess Switch.
To us, this is all obviously a work of fiction, but within the Netflix Christmas Cinematic Universe, some of these films appear to be in-universe documentaries and the monarchy in Aldovia clearly holds a lot of power.
The Belgravian royal family of The Princess Switch series are also referred to by characters in the third instalment of A Christmas Prince, and the King and Queen of Aldovia make a cameo appearance in The Princess Switch: Switched Again.
The Knight Before Christmas is where things start getting confusing.
As part of Cole's journey to get up to speed with modern life, he ends up watching a lot of TV and movies, including Holiday in the Wild, which is how that movie is loosely connected to the universe.
It's time to talk about the elephant in the room, and that is the fourth Vanessa Hudgens.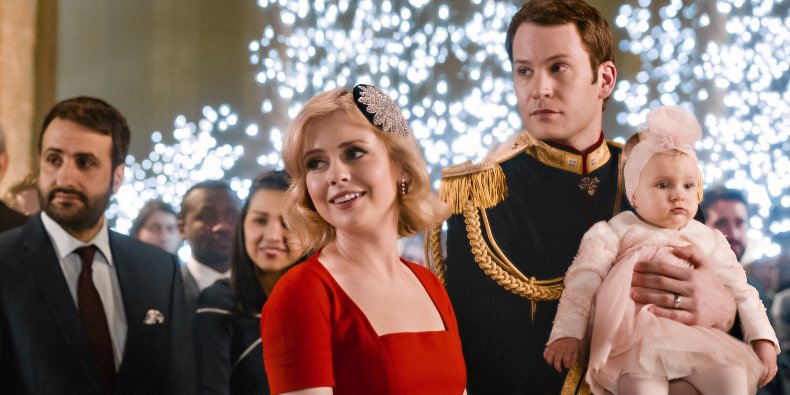 In The Knight Before Christmas, Brooke's sister Madison hangs an ornament on the tree which she explains was a souvenir their parents brought back from Aldovia. Not only that, it's also identical to a Christmas ornament that ended up having huge significance in the plot of A Christmas Prince.
This means that in The Knight Before Christmas, Aldovia and its monarchy are very much real, therefore so must be Belgravia. So, has Brooke just never noticed this other royal family with not one, not two, but three women that share her exact face?
The Princess Switch 3: Romancing The Star arrives on Netflix later this month as all our favorite princesses, you guessed it, switch again.
Perhaps there is the possibility that somewhere in the franchise Brooke will make an appearance that transcends space and time.
Until then, Netflix has announced that plenty more holiday movies and series will be dropping on the platform soon to get us into the festive spirit and there's no telling at this stage how many will be sewn into the fabric of this universe.