'Cowboy Bebop's' John Cho, Daniella Pineda and Mustafa Shakir on 'Pressure' of Doing Remake
It was never going to be easy to top Shinichirō Watanabe's iconic Cowboy Bebop.
Fan expectations are understandably high for a show that is recreating one of the most influential anime series of all time, and reviews have sadly veered towards the more negative than positive because of what came before it, but the cast of Netflix's live-action adaptation were keen to get it right.
John Cho, Daniella Pineda and Mustafa Shakir spoke to Newsweek about taking the roles of Spike Spiegel, Faye Valentine and Jet Black, respectively, and if they felt any pressure over what fans of the original will think of the show.
Shakir said he "didn't personally" feel concerned about expectations, but Pineda explained that they did put pressure on themselves to make sure they honored the original as much as possible.
She elaborated: "I think as a show, and I think John can attest to this, I think we put pressure on making it good, and making it like a real springboard from the anime so I'm going to say, yes, I think there was a lot of pressure."
Cho, meanwhile, added that not only the cast but everyone involved in the production were keen to do right by Watanabe's vision, but also do it in a balanced way.
"Yea, there was a lot of pressure but there was also a balance between... you can't do your best work when you're burdened by the pressure," he explained.
"So, you want to be alive and free and creative, but it was very reverential to the original anime. Everyone on set love the anime.
"So there was a tension there, and you want to give both sides their due, so I guess it was being equivocal, but it was about balance."
One thing fans of Watanabe's anime will likely notice is how accurate many of the sets, the costume design, and even some of the bounties themselves are to the original.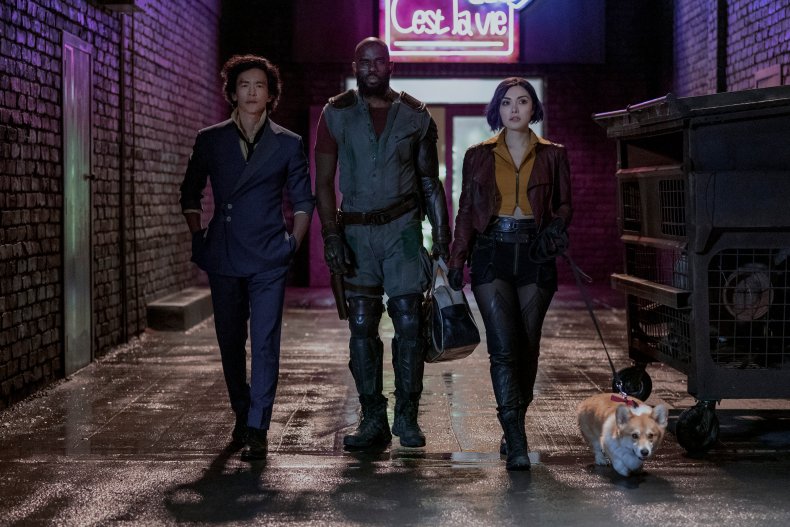 Paying Homage to the Anime
Showrunner André Nemec spoke with Newsweek about the creative process that went behind remaking the anime without recreating what fans had already seen before.
He said it was "hugely important" to make sure that the live-action was accurate to the anime it was adapting, because they wanted to pay proper homage to it.
"It was directive number one, it was always we must live in the spirit of the anime," Nemec said of making the sets and props look the same as they did in the original.
"It's impossible to recreate it, nor do we want to recreate it and tell the exact same story but we must live in the spirit of the anime, we must find every prop and ask ourselves the question what makes this Bebop worthy? How is it a Bebop prop? How is this a Bebop set? How is this a Bebop action scene?
"All of those things came from having a true love of the anime and wanting to homage it properly, wanting to pay respect to the hallowed ground that we were given an opportunity to play in, so it was hugely important."
Of how original creator Watanabe and his team at Sunrise Entertainment gave their input on the live-action, Nemec went on: "All of the folks at Sunrise were really outstanding in their generosity and their participation of ideas.
"I have books, stacks and stacks of books that would make fans nuts to think I have of original character designs, early drawings, the ships, the props, the locations, the sets, all of the conversations that they had done including the conversations about character, including conversations about music integration in the anime and how that all worked.
"And then they gave the greatest gift ever, they said 'this is our sandbox now you build your castle and it is with our blessing that you tell your story.'
"So, it was an incredible opportunity to both receive as much as I received and to sort of be given this opportunity to play."
Cowboy Bebop is available to stream on Netflix now.