Everything We Know About Netflix's New 'Enola Holmes' Movie So Far
There's a new investigator coming to Netflix, and she's only 16 years old.
The streaming giant is gearing up for the release of its newest mystery movie, Enola Homles, based on the detective novels written by Nancy Singer. Netflix released the first images of the film on Thursday, revealing Millie Bobby Brown as the film's star detective.
Here's what we know about the new Netflix movie so far:
Who is Enola Homes?
The kid sister of the legendary detective Sherlock Holmes, Enola was first introduced in the Sherlock Holmes books that were published between 1923 and 1927. However, the character became the protagonist of her own story with Nancy Springer's The Enola Holmes Mysteries series, which began with 2006's The Case of the Missing Marquess. The young adult fiction series follows the young detective Enola's adventures over the course of six books.
For Netflix's purposes, Enola's story will begin in 1884 England, on the morning of her 16th birthday. Enola wakes up to find her mother missing and no clues regarding her disappearance, aside from an "odd assortment of gifts."
The film's synopsis reads: "After a free-spirited childhood, Enola suddenly finds herself under the care of her brothers Sherlock and Mycroft, both set on sending her away to a finishing school for 'proper' young ladies. Refusing to follow their wishes, Enola escapes to search for her mother in London. But when her journey finds her entangled in a mystery surrounding a young runaway Lord, Enola becomes a super-sleuth in her own right, outwitting her famous brother as she unravels a conspiracy that threatens to set back the course of history."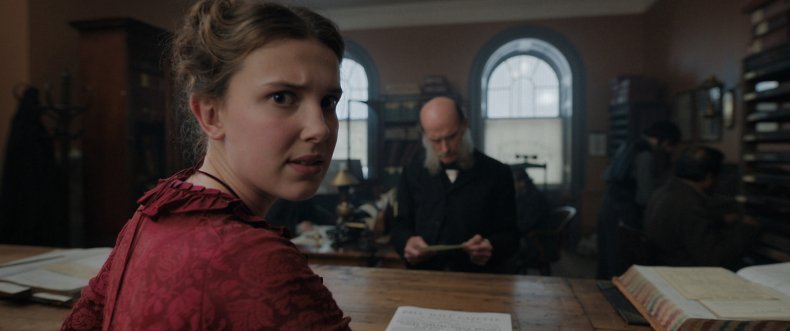 Who stars in the cast?
Stranger Things star Millie Bobby Brown is set to play the lead role as Enola. She will be joined by Henry Cavill and Sam Claflin, who will star as Enola's brothers Sherlock and Mycroft, respectively. Helena Bonham Carter is tapped to play the trio's missing mother, while Louis Partridge takes the reigns as the young runaway Lord.
When will Enola Holes premiere?
Although Netflix hasn't announced an official release date yet, the film is expected to arrive on the streaming platform sometime this year in September.
What else?
There's plenty of excitement surrounding the upcoming mystery-adventure film, but the movie's announcement didn't arrive without a major hiccup. Shortly after the film's production made headlines, the estate of Sir Arthur Conan Doyle—the brilliant author behind the Sherlock Holmes character and series—revealed that it was suing Netflix for copyright infringement over Enola Holmes. Harry Bradbeer, the movie's director, as well as screenwriter Jack Thorne, PCMA Management and Productions, and EH Productions UK are all named in the lawsuit. The reasoning behind the Doyle estate's suit is a little thorny, so head here for a proper explainer.