Like a season-long episode of Say Yes to the Dress hosted by survivalist Bear Grylls, Extreme Engagement follows a single couple as they drop in on marital traditions around the world as they their relationship with cross-cultural love challenges, from polygamy to psychotropic drugs. Extreme Engagement is a Netflix reality show that calls into question every aspect of the Australian couple's engagement, challenging Tim Noonan and P.J. Madam's durability. So how has their marriage fared? Did they survive the engagement gauntlet?
Spread over eight episodes, Extreme Engagement sends Tim, of the BBC reality series Boy to Man, and PJ, a broadcast reporter from Sydney, to Cameroon, Indonesia, Mongolia, Nigeria, China, Brazil and Papua New Guinea, where the couple are due to wed in the last episode of the series.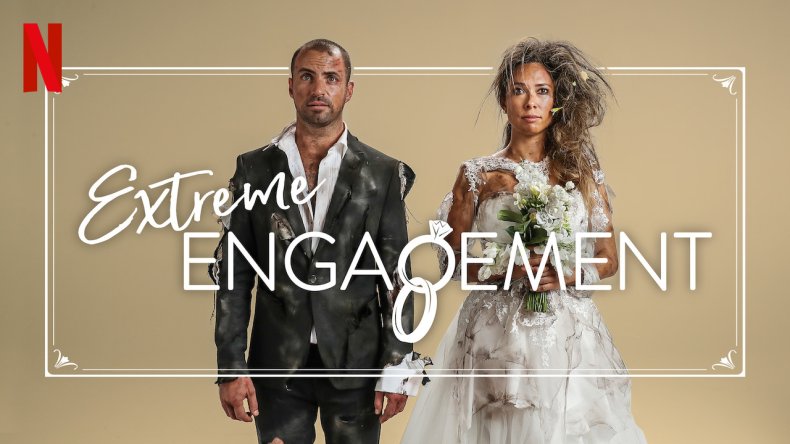 But first they'll have to survive each other, as tensions rise throughout the occasionally grueling world tour. Much of the conflict in Extreme Engagement is of the reality show variety―Tim and PJ will be a familiar type of TV couple for fans of the genre. PJ repeatedly laments Tim's need to conquer every obstacle, like popping a painful chili then spending the next minutes sweating and moaning he'll die in the series' second episode.
"It's like you're a permanent adolescent," PJ says.
"What frustrates me the most, is I feel like you don't let me be a man a lot of the times," Tim responds. "I feel like you don't let me just—you be the woman, I be the man. Sometimes I feel emasculated."
While some of the tension points are obvious, others are more contrived, like the alternate paths and regrets opened up during their time with the polygamous Wodaabe Tribe of Nigeria. Things get most uncomfortable in the second to last episode, where PJ admits she's thought about breaking up with him, shortly before Tim slurps some ayahuasca in the jungle.
But while Tim and PJ argue and are occasionally disgusted with each other, it's probably not a huge surprise that Extreme Engagement ends with a wedding. It even follows the couple, a little uncomfortably, to their conjugal bed.
But are they still together, presumably months after the production of Extreme Engagement for Netflix?
Noonan and Madam's social media feed suggests the couple is still together, or at least still operating their production company, Wildman Films, together:
Both PJ and Tim have made multiple posts about the series, with captions describing the many lessons they've learned. While never confirming they're still married, their feeds certainly don't give any indication they've separated:
While not quite definitive—nor is a straight answer to be found on Facebook or Twitter—their continued collaboration together suggests the wedding in Papua New Guinea was a success, despite all the bumps and drugs along the way.
Extreme Engagement is streaming now on Netflix.