Who Stars in the Voice Cast of Netflix Animated Film 'Vivo'?
Vivo, a new animated film featuring songs by Lin-Manuel Miranda, was released on Netflix on August 6
The musical follows its eponymous singer-musician kinkajou and his quest to give a song written by his owner Andrés Hernández to the lost love of his life, Marta Sandoval.
Andrés decides to give Marta the melody so that he can finally confess how he feels about her, after she informs him that she will be retiring as a singer and will have her final concert in Miami.
After Andrés suddenly passes away in his sleep, Vivo makes it his mission to get Marta to hear the love song his owner wrote, and travels from Cuba to Miami to do so by stowing away in Andrés' grand-niece Gabi's suitcase.
Who stars in the voice cast of Vivo?
Lin-Manuel Miranda takes on the title role of Vivo the kinkajou, and he also appears in 10 songs on the soundtrack.
Miranda, who wrote the songs for the animation, is the creative mind behind musicals Hamilton and In The Heights, and he also wrote the music and songs for Disney film Moana.
13-year-old Ynairaly Simo portrays Andrés' grand-niece Gabi and Vivo is her acting debut. She performs five songs in the film.
Juan de Marcos González plays Andrés. The Cuban musician is a bandleader and actor known for being a member of the Buena Vista Social Club.
Marta is played by Gloria Estefan, the legendary Cuban-American musician behind hits like "Rhythm Is Gonna Get You" and "Dr. Beat."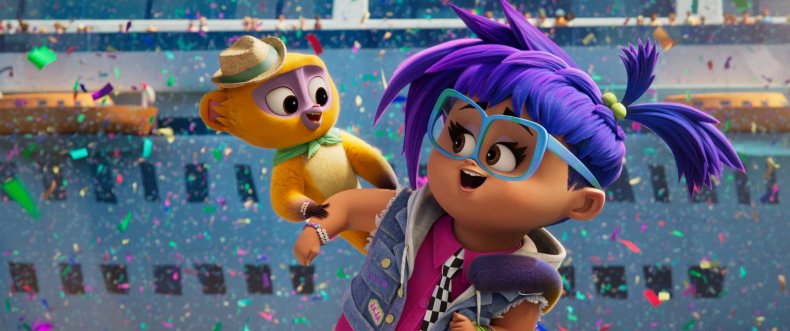 Estefan lends her voice to five songs on the soundtrack, including the solo tracks "Inside Your Heart" and "¡Presente!"
Zoe Saldana acts and sings for the role of Rosa, Gabi's mother, and she appears in two ensemble songs on the soundtrack.
Other members of the voice cast include Michael Rooker, who portrays a villainous Burmese Python who hates noise named Lutador.
While he does not appear on the soundtrack, Rooker plays a key role in the film as his character kidnaps Vivo during his journey.
Brian Tyree Henry and Nicole Byer voice romantic love interests Dancarino and Valentina, with Aneesa Folds singing for the part of Valentina.
Katie Lowes, Olivia Trujillo, and Lidya Jewett portray a trio of girl scouts named Becky, Eva and Sarah, who are part of a group called the Sand Dollars.
What has Lin-Manuel Miranda said about the film?
Vivo is directed by Kirk Demicco, who also co-wrote the script alongside Quiara Alegría Hudes, which itself is based on a story by the author and Peter Barsocchni.
When the film was released, Miranda said on Twitter: "Thanks to Kirk, Quiara & the thousands of artists & cast & crew who gave Vivo their best over the past 11 years. Thanks to @VAMNit & Sebastian & Francisco, who believed. Vivo's mission is complete."
Miranda had originally pitched the film to Dreamworks Animation in 2010 but the film was canceled when the company restructured five years later. It was then picked up by Sony Pictures Animation in 2016.
The Tony-Award-winning musician has done a "deep dive" into the music for the film on social media, which saw him explain how he wrote a number of songs for the soundtrack.
During his deep dive, Miranda heaped praise on newcomer Simo for her performance in the song "My Own Drum."
On Twitter he wrote: "A huge amount of the success of this song is Ynairaly Simo, whose voice is pure joy, and grew so much as a singer over our multi-year recording session. Her exuberance IS the song."