Netflix Gets Reality Check From Byron Bay Residents Opposing New Show
The uproar from locals over the filming of a new Netflix series in Byron Bay, Australia doesn't seem to be diminishing.
The reality show Byron Baes, featuring social media influencers in a pristine coastal town, has caused chaos among the town's residents. Locals have started a petition signed by more than 6,000 people against the show being shot in the town. In addition, a "protest paddle-out" has been scheduled for April 20 via the town's Byron Bay Community Board page on Facebook.
Locals, including musician and owner of The Byron Bay General Store Ben Gordon, remain dead set against a "multinational company that is trying to exploit the town's name when the community doesn't want it." Some area businesses, like the Byron Bay Café and local clothing stores, have refused to sign filming permits, keeping producers from recording footage on the premises.
Gordon said there was no community consultation and no research done by Netflix to see if the community wanted the show or what the consequences will be in its aftermath.
"We are not being unreasonable in objecting," he continued in his post on the Byron Bay Community Board on Facebook. "They will try to convince you with words like 'huge exposure' and 'free marketing' but I believe it will do much more damage to your business than good. This is not the kind of exposure you want. If you care about the future of this town and don't want this show to go ahead, it's simple... Don't let them film in your venue."
Others on the Facebook page supported Gordon's view while still others chimed in mocking those complaining about the upcoming show.
"A community banding together to fight the corporate interests of a multi-billion-dollar company is not a bad idea for a TV show. Anyone want to pitch that one to Netflix?" said a Facebook user identified only as Richard.
Said another Facebook user John Bortolin, "I can't believe what an unwelcoming bunch of people you are. This is so negative. What harm is it going to do? They make TV shows in all different towns and cities..."
To that comment, user Tony Cordin responded, "I'll boycott it by not watching it, not by giving it world-wide publicity with over excited 'locals'."
Added Emma Pledger, "It is a sad day when people are whinging about a TV show on the Internet ... If only people would engage their time and energy dealing with actual problems we might see some real change for the better for many minority groups. Meanwhile in the back blocks of Byron, there are homeless people, a huge drug and alcohol problem, housing crisis ... the list goes on ... however we have politicians and people campaigning tireless on stopping a bloody stupid TV show."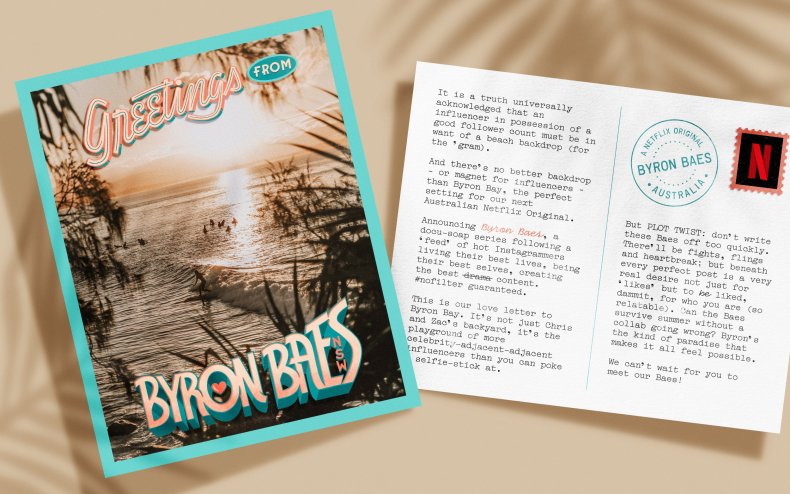 Netflix's Director of Content for Australia and New Zealand Que Minh Luu told The Sydney Herald that commissioning the show was a "no brainer."
Australia's Institute of Public Affairs Bella D'Abrera described the situation to Sky News as "really nothing more than nimbyism."
"Australia's meant to be a classless society, but the elite have colonized Byron Bay," D'Abrera said. "They now inhabit Byron Bay and they don't want the great unwashed flooding the streets of Byron Bay."
The eight-episode series produced by Eureka Productions is set to start production in May.
Luu did not respond to Newsweek's request for comment by publication time.