What to Watch on TV This Week: Netflix, Hulu, Fox And More Primetime Premieres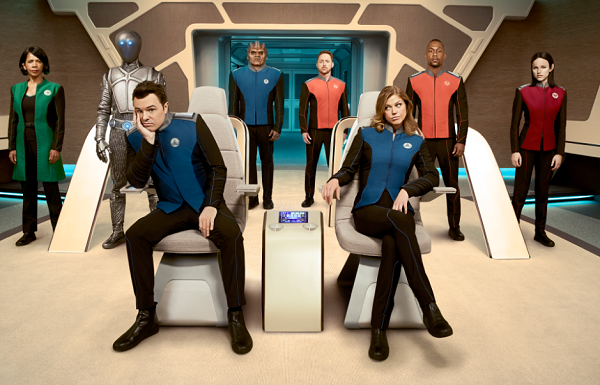 There are few things in life that are better than coming home after a day of work, throwing on sweatpants and spending the rest of the evening planted in front of the TV. OK, maybe there are more than a few things better than that, but still, tuning into the boob tube after a long day is one of America's favorite pastimes. And starting Sunday, millions of Americans will amp up the amount of time they spend lounging in front of the small screen now that the fall primetime TV season is finally upon us.
There are literally hundreds of shows—some new, some old—that will be premiering on cable, broadcast and streaming networks over the course of the fall and winter, and a number of them will air starting Sunday.
Check out a list of the show premieres worth catching this week:
Sunday:
The Orville on Fox- Created, produced and starring Seth MacFarland, the hour-long comedy series follows a troupe of low-level space cadets on The U.S.S. Orville—led by MacFarland's character, Captain Ed Mercer—as they face the wonders and dangers in the deepest, darkest and most mysterious depths of outer space. The new series, also starring Adrianne Palicki, Penny Johnson Jerald, Scott Grimes and Chad L. Coleman premieres at 9 p.m.
Outlander on Starz- Season three will pick up right where season two of the most romantic series of the century left off—with Claire (Caitriona Balfe) and her daughter trying to figure out if Jamie (Sam Hueghan) survived the Jacobite uprising. The premiere starts at 10 p.m.
Fear of the Walking Dead on AMC- Two months without zombies is far too many. Luckily Madison (Kim Dickens) Nick (Frank Dillane) and that crazy Troy Otto (Daniel Sharman) are back on for a two episode premiere, starting at 9 p.m.
The Deuce on HBO-Already predicted to be one of fall's best new shows, and how couldn't it be when it's based on one of the most fascinating aspects of the 1970s: Porn. The raw and gritty series, starring James Franco as bartender Vincent and Maggie Gyllenhaal as the hot-to-trot street hooker Candy, debuts at 9 p.m.
Tuesday:
The Mindy Project on Hulu- It's been an entertaining (and sometimes exhausting) journey watching the New York City-based gynecologist Dr. Mindy and her many relationship woes, weight obsessions and battles with being a real functioning adult at 31 on the Hulu series. And we're certainly going to miss the hilarity that often ensues at Mindy Kaling's character's office when the series officially ends with season six.
Wednesday:
South Park on Comedy Central-After pushing back the initial premiere date, Cartman, Kyle, Stan and Kenny (when he's alive) will finally return with 10 new episodes. Don't expect any appearances from President Donald Trump, though, co-creator Trey Parker recently told the LA Times that they no longer have the desire to make fun of the real estate mogul-turned-commander-in-chief. The first episode starts at 10 p.m.
Broad City on Comedy Central- Abbi (Abbi Jacobson) and Ilana (Ilana Glazer) may seem just as outlandishly funny and bizarre as they've been since the show first debuted, but when season four premieres they gruesome-twosome will be at new points in their more-grown-up lives. True, they've got new jobs and had to clean up their acts (a bit) but they're still taking shroom trips and causing mischief. The premiere episode, titled, "Sliding Doors," kicks off at 10:30.
Thursday:
Better Things on FX- Still following the life of a single working mother of three daughters, actress, producer and show creator Pamela Adlon recently said at the premiere party of Better Things that the show would have a different storyline than what fans saw in the first season, but one that was funny, dark and dirty. The first episode of season two starts at 10 p.m.
Bong Appétit on Viceland- Abdullah Saeed is back with cannabis cook Vanessa Lavorato and marijuana expert Ry Prichard to see just how high they can take culinary experiences in a new pot-friendly society. The show premiere starts at 10:30 p.m.
Friday:
American Vandal on Netflix- Already slated to be Netflix's next big hit, the satirical true crime mystery series, starring Tyler Alvarez, Griffin Gluck, Jimmy Tatro, follows a high school at the epicenter of a major vandalism scandal, in which the top suspect fosters an unlikely alliance with a filmmaker.