What's Coming to Netflix in June 2018—The Full List of Releases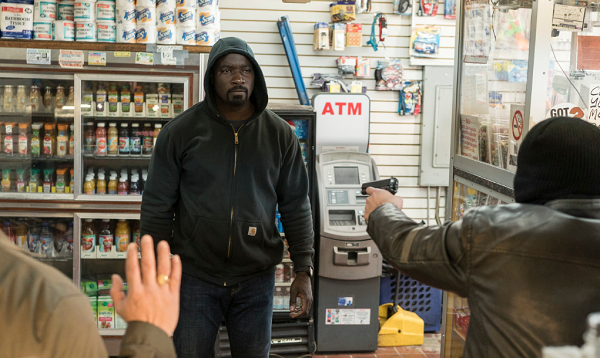 If you're looking for an action-packed summer, look no further than Netflix. The streaming giant will have plenty of it rolling out on the network in June, including a few Marvel features like Thor: Ragnarok, Season 5 of Agents of S.H.E.I.L.D. and their very own hit superhero series, Luke Cage.
Not in the mood for fire and brimstone? No worries, there are plenty of other new originals and old-time classics debuting on the network next month no matter what genre of entertainment tickles your fancy.
Check out the full list of titles coming to Netflix in June below.
Asterisk indicates original film or TV show.
June 1
Assassination Games
Blue Jasmine
*Busted!, Season Finale
Disney's 101 Dalmatians
George Balanchine's The Nutcracker
He Named Me Malala
Joseph Campbell and the Power of Myth
Just Friends
Miracle
National Treasure
Nick and Norah's Infinite Playlist
*November 13: Attack on Paris
Outside In
Righteous Kill
Rumor Has It
Singularity
Taking Lives
Terms and Conditions May Apply
The Boy
The Covenant
The Departed
The Prince & Me 4: The Elephant Adventure
June 2
The King's Speech
June 3
* The Break with Michelle Wolf (Streaming Every Sunday)
June 5
Thor: Ragnarok
June 7
Hyori's Bed & Breakfast, Season 2 (Streaming every Thursday)
The Night Shift, Season 4
June 8
*Alex Strangelove
*Ali's Wedding
*Marcella, Season 2
*Sense8: The Series Finale
*The Hollow
*The Staircase
*Treehouse Detectives
June 9
Portlandia, Season 8
June 14
Cutie and the Boxer
Marlon, Season 1
June 15
La Hora Final
*Lust Stories
*Maktub
*Queer Eye, Season 2
*Set It Up
Step Up 2: The Streets
*Sunday's Illness
The Imaginarium of Doctor Parnassus
*The Ranch, Part 5
*True: Magical Friends
*True: Wonderful Wishes
*Voltron: Legendary Defender, Season 6
June 16
Grey's Anatomy, Season 14
In Bruges
June 17
*Club de Cuervos presenta: La balada de Hugo Sánchez
Marvel's Agents of S.H.I.E.L.D., Season 5
June 18
Encerrados
June 19
*Hannah Gadsby: Nanette
June 22
*Brain on Fire
*Cooking on High
*Derren Brown: Miricale
*Heavy Rescue: 401, Season 2
*Marvel's Luke Cage, Season 2
*Us and Them
June 23
Disney's Tarzan
June 24
*To Each, Her Own (Les Goûts et les couleurs )
June 25
Hotel Transylvania, Season 1
June 26
*Secret City
Star Wars: The Last Jedi
* W. Kamau Bell: Private School Negro
June 29
* Churchill's Secret Agents: The New Recruits
*GLOW, Season 2
*Harvey's Street Kids
*Kiss Me First
*La Forêt
La Pena Maxima
*Nailed It!, Season 2
*Paquita Salas, Season 2
Recovery Boys
*TAU
June 30
* Fate/EXTRA Last Encore: Oblitus Copernican Theory
Mohawk