'All of Us Are Dead' Season 2: Everything We Know So Far
Netflix's All of Us Are Dead, the gripping K-drama about high school students surviving a zombie apocalypse, will be returning for a second season, the streamer confirmed this week.
A haunting black-and-white video clip released by Netflix on Monday announcing the second season featured a sea of writhing zombies thrashing about and reaching out towards the screen.
All of Us Are Dead topped Netflix's global rankings back in February, including in the U.S., becoming the second non-English series to accomplish that feat after Squid Game.
It remained in the top 10 most-watched non-English television series ranking in 91 countries for two consecutive weeks, according to the streamer.
The show is currently Netflix's fourth-most popular non-English television series of all time, with Squid Game topping the list and followed by Money Heist Seasons 5 and 4.
Here's everything we know so far about Season 2 of All of Us Are Dead.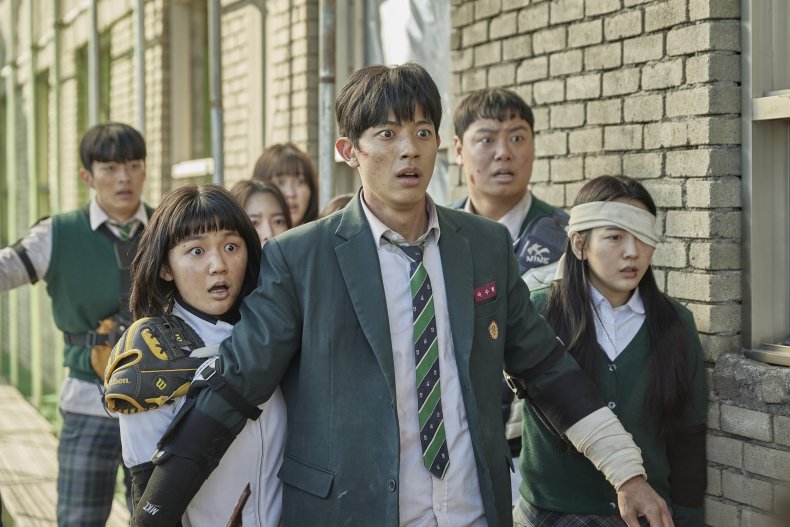 All of Us Are Dead
Season 2 Release Date
An exact release date for the upcoming season has yet to be announced. Netflix and the show's production company plan to reveal more details on the production schedule and release date in due course depending on the progress of the upcoming season, according to the South Korean edition of Harper's Bazaar magazine.
All of Us Are Dead Season 2 Cast
While cast members for Season 2 have yet to be announced, many of the main characters are likely to return with plenty of unanswered questions remaining for the high schoolers who survived the zombie outbreak in Season 1.
Four of the main cast members from Season 1 were featured in a video released by Netflix on Tuesday promoting the upcoming season, which could perhaps be a hint that these cast members will be making a return.
Yoon Chan-young (who plays Cheong-san, one of the key cast members who was presumed to have died after the city of Hyosan was bombed) says in the video: "Hi everyone, it's been a while. Thank you for all of the love you've shown for All of Us Are Dead."
"I hope you're all doing well," says Park Ji-hu (who plays On-jo, Cheong-san's best friend who survives the outbreak).
The actress adds, "We're doing well too. And you must have heard the news," before Lomon (who plays Su-hyeok, Cheong-san's close friend who survived the outbreak), says, "All of Us Are Dead Season 2 has been confirmed. I hope you'll look forward to the second season."
The video concludes with Cho Yi-hyun (who plays Nam-ra, the class president who became one of the "immune" zombies) saying: "I wonder what will unfold in All of Us Are Dead Season 2. But I'll have to leave you here as my friends are waiting for me. Goodbye then."
All of Us Are Dead Season 2 Plot
"They're back"—the intriguing last words spoken in the final scene of the dramatic finale of Season 1 have left a trail of burning questions, which hopefully will be answered in the coming season.
The end of Season 1 saw the main surviving high schoolers discover that Nam-ra (from whom they had been separated after surviving the mass bombing ordered over the city in a bid to eradicate the zombie virus) was still alive and had been staying on the rooftop of their high school building.
When On-jo asks Nam-ra to go back to the camp where the other survivors were staying, Nam-ra replies, "I still have some things left to do here," adding "some already fled outside the school but there are still a few left."
She then hears something inaudible to others in the distance and says, "They're back," before jumping off the building and mysteriously disappearing into the abyss.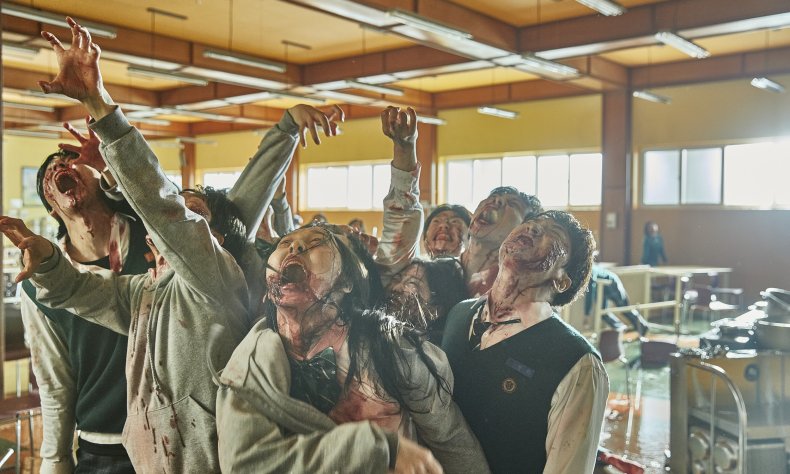 Other avenues potentially to be explored in Season 2 include the whereabouts of other zombies who may have survived the bombing, such as Eun-ji (played by Oh Hye-soo), who was last seen in captivity at a lab—and Gwi-nam (played Yoo In-soo), the villain character was believed to have died along with Cheong-san after being blown away by a giant blaze from the bombing.
Both Eun-ji and Gwi-nam are immortal zombies. They are infected but still alive (as they continue to produce a heartbeat) and retain other human qualities (such as an unrelenting drive for revenge).
Dishing on potential plot lines for future seasons back in early February, the director of the series, J.Q. Lee (also known as Lee Jae-kyoo), revealed that season 2 would have "a bit of a different feel" from the first season, South Korea's NewsPim reported at the time.
"If season 1 was about the survival of mankind, then season 2 would be about the survival of the zombies," Lee said.
The director said Season 2 could see a battle unfold with the immune and immortal zombies fighting against the rest of the zombies.
And if there were to be a third season, the director believes the plot could follow a "grand world war type concept," according to NewsPim.
All of Us Are Dead Season 1 is available for streaming on Netflix.